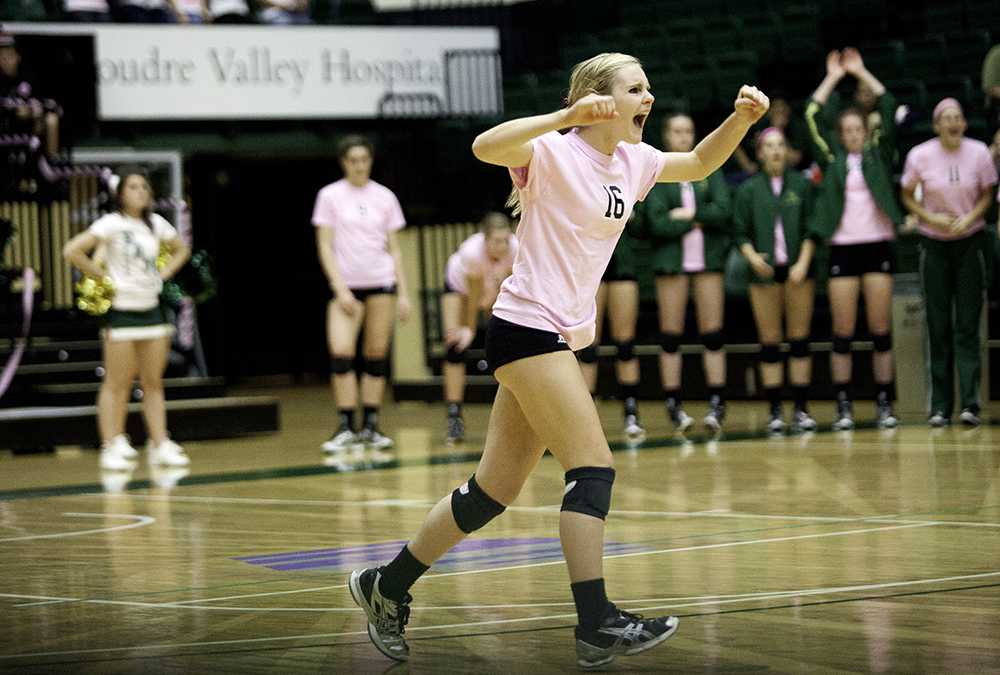 A freshman served the first ball of CSU volleyball's 2012 season.
Coach Tom Hilbert decided to start the Aug. 24 season opener against Virginia in rotation two, which has freshman defensive specialist Jaime Colaizzi at the service line.
She felt extremely nervous, and sought advice from senior outside hitter Dana Cranston.
"We wouldn't start in two if Tom wasn't confident in you starting the game," Cranston told her.
Colaizzi put the ball in play cleanly, and has started every game of her freshman season since.
Freshmen haven't received much playing time at CSU in recent years due to the depth and talent level of the team, but Colaizzi's skill set, training and maturity earned her a spot in the starting lineup.
Colaizzi grew up a half hour south of Fort Collins in Windsor, idolizing the CSU volleyball program, particularly former Windsor resident and CSU great Jaime Strauss.
She attended CSU's games as well as their camps, and always knew where she wanted to go to school.
"Those are the kind of players that you want, you want players that grew up wanting to be here because they understand the culture of your team," Hilbert said. "They understand it's bigger than just them. The program is bigger than all of us."
Growing up in Windsor also allowed Colaizzi to play for the local volleyball club NORCO.
While there, former CSU player Katelin Batten and former Nebraska head coach and 1995 national champion Terry Pettit helped Colaizzi elevate her game to the Division I level.
In her last season, she helped lead the club to a regional championship.
"We beat all the teams they were used to not beating and a lot of that was because of Jaime," NORCO 18s coach Pii Aiu, formerly of the University of Colorado, said. "She opened my eyes to how much a libero contributed to a team. She's the best libero I ever worked with."
NORCO travelled all over the region and country, playing the top teams in the nation that regularly send freshman to top-tier programs like Stanford and Nebraska.
"I honestly feel like that is a big part of the reason why I'm here and that I made it this far," Colaizzi said.
All of that coaching and experience was evident to Hilbert the moment Colaizzi stepped on campus.
"From the first practice she was very competent and very prepared. She still works very hard and is concerned every single day about getting better," Hilbert said. "What has been pleasantly surprising is her maturity as a person. She is a very serious person and has a lot of respect for the other players."
Her demeanor and skills on the court have earned her the respect of the other players as well. At times they even forget she is only a freshman.
"The way that she plays and talks and hustles and has a high level of accountability and expectations for herself is unlike almost every freshman," Cranston said.
What fans will likely take away from Colaizzi's freshman season, however, is her ability to make point-saving plays, keeping a ball alive and helping it get back over when the other team looked certain to score.
She used her foot to keep a ball in the air against Nevada and made several diving stops against Wyoming, almost making the plays appear routine.
"It's definitely something that I'm not necessarily accustomed to doing," Colaizzi said. "But it just comes natural sometimes where I'm in the right place at the right time."
With those instincts it's no wonder a girl from Windsor ended up with the opening serve of her freshman year at her dream school.
Assistant Sports Editor Kyle Grabowski can be reached at sports@collegian.com.