CSU hockey captain strives to lead team to a national championship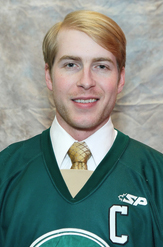 Paul Jenkins is exactly like every one of his teammates when suiting up on game day — except his jersey has a "C" on the shoulder, just above the Ram logo.
To him, that "C" signifies more than being the captain of the CSU hockey team.
"I'm definitely very humble to wear that thing on my chest, it means the world to me," Jenkins said. "It represents that I get the chance to lead these boys into battle, and that's what I look forward to every weekend."
However, the role of captain isn't a new experience for Jenkins. This season will be his second year as the skip after first obtaining it his junior year.
"He made an impact immediately, as soon as he came in. He's a good hard worker and put the puck in the net for us lots his first year and progressed from there," CSU coach Kelly Newton said. "It's a good example of what we can do to attract good hockey players to put on a Ram jersey for their school."
Jenkins has laced up his skates a countless number of times, but his passion for the game was ignited long before he ever got the chance to hit the ice. 2012 marks the 18th year that hockey has been a major part of his life.
"I must have been four or five, just a wee tyke. Growing up, the kid across the street, who was six years older than me, played hockey. I got all his hand-me-down equipment that was five sizes too big," Jenkins said. "I was out there playing with him in ski gloves without a clue— all I knew is that I wanted to play hockey."
Those neighborhood experiences have led him to playing the game he loves in multiple locations that include: Aspen, Denver, Indiana, Vancouver and Alaska before finally planting some roots here in Fort Collins.
"He moved out when he was 16 and his experiences from it made him who he is now," Jenkins' sister Leighanne said. "I think it really made him grow up and mature more than other kids his age. He is more vocal and a much better leader now than he ever was before he left."
Paul Jenkins' life experiences have landed him wearing the No. 12 jersey for CSU, leading a squad of Ram hockey players that have every intention of accomplishing the ultimate goal they set when the season began.
"I've given my entire life to this sport up until now, it has defined me. I would love nothing more than to walk away on top and say that I won a national championship," Jenkins said. "It's still October and we're at the bottom of the mountain and it's a long climb to the top."
For Jenkins and the nine other seniors on the roster, this is their last shot. However, intimidation is nowhere to be found in the CSU locker room. If anything, they're using it to their advantage.
"Our senior players know this is their last hoorah before they enter the nine-to-five real world, so Jenkins keeps them motivated along with the sophomores and juniors who also smell the blood in the water," Newton said. "I like our chances this year."
Club Sports Beat Reporter Quentin Sickafoose can be reached at sports@collegian.com.