CSU volleyball freshman Dri Culbert finding the next level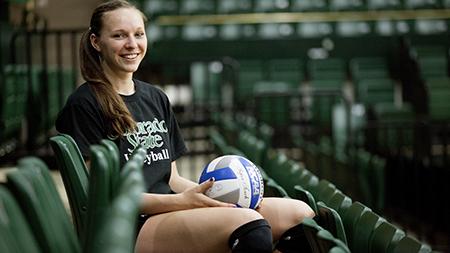 Dri Culbert's high school coach always told her, "there's another level."
She climbed to another level against then No. 14 Tennessee in her first college start, and has remained in the starting lineup ever since.
Culbert grew up in Delton, Mich., where her mom was a high school volleyball coach during her early years and her sister Alex played before her.
"Since I was a baby I've always been in the gym," Dri Culbert said. "I was on my first really competitive game in fifth grade, and I've grown up watching my sister's play. I've grown up watching it and I fell in love with it."
Jack Magelssen, who coached Culbert in high school, recalls seeing Culbert watch her sisters practice when she was in 7th and 8th grade.
"She saw the game played at a little higher level than most kids that age," he said. "As she kept getting older she knew the skills it would take. I didn't have to sell her on anything."
Culbert played all over the court for Delton-Kellogg High School, setting or hitting as the situation dictated.
"She played every position. Because of her growth spurts we experimented in a lot of areas for her," Magelssen said. "She has big hands, she's smart, she listens, she wants to train. Not a normal thing for a lot of kids."
That desire to get better brought Culbert to CSU for a prep camp her sophomore year.
"I just fell in love with the environment. The campus, the girls, just the family feeling this program has," Culbert said. "I always wanted to play at a high level and we're ranked high every year, and that's nice, but I fell in love with the team chemistry, it wasn't like anything else."
CSU coach Tom Hilbert didn't recruit Culbert as much as she recruited the program because they were evaluating her primarily as a setter and had Deedra Foss on the roster.
But once the staff saw her on the court they knew they had a well-rounded player.
"I started seeing that her senior year in high school.  I told (current DU coach) Jesse Mahoney before he left, 'Dri Culbert may come in here and play as an opposite hitter,' " Hilbert said. "She understands the game very well for her age."
Culbert parlayed that understanding and her well-rounded skill set into a starting position two weeks into her freshman season.
"She has made a huge impact. It is so nice to have someone functional on the right side of the court because a lot of 'junk' balls get tipped from the left side or hard balls down the line defensively that she is so good at picking up," senior outside hitter Dana Cranston said. "It's nice to be able to go to her out of system, which we haven't had a lot of in the past because she is so smart and crafty and very low error."
The one area of Culbert's game that still needs work is her blocking, but she's always been willing to work and reach the next level.
"She's willing to learn and she's willing to go out and make mistakes in order to get better," Hilbert said.
Assistant Sports Editor Kyle Grabowski can be reached at sports@collegian.com.
Related articles