CSU football forgetting the past, focusing on the now in preparation for the Rocky Mountain Showdown against CU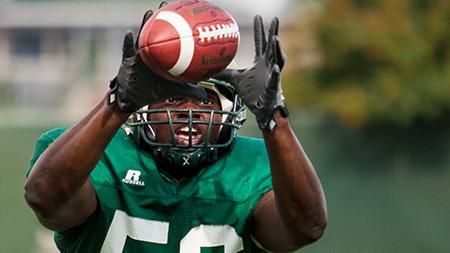 Football coach Jim McElwain is fully aware of the situation he inherited when he took the job, and he has a message when talking about the past–it doesn't matter.
"There are some things we obviously have to get better at," McElwain said. "But that was also then, and this is now."
This is now. It's a simple message McElwain has been stressing since he took over last December. Don't put the time and effort into focusing on what was or will be, but rather treat each day as its own.
His philosophy has never been as critical with the Rocky Mountain Showdown looming in six days.
"The important thing for our guys to realize is we got to focus on what we have to do to be successful," McElwain said at his weekly press conference. "Not get caught up in the excitement, yet get caught up in the now. Get caught up in what do I need to do right now on this rep in practice so I'm prepared to go out and play my best."
Avoiding the thrill and emotion of playing in a big-time rivalry game may be slightly harder for the players than McElwain. Especially the homegrown products who were raised with the rivalry like starting H-back, Jake Levin.
"This game's a pretty big one. Always got to love playing CU at Invesco with all those people around at Mile High," Levin said. "Definitely as a Colorado kid, you've grown up with the rivalry and you understand how big it is. You're closer to it than a lot of kids that are coming from out of state.
"It is hard to contain your excitement."
As far as any pressure is concerned for McElwain and his team to get off to a quick start, considering the disappointment of season's past, he feels none.
"If you're prepared there shouldn't be any pressure," McElwain said. "Not everything is going to go just rosie. How do you deal with adversity and crisis? That's what we're learning to do."
Win the game and there's a chance to go undefeated, he said. Lose the game, CSU could still go 11-1. One game doesn't make or break a season.
Regardless of the outcome Saturday, these Rams have grown together in a way that was non-existent in years past, according to the players. A unity every player has credited to the theme McElwain preaches on a daily basis.
"We are more of a team," Levin said. "It's been nice to bring that family atmosphere that coach Mac has instilled with us."
Sports Editor Cris Tiller can be reached at sports@collegian.com.