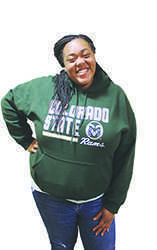 With all of the excitement of the new academic year upon us, I just wanted to wish all of my fellow Rams a wonderful time. I hope that you have amazing adventures, connect to this campus through opportunities like painting the A, seize the moment if and when the chance to take a selfie with Tony Frank comes up and for goodness' sake, if a freshman offers you a meal swipe, you take that meal swipe with pride.
I hope that you get to eat amazing food and meet fantastic people, get out and join that club or organization and make sure you always have a good time giving your time. I personally will be seizing every moment and opportunity that presents itself to me, and as a Ram I hope you all find the confidence, happiness and support within the CSU community to do the same.
This year, take risks and get out of your comfort zone because that's where the magic happens. There are so many organizations and activities to be a part of, such as Fraternity and Sorority Life, ASCSU, language clubs, charity and service clubs, athletics, student-run religious groups, SDPS offices, sporting events and a plethora of others. Even if it intimidates you, don't get stuck where you're comfortable and end up missing out on the experience of a lifetime. Even if you have to go alone, don't be ashamed or afraid because you'll never know what amazing people you'll meet or the bonds and memories you'll create if you don't try.
We only have right now. Sometimes we are fortunate to get second chances, but sometimes you just have to give the first chance everything that you have. Be a person who knows that regardless of anything you put your heart into, if you give it your all, you'll have a better day and year because of it. Push yourself and go the extra mile — the view there is so much more beautiful than it is from behind the starting line.
I wish all of you the best in your collegiate endeavors. Stay strong, cherish those 30-minute naps, make memories that turn into great stories to reminisce about later. Ask questions, and if you get the chance to have rib-splitting laughs, make sure you laugh as hard and as loud as possible because those can be a rare commodity when the stress sets in. There is a special place made just for you here at CSU. Venture out and find it. Look out for our fellow Rams, and if one gets lost in the dust, have the courage to look back and help them get back in the race. Remember that we are a Ramily and if no one else is cheering or rooting for you, I am. Let's take this acedemic year by the horns and harness the Ram spirit to reach our goals together.
Collegian Columnist Chynna Fayne can be reached on Twitter @ChynnaFayne.