Stop debating climate change and start changing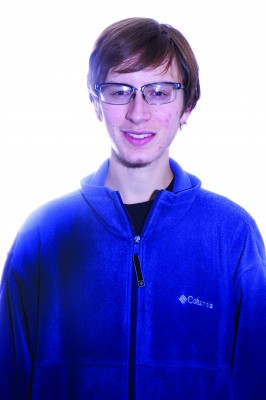 Spring is finally here, with its warm days, its wind, and of course the bovine odors of Greeley. I, for one, do not miss winter. Too many sub-zero walks to my early morning classes succeeded in overcoming my usual love of the cold and snow. We saw some cold weather, but Colorado's winter was relatively normal compared to many other regions.
California is currently grappling with a Dust Bowl-like drought, threatening the state's agriculture and foretelling a hellish fire season. Freak ice storms in February froze the city of Atlanta to an abrupt halt. Across the Atlantic, England has seen the rivers rise up due to massive rains, swamping the south of the country in record floods. Of course freak weather events such as these happen all the time and always have. But, as last month's report from the Intergovernmental Panel on Climate Change warns, extreme weather events will only become more frequent and destructive in the future.
If climate change activists sometimes come off as a little too apocalyptic, they have plenty of good reasons. We have all been told about the rising seas, the rising temperature, the melting ice caps. But, climate change does not just threaten the polar bears and ice fishermen. The IPCC report described numerous ways how rising global temperatures directly threaten human prosperity, safety and happiness.
You can take your pick of reduced food yields leading to the increased possibility of famine or coastal cities experiencing new levels of flooding when ever more powerful storms meet ever higher seas. That's not to mention the world's deserts expanding and making lands uninhabitable, extreme weather events becoming more common, and the increased spread of heat-loving diseases. Interestingly, climate change seems to pose the most threat to those who are already in poverty, making hard lives only harder. The question around these impacts is not "if." It's "how bad."
The IPCC report was unequivocal in stating that in order to prevent things from becoming even worse than they already will be the world's governments must take swift and drastic action. Reducing carbon emissions can't reduce the impact of what has already been put in the atmosphere, but it must be done if we want to prevent average global temperatures from exceeding the threshold value of 2 degrees Celsius above normal. Anything beyond that, the report says, and the changes to the planet become potentially catastrophic. Changes are needed, both in preventing future harm and coping with the effects that are already unavoidable.
So why haven't the world's governments committed themselves to the kind of gigantic effort that we need? Money's a culprit, as usual. It will be enormously expensive to tackle climate change, and most governments want to cut spending, not increase it. In the United States in particular, another reason is the so-called climate change debate. The news media, under obligations to seem as fair as possible, gives equal voice to scientists and those who claim that climate change is some kind of hoax.
These two sides do not stand on equal footing, however. On one hand you have data that shows clearly that the planet is warming, and centuries of scientific knowledge that explain why humanity is to blame. The other side is little more than a child's retort over puddle of spilt milk: "Did not!" Scientific theories and ideas need vigorous debate and comparison, but in this case one side offers up only stubborn denial.
I am not optimistic about the U.S. government, immobilized by division as it is, beginning to take climate change seriously. But, for the sake of logic, of reason, of hope for a better future, let's stop debating and start doing.
Aaron Kolb is still patiently waiting for someone to be brave enough to address climate change. Letters can be sent to letters@collegian.com.
In Brief:
Weather patterns in months past have been destructive, and will only continue to get worse.
There is a debate on climate change; we need to stop saying "if" and start saying "how bad."
Someone needs to start making a difference, because we're running out of time to debate.