Put down your phone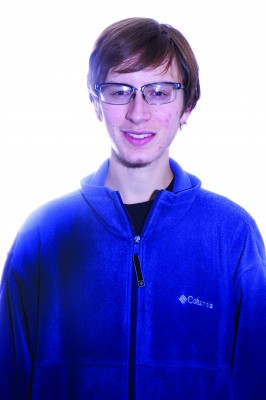 Those born in the 1930s were called the Silent Generation. The '50s produced the Baby Boomers and the '70s spawned Generation X. Current college students are sometimes labelled the Millennials. A fine name, but there's one that's better. Our generation is comprised of such a wide range of lifestyles and viewpoints that only one thing truly binds us together. Yes, you and I are members of the Cell Phone Generation.
It is sometimes hard to appreciate just how much cell phones have made our lives different from our parents'. With them we are never truly alone. With the Internet and texting in our pockets, we are always in connection with the rest of the world. Some say that this is desirable, that it broadens our knowledge and deepens our relationships. Another view holds that constant connectivity flattens our lives into cheap, superficial snapshots that miss out on the bigger picture. Whatever you believe, there is another indisputable consequence of living in Generation Cell Phone: driving is more dangerous.
For many college students, talking or texting while driving is something that we don't even think about. You may even consider it dangerous if your friend texts while behind the wheel until it's you that gets the call. I can't just not answer! What if someone died or something? I have been guilty of this double standard myself. When I am in a car where the driver is using their cell phone I feel uneasy, but not when I do it myself. The decision to answer a call or text while driving is often mindless. We don't even consider the risks associated with doing so. But, the evidence is there: cell phones in cars increase the chance of accidents.
The seasoned driver thinks of driving as easy. It is in fact incredibly complex, requiring constant knowledge of what else is happening on the road and fast-paced decision making about how to react. Even while paying full attention to driving, accidents happen. Using cell phones takes eyes, hands and minds away from the road and increases the risk of a crash.
According to US government statistics, in 2012 alone an astonishing 3,328 people were killed and 421,000 were injured in car accidents involving "distracted driving." If you consider that roughly the same number were killed in the attack on Pearl Harbor which triggered the declaration of war against Japan in 1941, some sort of response can be expected. Forty-two states, including Colorado, have taken the step to ban texting while driving. This is a great start towards reducing injuries and deaths on the road. One use of cell phones has been banned but talking and even surfing the web are still allowed in this state. A recent bill in the Colorado House of Representatives would have changed that.
House Bill 1225, introduced by Representative Jovan Metlon (D-Aurora), would have made any use of handheld devices behind the wheel illegal. The bill was rejected by the the House Transportation and Energy committee on March 12. HB 1225 failed to make it out of committee because of several flaws regarding enforcement that would have limited its impact.
For example, using cell phones while driving would have become a secondary offense, only punishable if the driver was pulled over committing another traffic violation. The fines would have been capped at $100, not enough to truly change driver's behavior. HB 1225 also would have banned cell phones while still allowing hands-free phones. The real danger in distracted driving is not in the hands but in the mind. Allowing hands-free phones would have created the false sense that using them is safe. The bill's failure is actually a positive thing, because if it had passed we would be stuck with a weak law where a strong one is needed.  Rep. Melton  was on the right track in his efforts, but Colorado needs to go further in cutting down on cell phone use while driving.
To some, banning cell phones in the car strikes at a central issue of freedom. But it's like shouting "fire" in a crowded theater. Sure, banning cell phones on the road does technically take away a freedom. But not all freedoms should be given equal worth. If the choice is between the freedom to not have to wait until I get home to call a friend and the freedom to drive while reassured that other drivers are giving the road their full attention, I think I'll take the latter.
Aaron Kolb is a freshman wanting the fellow members of his generation to pay attention to the road. Feedback can be sent to letters@collegian.com.
In Brief:
Like it or not, we are part of Generation Cell Phone, and driving is treacherous now.
A law making it illegal to use a cell behind the wheel is not taking away your freedom
Choose to text when you're not operating a vehicle, for the safety of yourself and others around you