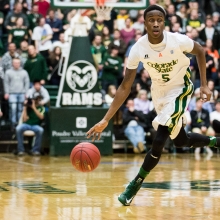 After weeks of anticipation and receiving votes, the CSU basketball team is finally ranked in the top 25 in the nation
Both the Associated Press and USA Today coaches poll have the Rams at No. 24, which is above the defending national champion, Kentucky.
CSU hasn't been ranked since 1954 –– and this hasn't exactly happened overnight.
It's the culmination of five years of work by former coach Tim Miles, who went 7-25 in his first year and didn't win a conference game, but whose perseverance built the foundation that current coach Larry Eustachy has been able to capitalize upon.
Miles recruited from both Colorado and Nebraska, building a program of hardworking players that understand what it takes to win.
Eustachy took that torch and crafted this year's CSU team in his image: a gritty defensive team that battles "every inch of the floor."
He's instilled a mental toughness this year that was lacking in previous campaigns. CSU doesn't fold in road games against lesser opponents and continued its dominant run at Moby Arena.
Coaches in the MW have praised CSU all season and it's good that the Rams are finally receiving the national attention they deserve.
And this ranking most likely won't be a one-hit wonder for CSU. This team is built on solid defensive fundamentals and a no-quit attitude both at home, and on the road.
CSU will make a push for the conference title this year and you'll likely see the Rams in the Big Dance, or NCAA Division I men's basketball tournament, again.
Not bad for a team that couldn't win a single conference game not too long ago.