Redbox Review: Big Hero 6
Zach Johnson
March 31, 2015
I'm not a big fan of children's movies. Sure, I love a lot of the Pixar classics and there are a good few exceptions to the rule, but I usually feel like they cater to the lowest common denominator (I mean, obviously) and my time could be better used elsewhere. Sorry if that makes me heartless. But, last year, The LEGO Movie surprised the hell out of me, becoming one of my favorite films of 2014. And since Big Hero 6 took the Best Animated Film Oscar from The LEGO Movie (which wasn't even nominated), I figured it was worth a watch. Turns out that's both true and false.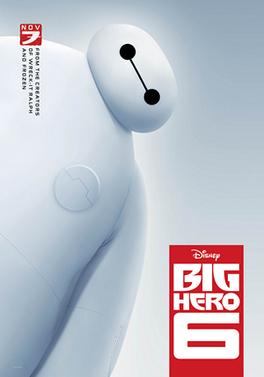 Based on a very obscure Marvel Comics series (Disney acquired Marvel in 2009 and this is their first true collaboration), Big Hero 6 follows Hiro (he's the hero), a teenage genius who loses his big brother in a fire after being accepted into a prestigious robotics university. The closest thing Hiro has to his brother is his plus-sized healthcare robot Baymax, who he accidentally deploys. Baymax, Hiro and his friends at the university must then stop a Kabuki-masked villain who is wreaking havoc on the futuristic town of San Fransokyo (seriously?).
Starting with the positives, the film looks splendid. The mix of American and Japanese architecture on display gives Big Hero an interesting look, and all of the character animation is solid. I'd expect nothing less from Disney, I suppose. The star of the show (and the toy line!) is obviously Baymax, a cutesy, fluffy marshmallow that brings a lot of successful slapstick humor to the proceedings. Most of the film's great comedic moments come from Baymax, and he's voiced perfectly by Scott Adsit, most recognizable from his supporting role in 30 Rock.
That being said, the script just doesn't get the job done. The first half of the film works well enough; it focuses more on comedy and Hiro and Baymax's silly adventures make for pleasant watching. It all falls off the deep end in the second half, where minor, stereotypical characters like a goofy idiot and a loud, nerdy weeaboo are elevated to "hero status" and take part in one after another generic action sequence. While Hiro and Baymax are likeable enough, every other character is easily shrugged off and you feel no suspense when they are in danger. They seem to exist only to sell more action figures.
It's really a shame; it all starts promisingly– Baymax doesn't seem too far off from a Miyazaki creation, and we've got a pretty cool setting (alas one with a terrible name). But then it devolves into generic Marvel territory: montages of characters trying out their newfound powers, a flying scene that at first looks doomed but ends in the main character soaring over the city to happy music, and dull action sequences. Toss in two separate sequences set to a gag-worthy Fall Out Boy track and a cheesy, "emotional" ending that leaves things open for a Big Hero 7, and soon you're wondering what the hell happened to the movie you thought you liked.
Big Hero 6 isn't bad, per se, but it just feels like a giant missed opportunity. I'm rather baffled how anyone would consider it better than The LEGO Movie, which was clever, one-of-a-kind and had a screenplay that didn't feel like a How to Train Your Dragon Mad Lib. I don't usually give scores to films I review here, but there's an easy joke on the table: I give the latest Disney creation a Big Hero 6 out of 10.
Zach Johnson can be reached at blogs@collegian.com, or on his Twitter page, @zachandforth.