#AskHerMore
As you may or may not know, Monday August 25th isn't just the first day of the new school year. It's also the 66th Annual Primetime Emmy awards show. Every year there are countless award shows ranging from everything to the glamorous Golden Globes to the fun-filled MTV Music Awards. And, even though the award show is always highly anticipated, it could be argued that what people really tune in for is the red carpet.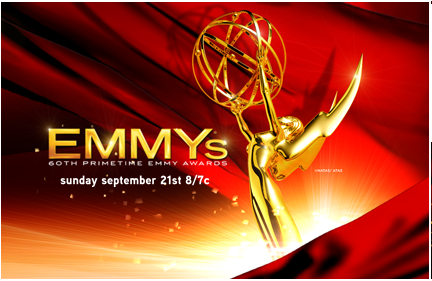 If you read my blogs last year, you know that I've talked about the difficulties female celebrities have faced on the red carpet before. Instead of being asked how they prepared for an Emmy-nominated role or what it was like working with other talented actors, female celebrities often are only asked about their appearances. Whether it's who designed their dresses or who did their makeup, women clearly aren't thought of in the same manner as male celebrities. Unfortunately, it's an issue that has persisted throughout the years despite resistance from female celebrities.
E! News in particular is especially guilty of reducing female celebrities to physical appearance. Instead of the usual celebrity interview where a reporter asks a woman about her clothing or hair, E! has taken a step further by using a camera known as the "Glam Cam". The Glam Cam is a camera that pans over female celebrities from head to toe. Even though women have called out the use of the Glam Cam as sexist, it still seems to be a popular camera angle on the red carpet. Just last year, Cate Blanchett was subjected to the Glam Cam and asked the cameraman on air if he did the same thing to "the guys".
Although, this year, one organization is calling for a change in how female celebrities are seen and heard on the red carpet. The Representation Project, formerly Miss Representation, has created a campaign called #AskHerMore. The #AskHerMore campaign aims to get reporters to ask female celebrities about more than their appearance because, believe it or not, they have just as much to offer as males. This year however, The Representation Project is asking viewers at home to get involved. On their website, therepresenationproject.org, the organization has put together a list of reporters' Twitter handles so that viewers can live tweet at them to remind them to ask about more than makeup. Reporters on the list include Giuliana Rancic, Ross Matthews, Kelly Osbourne, and Ryan Seacrest, just to name a few. If you would like to join in the action and tweet alongside the Representation Project, you can find out how by visiting their website and clicking on the blogs tab to see the list. The 66th Annual Primetime Emmy Awards air Monday at 8pm ET, Red Carpet coverage begins at 6pm ET.
As hard as it is for reporters to believe, female celebrities have a lot to say and have just as much talent as their male counterparts. Even though there are separate categories for best actor and best actress, talent isn't something that is sex or gender specific. Women deserve to be asked about more than their appearance because frankly, they, and women everywhere, deserve to be recognized not simply for their beauty but for their outstanding achievements in their work as well.