Adventures in Ireland: The good, the bad, and the beautiful
The fourth week of my Dublin internship is officially over, and it's hard for me to believe that I have been here for one full month.  That's crazy!  I've actually been living in a foreign country for one whole month without injuring myself or accidentally burning any companies to the ground.  Not that that's happened before, or anything.
I make it sound like I'm the kind of person who can't function on her own, which is wholly untrue.  I lived alone my sophomore year of college so I knew that I would be okay being by myself for quite some time.  I was an out-of-state student from Texas my freshman year, so I knew that I'd be able to function well in a new environment.  It's just the fact that this is Ireland– this is a different currency and fast buses and directions I can't understand and 3,000 miles away from anything even resembling an IHOP— so it actually feels like an accomplishment that I haven't stepped in front of a bus or insulted any locals.  I feel pretty great about that.
With any place and with any trip, there are good and bad parts of it all.  There have been times when my friends and I have been taken advantage of because we're obviously tourists (for example, friends of mine were unknowingly charged extra for a cab).  The fact that a lot of us are women in a city means that we've been catcalled and harassed by people of all ages, though I guess (unfortunately) that happens in America, too.  I've also worn out a few pairs of shoes just because of how lost I've managed to get myself over these past few days, too.  Adios, knockoff Toms, you bowed out with dignity.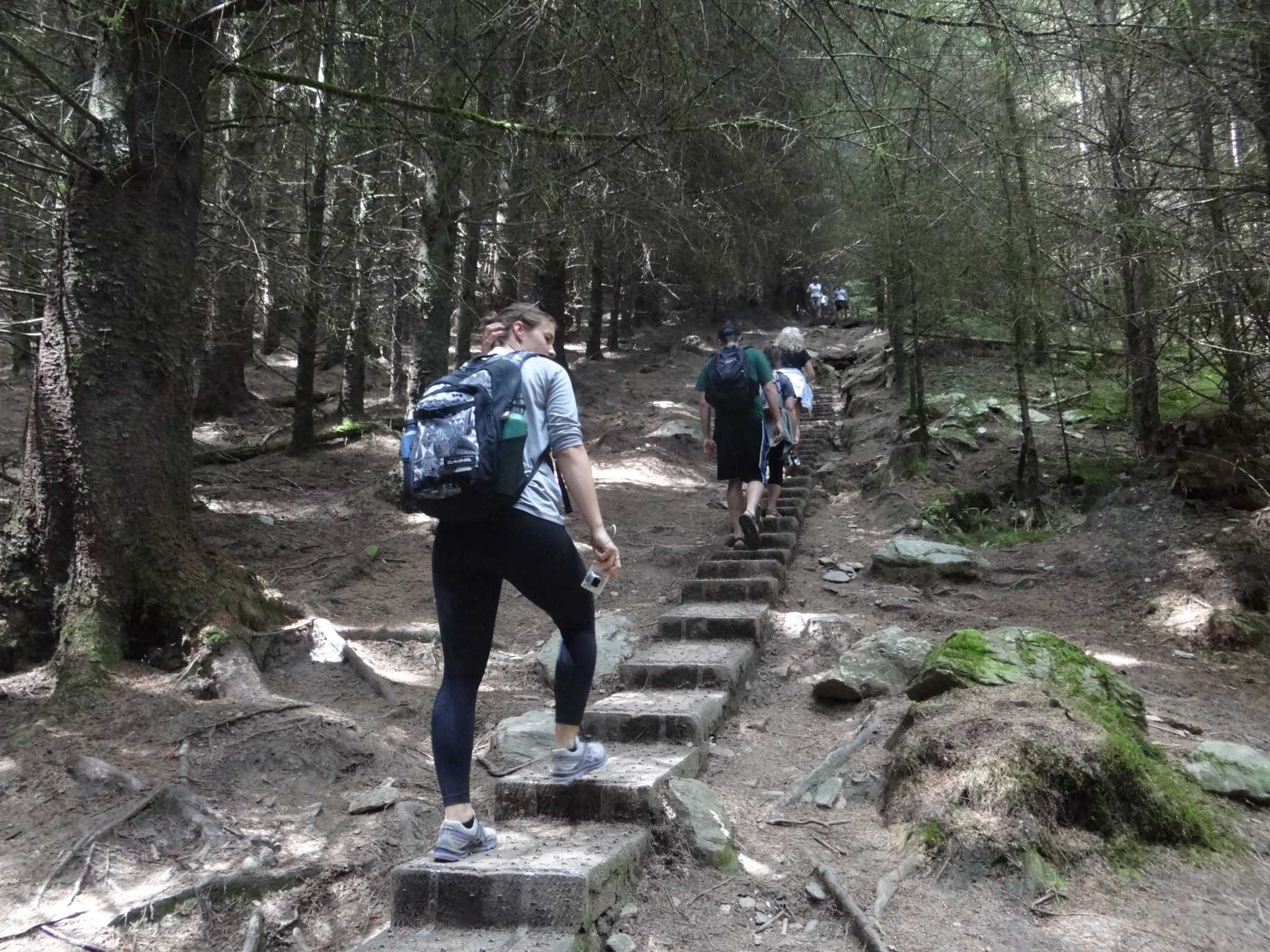 But then there are the good parts, too.  There's the unimaginable beauty of some of the places we've visited: Blarney Castle, for instance, was one of my favorite trips two weekends ago.    The Wicklow Mountains, which I mentioned last week, was one of the best hiking trails I've ever been on (if not the most difficult).   And then there's the people I'm hanging around– I know, I know, this is really cheesy, but if you aren't surrounded by good people, then it isn't likely you'll have a good trip.  The friends I've made so far are silly, ridiculous, and endlessly entertaining, always up to try something new or go somewhere at the drop of a hat.  It's also funny how being in a different country can bring people so close together so quickly; there are people here I've known for a month who I feel more comfortable around than people I've known for  years.
Being an American here is hard, just because I can't decide what the public opinion is on foreigners yet.  Last time, I mentioned that my coworker said the U.S. accent is "musical", but I'm wondering if not everyone thinks that considering how loud my friends and I are every time we board a public bus.  I'm wondering if locals bristle against me rather than welcome me each time I stop them on the street to ask for directions.  I think so far I've discovered that it's not necessarily the American accent that people reject, it's the tourist attitude.  You know the one– I'm American and I'm going somewhere/hungry/tired and I will bother anyone or do anything to get what I want in this moment.  This is where it helps to take a step back and relax.  Annoying things happen to everyone: missing the bus, waiters messing up your order, people moving slowly on the street.  My advice to everyone experiencing the American Tourist Attitude no matter where you are: CHILL OUT.  
I can hear my parents and my sister laughing at this right now, considering the fact that I am usually the most anxious and stressed out person in my entire family.  I'm the one pushing people off of the bus because we aren't early enough to an event or having my money tucked into my palm three blocks before I get to the coffee shop to spend it just because I want to be prepared.  As far as Ireland goes, again, it helps to just chill and accept everything that comes your way with a sense of dignity and acceptance.
So I know the "good" of Ireland was basically just how beautiful it is, but I'm sorry, I have to return to that point.  Ireland's beauty deserves more than one paragraph, and a lot more than one picture.  The group and I just got back from Belfast, the capital of Northern Ireland.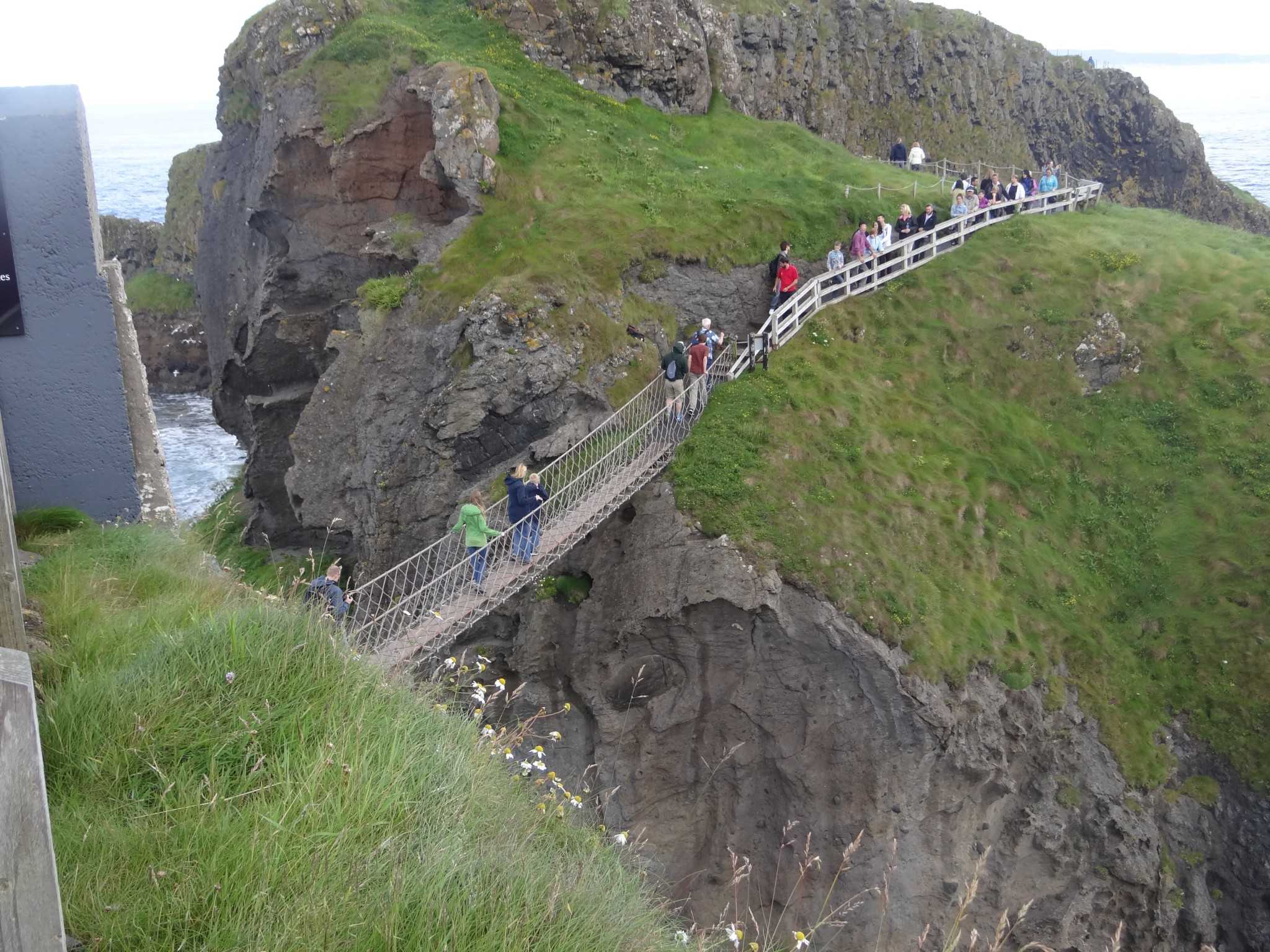 It's not a part of the Republic of Ireland, so they use sterling pounds instead of our beloved, familiar Euro…and to put it in perspective, the value of pounds to dollars is 1.72 dollars=1 pound. YIKES.
It's worth it, though, to see some of the natural beauty that Belfast boasts (say that five times fast).  A day tour away from the city took us to some of the most breathtaking landscapes I've ever seen, one of which was the Carrick-a-Rede rope bridge.  It's located insanely high up above the ocean, but it was amazingly fun to pay five pounds just to be terrified out of your mind when you cross it.  That's right.  I crossed it.
After that, we headed up to the tips of the cliff and stared out over the ocean, taking in the sights of that coastal wonder.  I hope you're imagining the smell of salty sea air and seagull poop, 'cause I can't really get it out of my nose.
Then, it was over to the Giant's Causeway, which is a cluster of honeycomb-shaped rocks that jut out into the ocean.  The area isn't man-made, and it's incredible to see what nature can create.  See some of the photos below: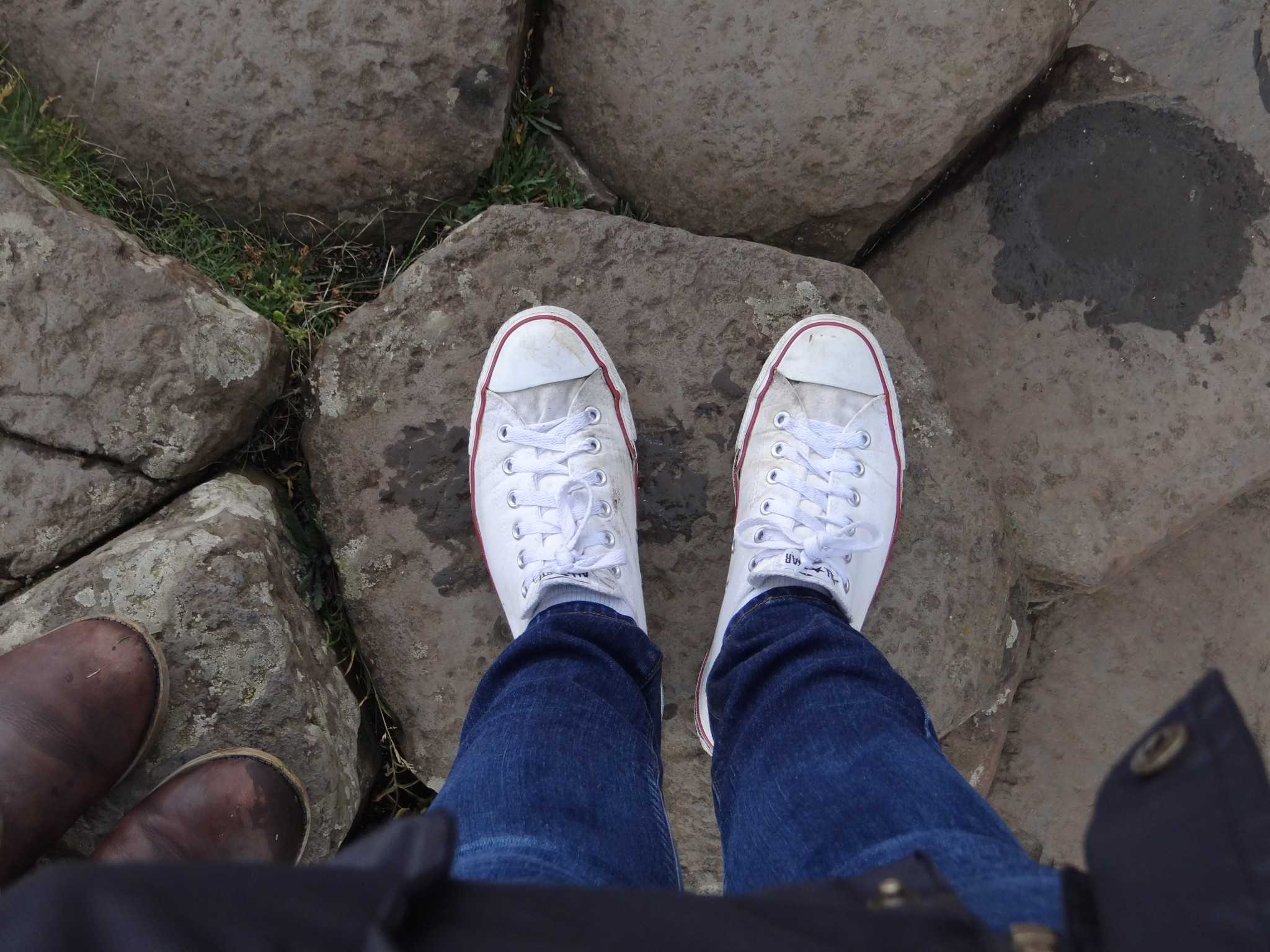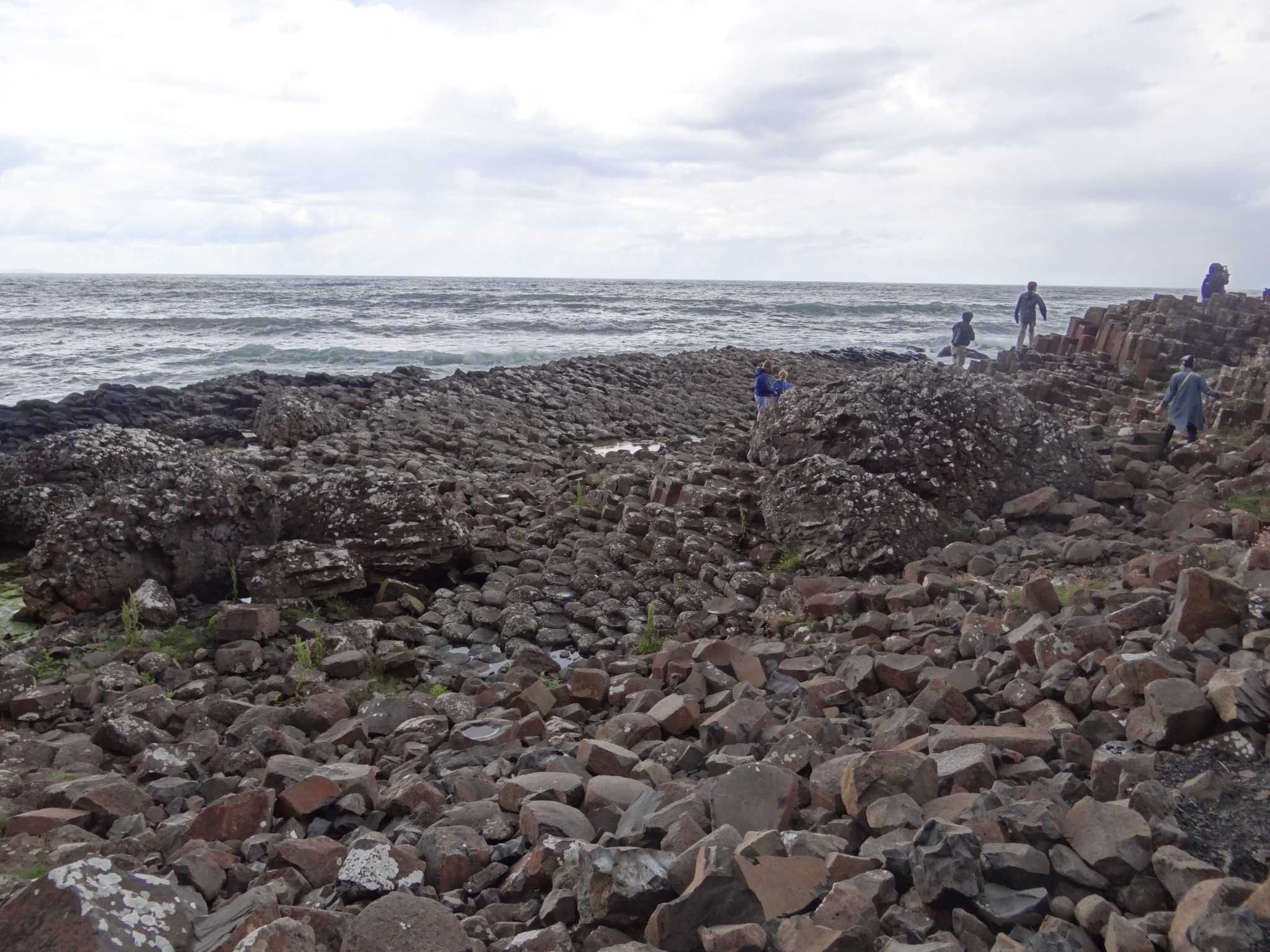 Overall, the trip was amazing.  It's great to be back in busy Dublin, but the country girl in me still misses the rolling hills of Ireland's coastal countryside.  I'll see it again this week, though, since a company trip is taking me and my coworkers down to Galway for the annual Galway Film Fleadh– a festival showcasing the best of new Irish indie cinema.  After that, I'm headed to London for the weekend, and I couldn't be more excited.  I feel like I'm just checking things off of my bucket list with each week that passes, and that's an incredible thing to be able to do (but I still haven't seen Fungi the Dolphin in Dingle– that's next on my list, I swear).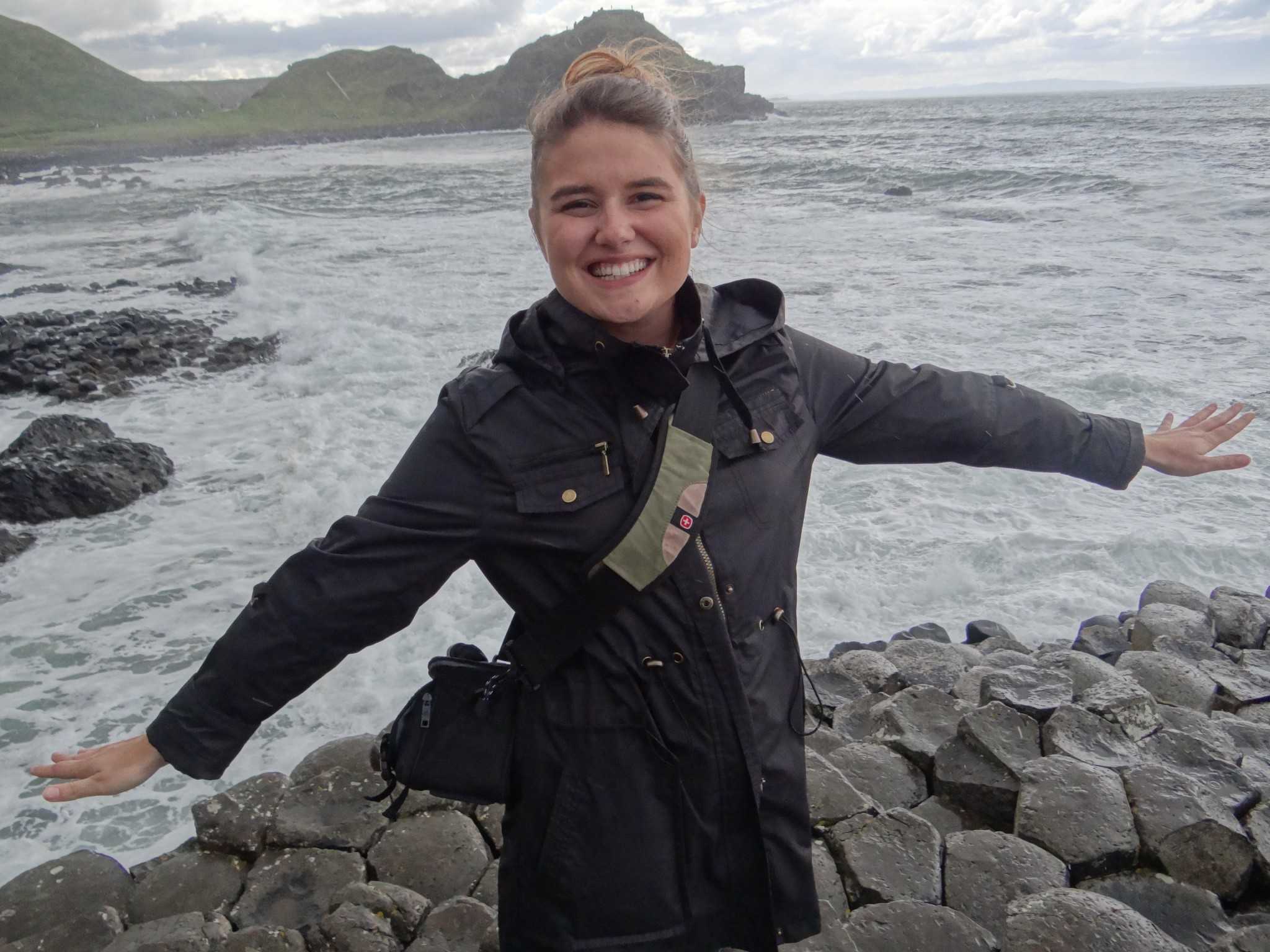 Until next time!!