The Clark C one man jam band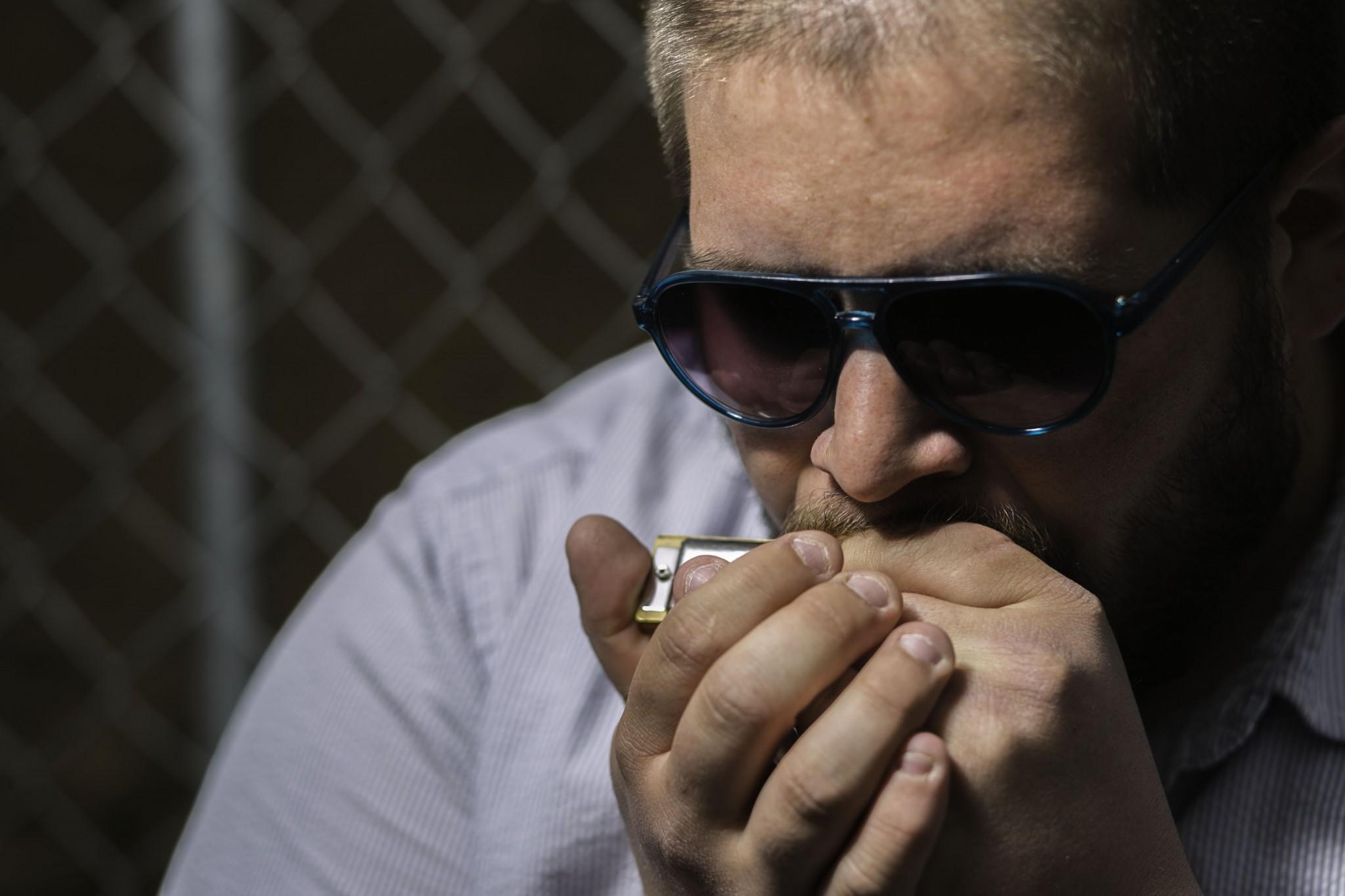 By Zack Burley and Lawrence Lam
"Cashed out I'm on the run, running from her like she got a gun, fortune teller told me to sell my soul to the devil, I'm going to hell," sang Lars Eriksen, a fifth year senior majoring in international studies in Latin America.
Eriksen blends his own lyrics, showcased above, with his potent harmonica skills. While passing the stone bench lining the west perimeter of Clark C, you may have encountered this bluesy harmonica player filling the area with his sound.
Starting his sophomore year, Eriksen would find his bench spot and start playing.
"When I first started playing, it was to get my nerves calm in front of people, and then it kind of turned into something else," Eriksen said. "It's not as often as every day, but I play as often as I can."
Eriksen has built his confidence over the years through his music, but his musical confidence wasn't always strong.
"He performed in plays from the time he was young and he performed in the orchestra, and I think it's just music that makes him anxious on stage, he never had trouble with theater," said Mary Catherine Murphy, Eriksen's mother. "I think he wants to do it exactly right."
Eventually, through his daily practice on campus, he's become comfortable performing in front of others and uses his harmonica as a social tool, allowing him to connect to people he might otherwise never have talked to.
"It's a stress reliever. I like talking to people, I like meeting people, I've met friends that I don't know outside of sitting next to them all day listening to me playing harmonica," Eriksen said.
His playing is heard by dozens of passing students. Sometimes he will play his own work, sometimes personal favorites like Johnny Cash's "Folsom Prison."
Most students who pass by keep walking, going about their business, but occasionally someone will stay, listen, sometimes even start a conversation.
"I usually get one person a day. I kinda sit there and wait for a person to come up to me and if I'm feeling like that's enough I leave, but usually one person a day," Eriksen said.
One day he met Summers Baker, a junior creative writing major, and sparked a conversation.
"He was playing harmonica one day on campus and I just walked up to him and started talking to him," Baker said. "I found out he plays the upright bass, and we've been playing together since then."
Their band, the Red Social Trail, which now plays a mix of original folk and bluegrass music, might not have happened if not for Eriksen's campus performances.
He began his harmonica playing five years ago, but he first played the bass, which influenced his introduction to harmonica.
"I played bass, I've been doing that for about nine or ten years, harmonica is kinda a response to the bass, because that instrument is so hard to carry and the harmonica is in my pocket all the time," Eriksen said.
With that ease of mobility, Eriksen loves to share his passion whenever and wherever he can. Next time you're walking to class, take a moment and enjoy his soulful tunes.
Collegian Editor at Large Zack Burley and Community Editor Lawrence Lam can be reached at community@collegian.com.