If the Saddle Fits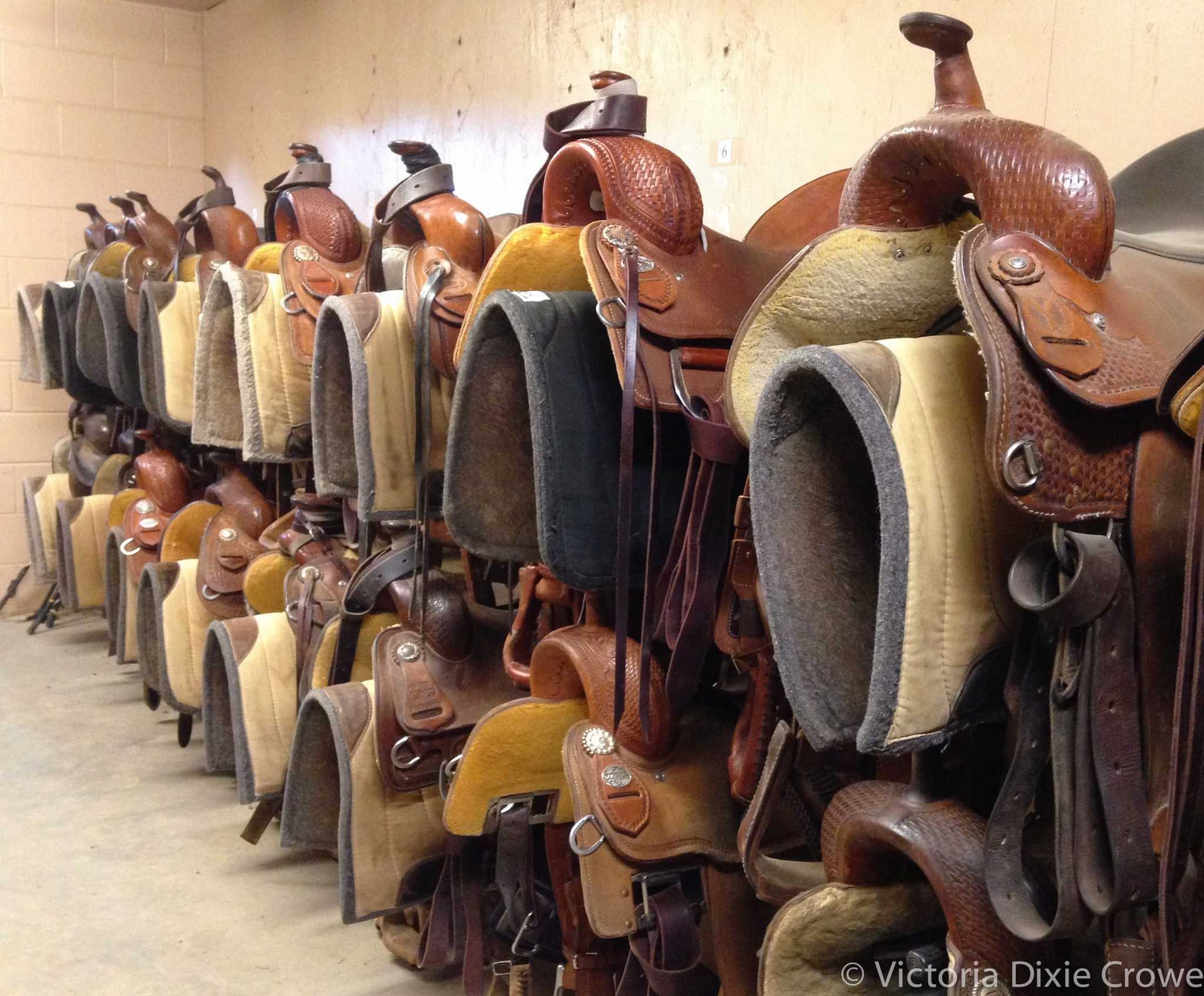 Have you ever bought a pair of shoes that were too tight? They were cute, they were on sale, they matched something you already had, they fit at the store. Oh yes, a lot of us have been there. What about your horse?
Well, okay the saddle isn't exactly like a shoe, unless you wear your shoes on your back, which you don't, but you know what I mean. The closest metaphor would be your backpack, but that won't work for my story so let's stick with shoes or in my case cowboy boots.
So saddles have changed a lot over the history of man and horse. There's an old saying that riding is the art of keeping a horse between you and the ground.  You'll probably do a better job of that if the saddle fits correctly.
I never realized before we did our saddle fitting class last week in Equine Management that not every saddle would fit every horse. Oh sure, I knew a tiny saddle for a pony wouldn't fit a draft horse, but I mean generally I thought a saddle would fit horses of the same breed. I knew a lot of working cowboys that made a living moving from ranch to ranch only had one saddle, and when they could afford it, they usually bought a custom saddle. But this class got me thinking who was it custom made for, the horse or the cowboy?
Before Jen Wright, a professional saddle fitter, did her presentation in class about equine biomechanics and saddle fitting, I had no idea that an ill-fitting saddle could wreak so much havoc on a horses body and disposition. But if you've walked around in shoes that rubbed a blister on your foot, or were so pinchingly tight that your foot went to sleep or cramped up, you probably weren't relaxed while going about your day. You were probably muttering under your breath and counting the seconds until you could get those shoes off your feet. Now imagine that someone forced you to wear those shoes.
Well I sure don't want to inflict that on any horse and then get up there on top of him and compound the whole problem. You really couldn't blame him for blowing up at that point.
So for my non-equine owner/lover/student readers, a saddle is built in layers upon a tree, which essentially has a flat bar resting on either side of the horse's spine. You want a nice even pressured flat fit before you even get to adding the layers of fancy tooled leather and accessories. If the tree doesn't fit you're just wasting money. You can't just stick an extra saddle pad under it hoping it will fit better. You might be able to get away with a little extra padding in one spot, but once you cinch that saddle down and have a rider on there, wow!
One English saddle we tried would've needed three inches of padding in the back and very little up front. I have a couple of pairs of boots that I had to put duct tape across a seam so it wouldn't rub my leg raw, and another pair that I haven't found the right sock thickness for yet, but I am determined to wear them! But that's my choice.  You have to realize that unlike a pair of leather boots, the tree itself will not break in, stretch or conform to the horse's body. If someone was inflicting that on me, well, I'd be pretty angry.
In the lab portion, Ms. Wright had us start by looking at the horse's feet. We were looking for a front leg that turned in or out. Perfect conformation on a horse involves drawing a lot of imaginary lines that centrally bisect limbs, or match specific angles. No horse is exactly perfect and some horses are bred for traits that help them athletically in certain equine sports.
But, imagine if you extended your arm and then rotated it inward. What happened to your shoulder? The muscles changed position. If your arm was permanently turned in and forced to bear 60% of your body weight like the horse's forelimbs, you'd see a fairly large difference between that shoulder and one where there was no inward or outward rotation. Yes, we're gathering information.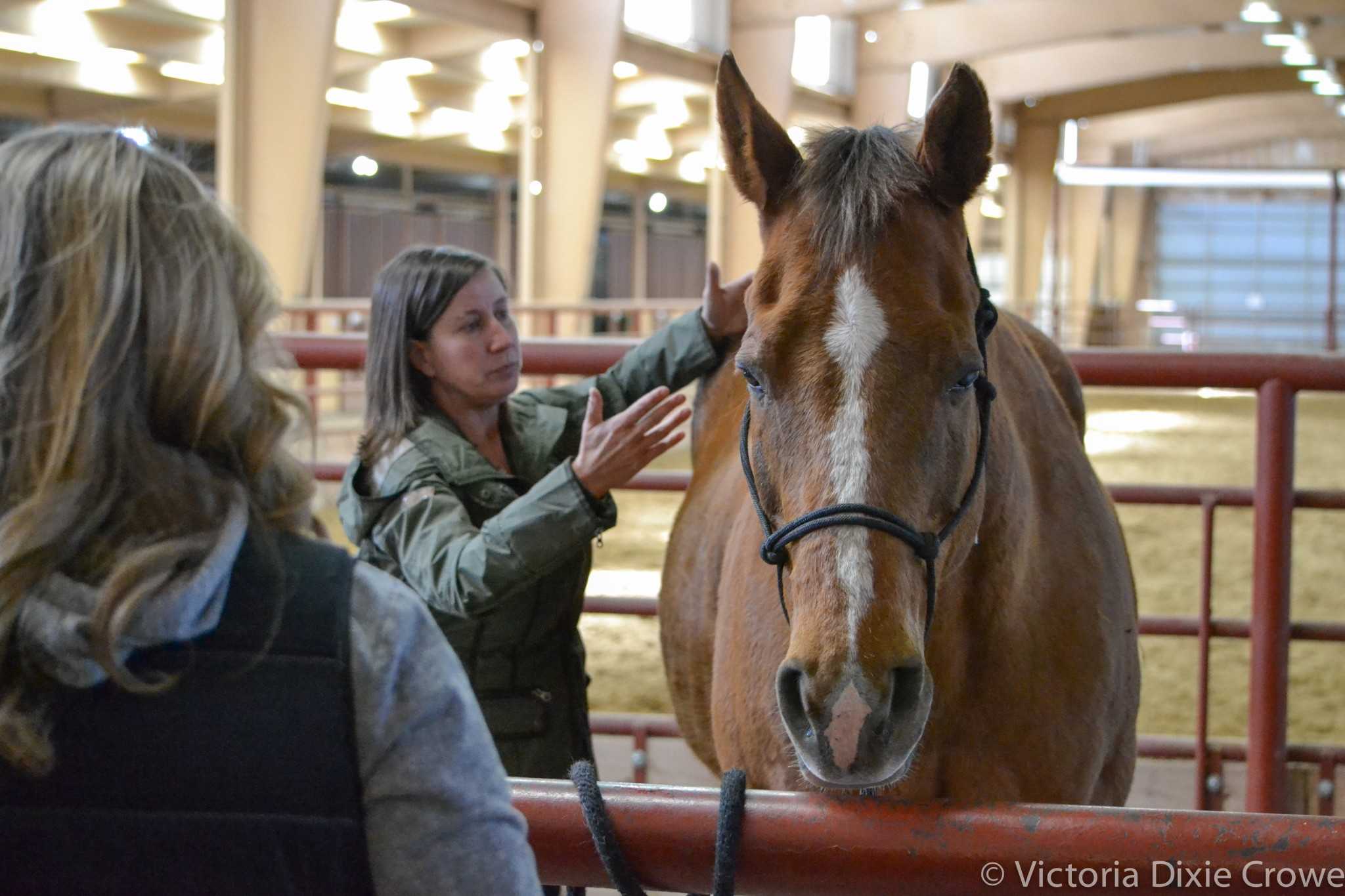 Next she had us feel the horse's back. We were feeling the spinous processes of the withers with our fingertips to make sure there were no vertebrae out of alignment. We continued along his back up to his croup. Then we felt around his shoulder blades, taking note that our test horse did in fact have one forelimb with slight inward rotation making the muscles on one shoulder larger than the other. We felt the transition of his cervical trapezius muscle in his neck, across his shoulders where the thoracic trapezius transitions into the latissimus dorsi muscle along his back. If one of these sections was locked up or tight, it would affect the movement of the other areas as well. Think about a time you had a stiff neck. You probably walked pretty stiff to try to protect it making your other muscles tight as well.
One horse Ms. Wright demonstrated this technique on, gave her a lot of cues with his eyes, ears, and turning of his head toward the point she was pressing on that he was very sensitive in, his superficial medial gluteal muscles. Think lower back around the top of your pelvis. All things considered he was pretty polite about telling her he didn't like it. It turned out the saddle he was ridden in the most had good contact and fit in other areas, but it had a long skirt that put pressure on that muscle. If he was warmed up a lot before being ridden he managed fairly well, but she suggested trying a different saddle with a shorter skirt on him to see if that eased his lower back pain.
We tried a variety of English and Western Saddles on three different horses and after being shown by Ms. Wright what a good fit felt like, we could see that a good fit for one horse was not a good fit for all horses. Younger older, and more athletic horses, all had slight variations in musculature, width across the back, and angle from the shoulders to the withers. One Western saddle we tried fit great along the bars, but the rigging plate where the girth was attached would've shoved the girth under his elbow. Imagine having something rubbing in your armpit all day. But with a good fit in the bars, a saddle maker could put a new rigging plate in there to correct that.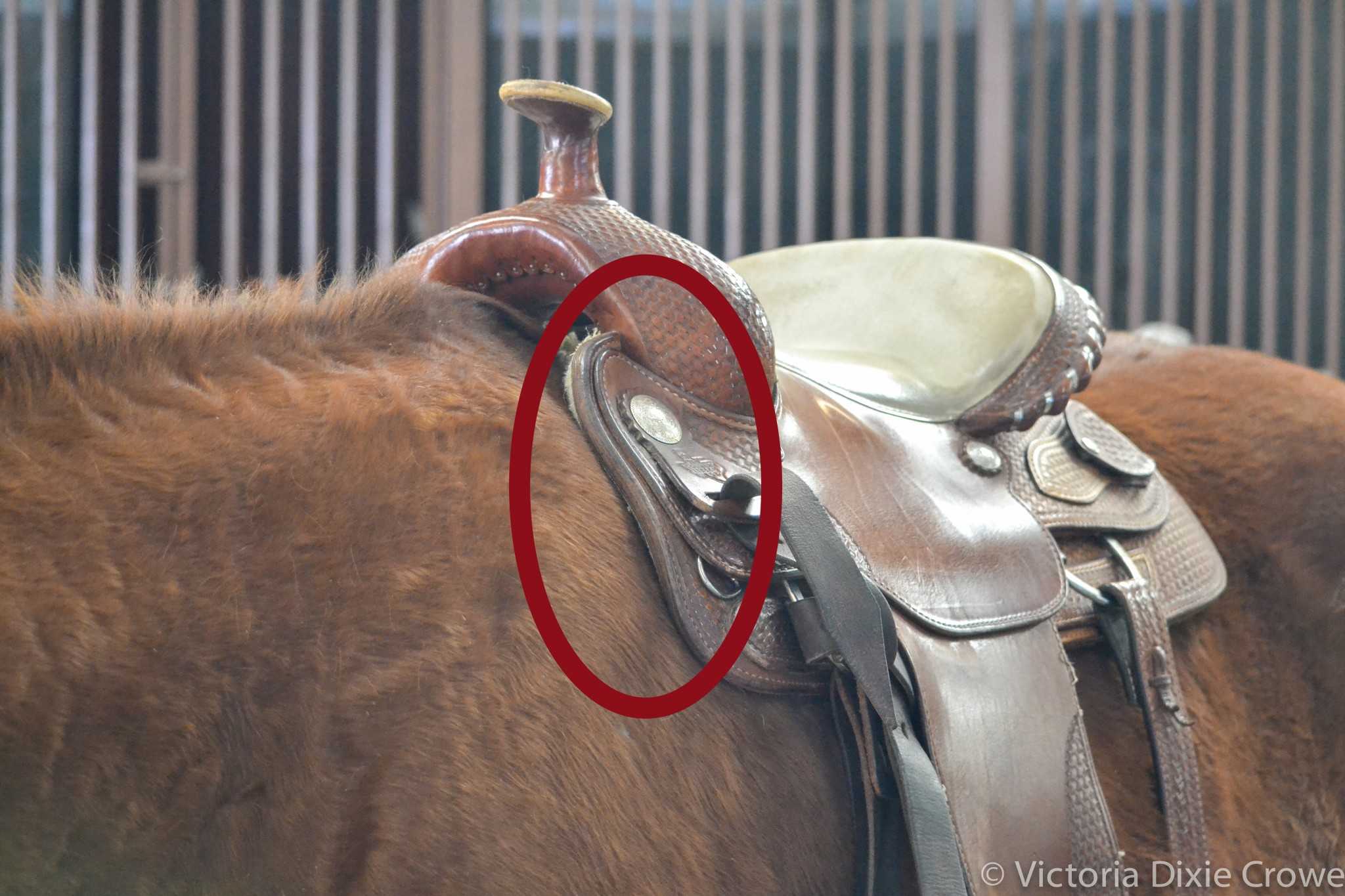 For our homework we had to do a saddle fit test on our own with one horse, take pictures; explain the process we used and the results. I actually got to fit my saddle on three different horses. On one of our school horses and one of my teacher's personal horses, it wasn't a good fit behind the shoulder and was pretty tight pointed pressure. I loaned my saddle to a friend who went riding and she felt the saddle fit and took a picture. It fit him really well all along the bars of the tree.  The difference was that the third horse had a different angle from the shoulder to the withers.
Someday when I can afford to buy a custom saddle, hopefully it will fit a majority of quarter horses. Maybe I'll have to have two. I sure don't want to end up with a bunch of saddles that don't fit. I have enough boots like that already.