Hare Krishna monks travel to CSU to promote meditation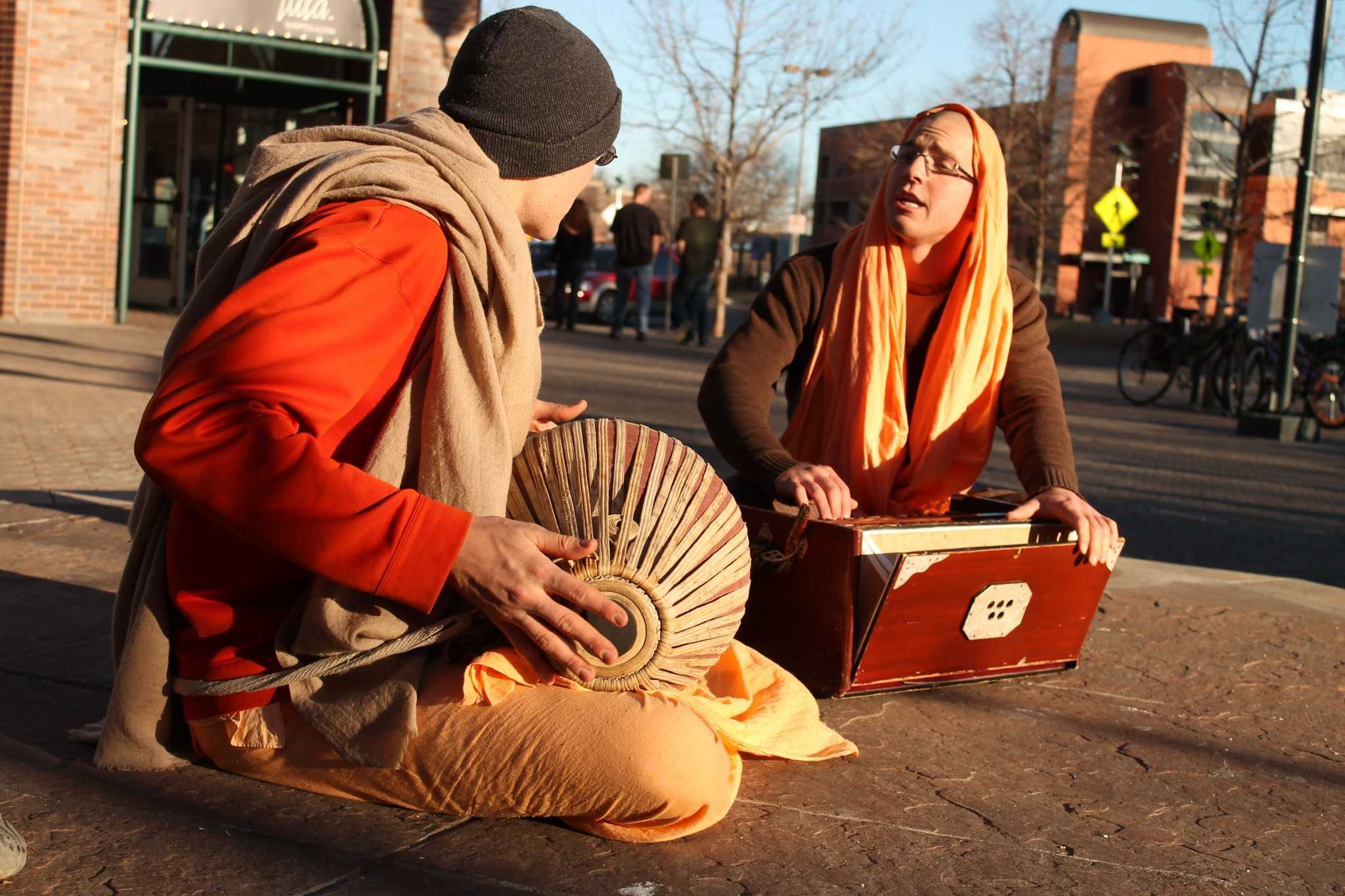 Hare Krishna. Hare Krishna. Krishna Krishna. Hare Hare. Hare Rama. Hare Rama. Rama Rama. Hare Hare.
These sacred words represent the Maha Mantra, which is repeated by monks of the International Society for Krishna Consciousness to become closer to God.
"By chanting these names of God it reinstates us in our original spiritual consciousness — or Krishna consciousness," said Adam Copeland, a monk at Radha-Krishna Temple in Denver. "By making a vibration of God's name, God is directly present in that sound vibration."
The monks of the Radha-Krishna Temple venture to Colorado State University to chant and spread awareness. They can be found in the Plaza — follow the beats resonating from their mrdanga, an instrument resembling a drum.
"(Mrdanga) has a profound effect on the consciousness," Copeland said. "It's a specific instrument meant for Kirtan."
Kirtan is the practice of chanting the Maha Mantra. A harmonium and kartalas are also used in association with the Maha Mantra.
While on campus, the monks perform Kirtan, welcoming any passersby to join them. They also hand out literature printed in their temple.
According to Trevor Krenzelak, fellow monk at the Radha-Krishna Temple, the books are free, but donations are accepted to cover printing costs.
In addition to creating free literature to pass out, the monks live a dedicated life with few possessions and activities.
"My day-to-day life consists of dancing, chanting and feasting," Copeland said.
Although this life may sound simple, it's not.
"So we wake up early in the morning. By 4:30 a.m. we're chanting and dancing and we do that for about five hours," Copeland said. "After about five hours we read from our sacred texts, the Srimad Bhagavatam."
Then they tour around to different college campuses. The monks can be seen at CSU on Tuesdays and Boulder on Wednesdays. They spend their weekends at their temple in Denver.
On these campuses they've been able to reach new minds and add perspective.
"I hadn't heard about it, I struggled a lot with religion," said Kyle Daniels, president of the Musical Meditation Club. "I had a negative connotation with it."
One day a friend brought him to chant with the monks. Since then, he's become president of the Musical Meditation Club on campus and can't stop the practice of Kirtan.
"You pretty much forget about everything else, you're not worried. It's very relaxing, it gets rid of a lot of anxiety, stress and it elevates you," Daniels said. "Eventually, you get so absorbed in it you don't even notice the time."
For those interested in participating, the monks are in the Plaza all day on Tuesdays. The Musical Meditation Club meets at 4:30 p.m. each Tuesday at the Danforth Chapel, but lately their meetings have been moved to the Oval due to nice weather.
Each meeting consists of chanting, a discussion lead by the monks and a vegetarian feast.
The monks' chanting encompasses much of their lives. It's also their key to happiness.
"(Kirtan) is blissful. Anandambudhi-vardhana, an ever increasing ocean of bliss," Copeland said.
Stop by the Plaza and find your inner spirituality, the monks welcome everyone.
"Even if you're not in 100 percent in agreement with everything, it's not like they're going to tell you that you can't come," Daniels said. "As long as you're learning something and you want to come, then they want you there, too."
Collegian Community Editor Lawrence Lam can be reached at community@collegian.com.