Webcomic Spotlight: "Check Please!"
Unless you've been living under a rock for the past couple years, online comics have become a great medium for artists and writers to collaborate for a global audience. Websites like Blogspot and Tumblr have been a reservoir for up-and-coming artists, and with new comic sharing websites like Taptastic it's never been a better time to find a new series to love. In the spirit of the winter Olympics (in addition to being one of my absolute favorite webcomics), I'd like to introduce Check Please!  by Ngozi Ukazu.
It follows freshman vlogger Eric "Bitty" Bittle during his first year on the Samwell University's hockey team. Formerly a figure skating champion, Eric landed a scholarship with the help of his small co-ed hockey team experience. His new team is composed of: the cocky with luscious hair named Shitty, the inseparable bros Ransom and Holster, and the seriously stern team captain Jack. It is incredibly easy to get attached to Eric's innocent demeanor and his inability to curb his pie making habits.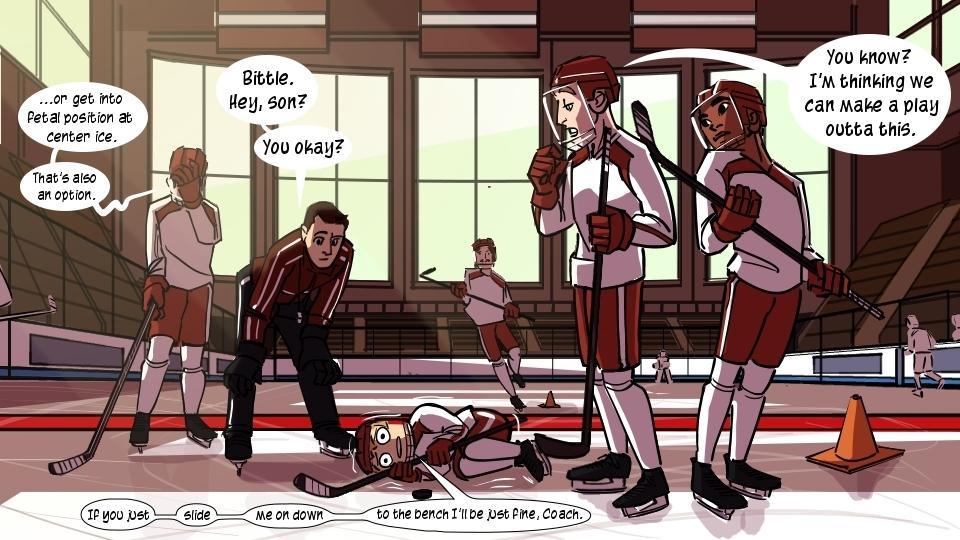 In addition to Eric's narration, there are a series of breaks called "Hockey Shit with Ransom and Holster". This is when everyone's favorite heterosexual life partners explain the ins and outs of hockey in the funniest way possible. With their infinite knowledge, I now know about hockey phrases like "flow", or "the majestic mane that fluxes forth from the helmets of hockey bros" and how to assign proper nicknames to teammates.

But not only is the story addictive, Ukazu is an extraordinary artist. Each installment can be a different art style or a different layout, but always in the best possible way. You can tell that she puts a tremendous amount of time and effort into the details of lighting, location, and angling. But I think one of my favorite aspects of the this comic is the extra commentary and art outside of the actual comic. If you follow the blog on Tumblr, you can find a map of the campus with locations of Bitty's dorm and the ice rink. You can ask questions to the team and she will respond with shorter comics of the boys responding. You learn more about their background,their majors, and how the team's house is haunted by two 93′ sorority girls. Ukazu has created a vast detailed universe for Samwell University's hockey team.

Filled with a lot of heart and humor, Check Please! will making you instantly fall in love with this motley crew. I cannot fully express my love for this comic. All the characters have a special spot in my heart and I am anxious to see where the plot is going with Bitty's personal and professional growth.
To start the comic from the beginning, click here! (Otherwise click "Start the comic!" in the sidebar)
For more recommendations, art, and comic book news, follow Comics for the Curious on Tumblr!