Dreaming Big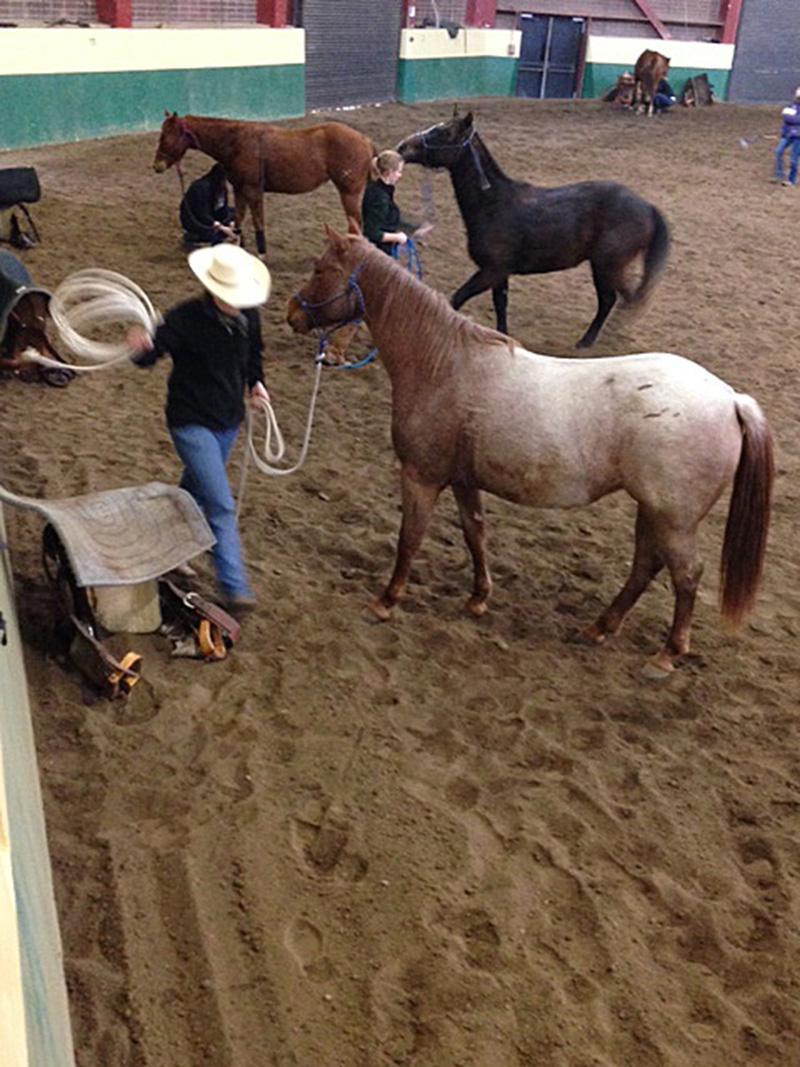 Many of my classes are team taught by experienced instructors, but we also have guest speakers from the equine industry that are so committed to the success of CSU Equine Science students that we truly receive a unique classroom experience. My Equine Sales Management class is not just a study of sales and marketing, it is actually getting in on the ground floor of helping to produce The Legends of Ranching Performance Horse Sale. Many well know ranches consign young horses to us for the sale at the start of the fall term. My classmates in the colt training class have been training them since they arrived. As we count down to the sale, now the teamwork truly begins.
We walked into class last week and hit the ground running. We're on a tight production deadline that includes writing catalog notes for each horse, which are essentially a concise introduction showing their pedigree (family tree), describing their temperament, and athletic abilities. They'll need to be done quickly to go to print next week. However, our instructors Cassidy Kurtz and Tiare Santistevan have prepared a timeline for the entire semester broken down into manageable pieces that they know we can achieve. So instead of feeling pressured I feel prepared. Our teaching assistants Chelsea Boggs and Hannah Kopenhafer have not only taken the class and been through the sale, but they are also helping to mentor us through the process.
Our next task will be assisting in a photo shoot for the catalog so potential buyers can see each horse's conformation. After we meet our first major deadlines we'll turn our efforts to our committee work that will focus on marketing the sale, looking at the sale and facilities from our buyers' points of view, learning about the legal contracts of horse sales, and more. During sales week we will be setting up the facilities, hosting the consignors, sponsors, and personnel.  We'll also be working behind the scenes in many roles to help the sale go smoothly.
This past Monday we had an overview of how to write catalog notes including a conference call with Robin Glenn of Robin Glenn Pedigrees. She critiqued our sales catalog from last year's sale explaining which entries could have been better, and how to achieve that through wording choices or more research. She also pointed out which notes were really exceptional and encouraged us to aim for that level of quality in all our notes for this year. Ms. Glenn is not only an expert in pedigrees, catalog notes, and horse sales, but also an exceptional horseperson. We were able to see this in her appraisal of some of the horse's conformational qualities that we should be paying attention to when writing. Her advice will set a standard I will strive to achieve. One thing that particularly stood out to me was her comment that we need to tell the truth in our notes because it's our credibility on the line. If we fluff a piece and the buyer sees the horse doesn't live up to that, then we've lost his trust. When you have an industry leader in your corner giving you solid advice based on years of experience you can't help but succeed.
We have each been assigned two horses to write catalog notes for, but only part of the information comes from pedigree research. I've already interviewed the student trainers for my two horses to learn about their trainability, temperament, athleticism, and other attributes. While each of my horses comes from a different consignor, the quality of these horses is immediately striking even though they are still in training.
After our interview session, I mentioned to student trainer Kate Baldwin that if I was in her place I wasn't sure I could sell the horse. She said that she was excited for Capitan Sport Joane to get out there and reach her full potential. She said this soft and responsive red roan filly, consigned to CSU by Lindy Burch of Oxbow Ranch, not only gives 110% all the time, but also wants to please and is a quick learner. Kate is really making it easy for me to write my catalog notes! After class I watched Kate working with Capitan Sport Joane in the B.W. Pickett Arena. This filly is under saddle and unfazed when Kate swung her rope as if roping an invisible calf while walking beside her. When the rope is thrown on her, or touches her in an area of her body where she can't see without turning her head, she isn't worried at all. Many people dream about owning a horse like her. The Legends of Ranching Sale fulfills buyer's dreams while preparing students to reach their own.
Save the date: The Legends of Ranching Sale will be April 26, 2014 at the B.W. Pickett Arena, 735 S. Overland Trail, Fort Collins, 80523.