A Mixtape for Midterm Misery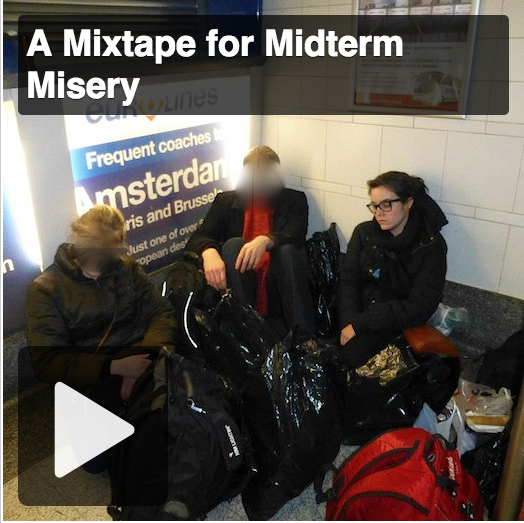 It's about that time right? Midterm time? From the looks of the library from 7pm until Midnight, it definitely seems to be. The only thing I like about midterms is creating a new midterm playlist to listen to while I study, or put off studying.
Crafting the perfect midterm mixtape is a hard thing to do. It has to be mellow but not too mellow. There needs to be a bit of diversity. There need to be a few more upbeat songs to wake you back up when you feel yourself slipping. The songs need to be good, really good but you don't want them to be too distracting. It can take longer to craft the playlist than it does to do the actual studying. So, being the incredibly generous blogger that I am, I decided to craft the mix for you. All you have to do is listen either on Spotify, or 8Tracks.
Let me know what you think about the mix either in the comments or by tweeting at me here. And if you have any songs you love to study to, send them my way.
Tracklist
My Number Foals
Disco Biscuit Love  The Jezabels
Thorn Castles  Gardens & Villa
All Is Full of Love  Death Cab for Cutie
Sadness Is A Blessing  Lykke Li
No Cars Go Arcade Fire
NYC Interpol
Nowhere Lullaby Built To Spill
You're The One That I Want Angus & Julia Stone
A La La Jukebox the Ghost
In The Aeroplane Over The Sea Neutral Milk Hotel
 My Mistakes Were Made For You  The Last Shadow Puppets
Girl With One Eye  Florence + The Machine
New Amsterdam Elvis Costello And The Attractions
clark gable  The Postal Service
New Slang The Shins
Buffalo Alt-J
Werewolf Heart  Dead Man's Bones
All in White The Vaccines
Winter Is All Over You  First Aid Kit
Barely Legal The Strokes
The Sea Is a Good Place to Think of the Future Los Campesinos!
A Girl, A Boy And A Graveyard  Jeremy Messersmith
Radlands  Mystery Jets
 The Ghost In You  The Psychedelic Furs
The Jeweller's Hands  Arctic Monkeys
Hands Reversed Tokyo Police Club
Fast Car  Tracy Chapman
Techno Fan  The Wombats