'We are all equal': Women's March draws thousands, including from Fort Collins and CSU
Julia Rentsch
January 21, 2017
A crowd sporting thousands of pink hats strained bus routes and packed cafes in downtown Denver Saturday, chanting as they went "This is what democracy looks like!" and "This pussy grabs back!"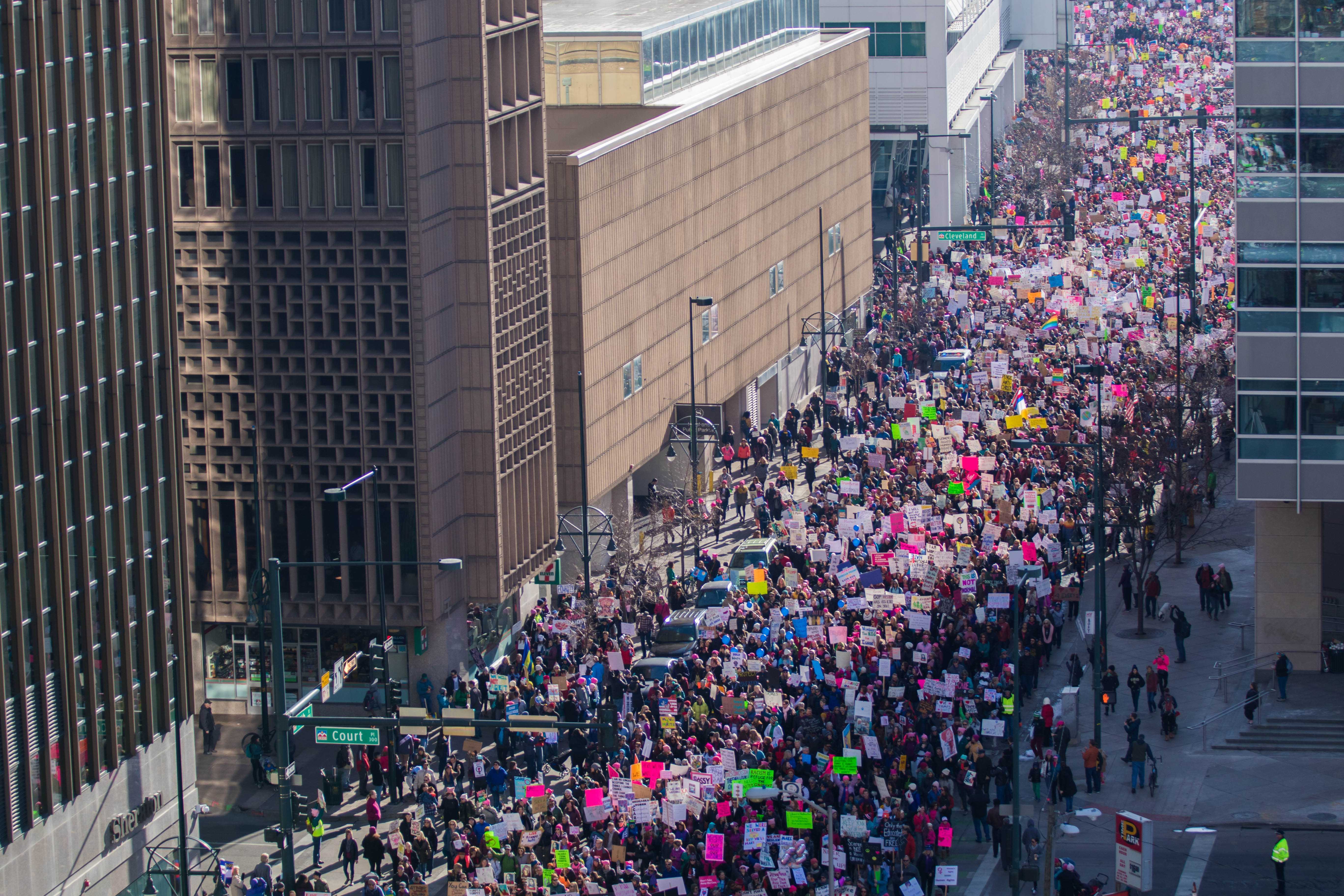 Between 75 and 150 thousand people converged on Civic Center Park to march in support of women's rights, including members of the Colorado State University and greater Fort Collins community.
The Women's March on Denver was one of over 600 sister marches organized in cities across the nation and abroad on the day following the inauguration of 45th President of the United States, Donald Trump.
Marchers gathered to protest Trump's rhetoric and plans for policy change, and to demonstrate their support for human rights.
Anna Davila, a CSU student studying interdisciplinary liberal arts, said that she was motivated to join the march by a key issue: respect.
"I feel like the current president doesn't show respect to all cultures, and to all women, and just everybody, really. I just feel like he needs to be more respectful," Davila said.
She attended the event with Josh Gross of Broomfield, who said he was there in solidarity.
"Words matter," Gross said.
Marchers carried a wide variety of signage that ranged from the lighthearted to the serious: Some poked fun at the President's characteristic combover hairstyle, while others communicated the holder's support for concepts like inclusion and diversity.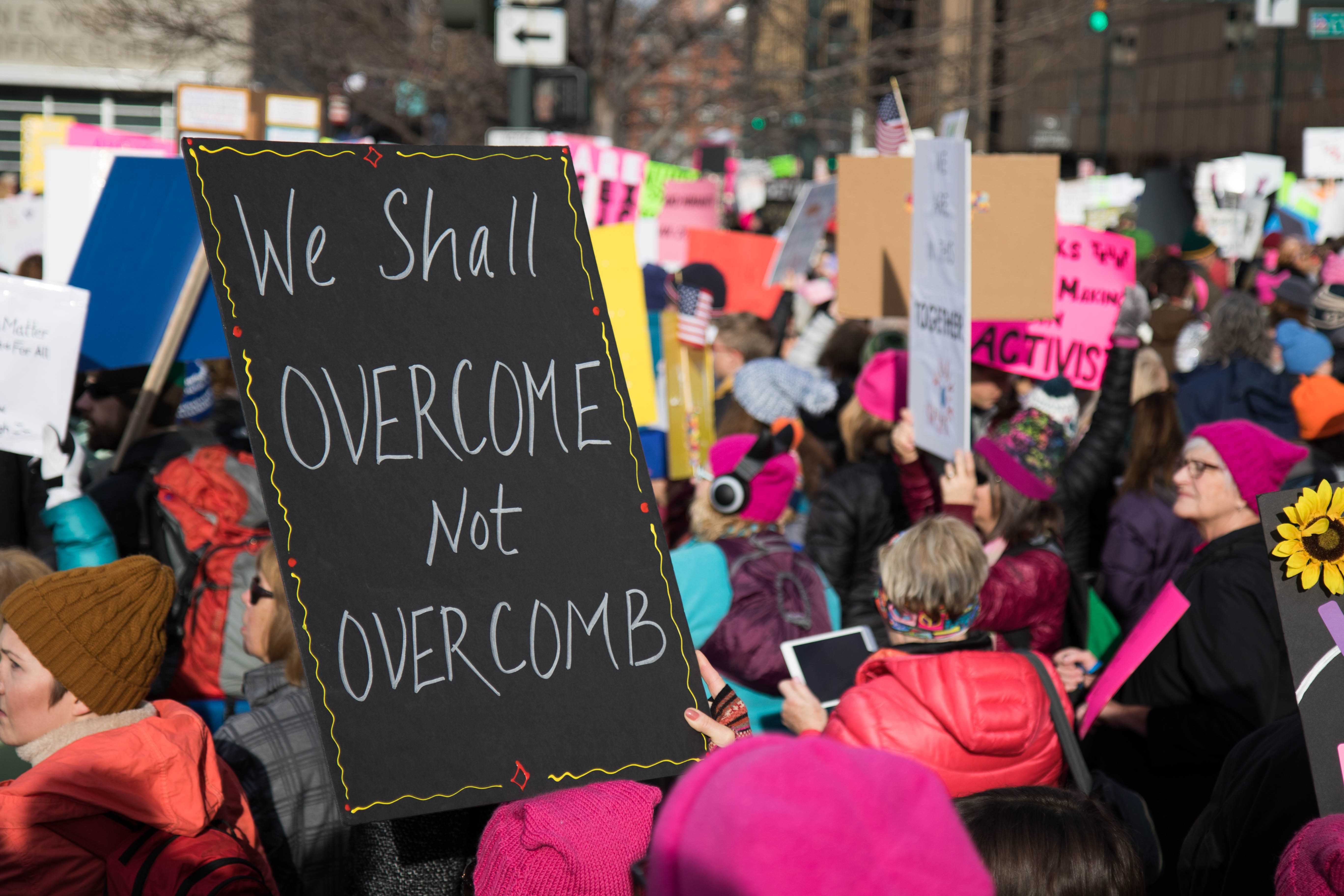 "This (march) is about things that affect everyone — it's not just women, it's all people," said attendee Roberta Haber. "We want to show that all people have rights, we don't want things changed, choice thrown out the window … We want everyone to have the freedoms that everyone is entitled to. Everyone."
Fort Collins resident Hank Stowers emphasized that his participation in the march was motivated by a variety of issues, but importantly that of solidarity with people of all ethnicities, races, sexual preferences, religions, abilities and social classes.
"Women comprise the largest population of oppressed people on earth, and this mass rejection of the patriarchy by municipalities across the United States and other nations is a strong reminder that feminism has more inertia and support than any opposing forces," Stowers wrote to the Collegian. "Inaugurating a chauvinist, sexually violent president was certainly a catalyst for this protest, but the issues addressed extend far beyond the inauguration."
Many signs carried by marchers referenced a video unearthed during Trump's campaign which depicted him speaking lewdly about women and contained the now-infamous phrase "grab them by the pussy." Bright pink beanies knitted so as to resemble cat ears — aptly named "Pussy Hats" by an activist group that began knitting and distributing them — were a common sight.
"It's supposed to help make us more visible as we're marching, but it's really supposed to be a way for people to contribute without having to protest," said Tina Dickinson, a marcher sporting a salmon-colored hat.
Many march participants had a common grievance: the incoming Presidential administration.
"I feel like this administration is not going to address (issues) and in fact they have sent a message that is opposite of what I feel," said Kathy Dorman, who completed both her Bachelor's and Master's at CSU. "The rhetoric against women … is terribly crude and disrespectful. I think women's rights are Americans' rights."
Others said their motivation to join the march was not necessarily political.
Sarah G., a CSU graduate who declined to give her last name, said that she attended the march because she is "very generally in support of women and all humans."
The principles of intersectionality and inclusivity were emphasized by many marchers and were included in the march's official mission statement, which specifically named "immigrants of all statuses, Muslims and those of diverse religious faiths, people who identify as LGBTQIA, Native people, Black and Brown people, people with disabilities (and) survivors of sexual assault" among their focuses.
Controversy emerged earlier this week, however, over the march's status as inclusive to all women. Requests from anti-abortion groups to be officially included among the more than 400 official partners of the march were reportedly denied by march organizers.
Emily Faulkner, president of CSU Students for Life, said that her group had not attended the March on Denver due to a prior commitment to attend the 13th Annual Walk for Life in San Francisco, which occurred the same day. She said, however, that her group would have "absolutely" attended the March on Denver, regardless of the controversy, had they not planned ahead to attend the Walk for Life.
"I think that when they excluded pro-lifers it really made me angry, but we would have gone to the walk anyways in solidarity with other pro-lifers," Faulkner said.
Most march attendees expressed positivity about the event, citing the larger-than-expected turnout and peaceful nature of the demonstration.
"This is so heartwarming," said 77-year-old Geoff Bruce, who marched alongside his wife, Harriet Hall, wearing a gray and pink cat-eared hat. "Isn't it marvelous how one person who hates has unified so many people?
"I'm a female today; I am a feminist," Bruce said.
See more photos of the march here.
Were you at the Women's March on Denver and want to tell us about your experience? Email news@collegian.com or find us on Twitter and Facebook.
Collegian Editor-in-Chief Julia Rentsch can be reached at editor@collegian.com or on Twitter at @julia_rentsch.