"Here's how we're going to provide the world with LSD." 
Only a neuroscientist could say such a thing as though they were reciting the terms and conditions of a streaming account.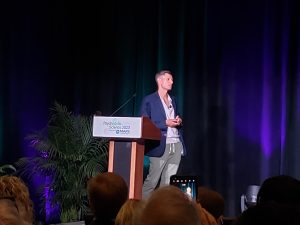 The week of June 19, Denver hosted the Psychedelic Science 2023 conference — a worldwide gathering of leaders in the psychedelic movement to share their knowledge in support of the rapidly growing industry.
The conference was hosted by the Multidisciplinary Association for Psychedelic Studies, a nonprofit organization whose "work develops medical, legal and cultural shifts so people can benefit from the careful use of psychedelics and marijuana for mental health, well-being and connection," according to their official website.
Though not the first of its kind, MAPS referred to their gathering as "the largest psychedelic conference in history," and it did not disappoint. More than 12,000 people walked through the doors of the Colorado Convention Center throughout the week to hear over 300 speakers across 11 stages, as well as featuring vendors, musicians, celebrities, high-profile speakers, practitioners and artists. Each stage featured a constant stream of presentations centered on specific topics or "tracks": therapy, clinical trials, studies, science, business, veterans, policy, society and plant medicines, with additional dedicated stages for keynote speakers and marketing.
The list of tracks alone would keep anyone busy, chasing experiences that can't yet be found anywhere else. However, the partitioned conference rooms that were dedicated to presentations, panels and education were only a portion of what the event had to offer.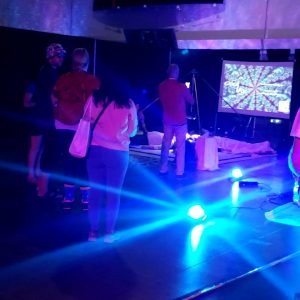 An exhibition hall named Deep Space was a black-light-filled chasm of interactive art, galleries, meditation experiences, rituals, sound baths, live music, yoga, dance sessions and humans of all kinds. Occasionally, people reclined around a station of headphones, eye masks and blankets; in the background, another live artist mesmerized explorers lost in the experience of it all.
About 2.2 million square feet were accessible to the full population, minus one of the larger exhibit halls where two daily meals were served to 6,000 people from Wednesday to Friday. Also, few thousand people arrived beginning Sunday for three days of additional workshops, exclusive sessions for healthcare providers and networking events where speakers and VIPs mingled before the general conference began.
Lunch and dinner were served like a special military operation with a dozen identical self-serve stations and countless tables of people. Food for thousands began with a queue that weaved through 580,000 square feet of exhibition halls, twice across 36,000 square feet of front lobby and into an unknown void where the line was only rumored to end eventually.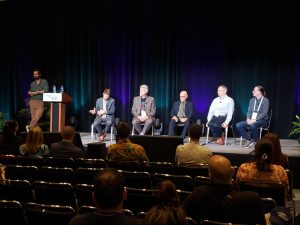 The atmosphere was full of life and familiarity. Groups of people in suits laughed together in the halls; people in plain clothes and backpacks kept their chins up and called gleefully to their partners while pointing at a sign; the occasional costumes were as surprising and diverse as the conference itself. Some people were nervous, but no one was upset. A complete lack of concerning tension permeated the facility throughout the week.
Well-marked, dedicated harm reduction volunteers were always within view in every room and around the halls, available to assist anyone in need. "Community commons" were set up to offer refuge, guidance and nonjudgmental support at any time. Security staff welcomed everyone at the entrance, and some Denver Police Department officials loitered near the outdoor turf where smokers found their sanctuary between sessions. 
The science track was a nerd haven — tucked between the plant medicine room and the policy room — and occasionally hosted a few hundred people who wandered in for particularly well-known speakers. People sat across the floor, stepping over each other after all the chairs had filled. An average session, on the other hand, looked like an over-prepared math lecture hall where a small handful of science enthusiasts happily skipped Jaden Smith's interview in a maxed-out theater. But monotonous mathematical formulas could not be farther from what these scientists actually took the stage to present.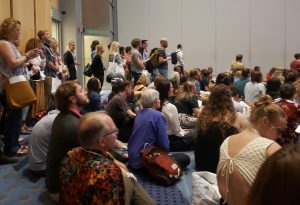 While celebrities attracted thousands in the Bellco Theatre, the brain science nerds in the science room were given the greatest gift of all: unpublished research. For three days, attendees soaked in 30-minute intervals of new data on topics like growing sentient human brains from skin cells and how to dose them with psychedelics; 
Brand-new substances are being engineered in labs to replicate only the most useful aspects of psychedelics, crafting novel drugs that will eventually change our world as we know it. Also on display was the study behind famous graphics of infant-like brain plasticity triggered in aging minds, visualizing new growth, new ideas and new thought habits.
But while the nerds learned how to stave off Alzheimer's, manic episodes and PTSD with little-to-no side effects, 10,000 other attendees dispersed throughout the mind-bogglingly massive building, taking in as much of the experience as possible.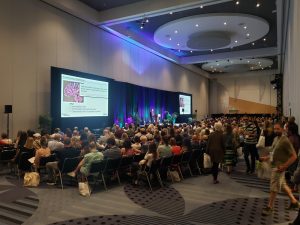 MAPS created a memorable destination for anyone studying, working with, impacted by or even simply curious about psychedelics. Since the psychedelic industry is still new and not yet legal in some countries (including the U.S.), followers will multiply, and gatherings will only grow larger. Notably, it's science that will lead the way. 
Of course, a conference this size can't be entirely without controversy. Concerns from Indigenous communities took the stage, U.S. policy has a long road to legalization and health care's relationship with psychedelics is complicated at best.
But where psychedelic science is concerned, the largest lingering question for attendees is, "Where can I get the slides?" 
Reach Jenn Dawson at jdawson@collegian.com or on Twitter @JennFriend_y.