Hundreds take to Library Park for Fort Collins Women's March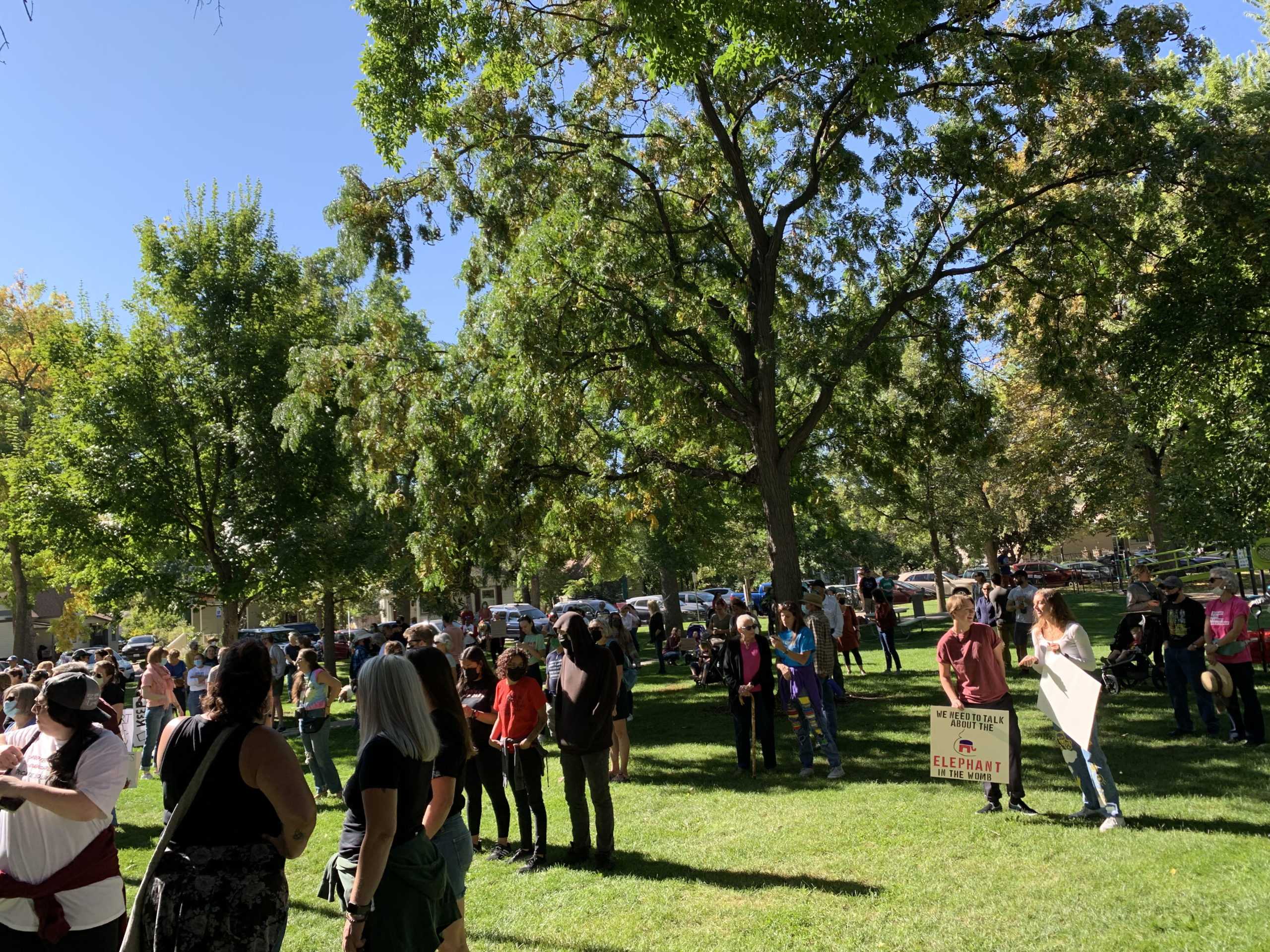 Editor's Note: Read the Spanish version of this article here.
Hundreds went out to Library Park off Mathews Street for a revived Women's March protest on Saturday, Oct. 2.
The 11 a.m. protest was marked by the recent passing of abortion restrictions in Texas, with many protesters and speakers coming out to the event to speak on the importance of safe and legal access to abortions. The law, signed by Texas Gov. Greg Abbott on May 19, took effect Sept. 1 and is a ban on abortions at roughly six weeks into a person's pregnancy.
I remember this fight was already won. We already put this to bed some time ago. … Women have come too far to look back or walk back now." -Kat Hitchcock, protester at the Fort Collins Women's March
Kat Hitchcock, one speaker at the event, said it was "ridiculous" that conversations about abortion access are still happening in 2021, especially as challenges facing climate surmount.
"I remember this fight was already won," Hitchcock said. "We already put this to bed some time ago. … Women have come too far to look back or walk back now."
Hitchcock also voiced support for the protesters and allies who came out to speak out against the recent legislation and said the cause is much stronger when community members stand together to protest.
"If you do not say, 'Oh no,' or maybe even, 'Hell no,' they will think that you agree and they will walk all over you," Hitchcock said. "There are a lot of powers that be that are terrified of women … terrified of what is different, … terrified of anybody that has the strength … to open their mouths and say, 'Oh no, you will not do this.'"
Another protester at the event, Cori Wong, emphasized the importance of talking about abortion and bringing more attention to the conversation in order to de-stigmatize the issue. She said too many men are silent on the issue of abortion when they benefit from women having safe and legal access to abortions.
"What people are shocked to hear is that, out of the people that I talked to, the majority of folks who could relate and said 'I have been through an abortion experience' were cisgender men," Wong said.
Wong said she wants to encourage people to talk more openly about how important access to abortions is for individuals, families and communities to thrive.
"Abortion is critical and necessary health care that everyone deserves access to without any additional barriers, stigma or judgment because it's perfectly normal," Wong said. "It's really about opening up the conversation so people can be supported and (make) the best decision for themselves and their families, and making sure people don't feel uncomfortable doing that."
Macy Klein, another speaker at the event and a recent human development and family studies graduate from Colorado State University, talked about her experiences growing up in the church and struggling with purity culture and victim-blaming in instances of rape. She recounted the experience of having her first kiss and crying for hours because she was "no longer pure."
"I realize I was naïve to trust in a patriarchal god who views purity as validity," Klein said. "Women in the traditional church are taught from a young age to save themselves for marriage while protecting men from their own sexual desires. They do this by controlling what we do with our bodies, shaming sexual desire among young women or same-sex couples, all the while teaching men that their desires are natural."
Klein said she didn't begin to question purity culture and the control her faith had until she was blamed for her own sexual assault and rejected by her family, friends and community.
"It wasn't until a pregnancy scare with my rapist and abuser that I finally understood why so many women had chosen abortions," Klein said. "It wasn't until my voice had been taken from me that I realized I wanted and needed to be heard."
Noah Pasley can be reached at news@collegian.com or on Twitter @PasleyNoah.