How to enjoy Rocky Mountain National Park as a CSU Ram
Samy Gentle, Staff Reporter
April 25, 2023
Editor's Note: Read the Spanish version of this article here.
While Fort Collins is beautiful in its own right, Colorado State University students have the additional privilege of approximately 415 square miles of scenic public land for recreation right in their own backyard: Rocky Mountain National Park. 
The nearest access point, Beaver Meadows Entrance Station near Estes Park, Colorado, is fewer than 50 miles from Fort Collins, making it a perfect day trip option for CSU students.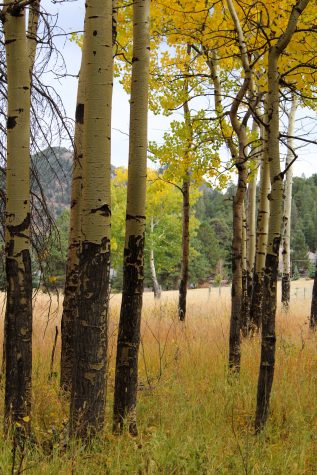 Here are five ways to cross RMNP off your Colorado bucket list.
Wildlife viewing
Elk enthusiast? Bighorn buff? Moose maniac? RMNP is home to nearly 60 species of mammals and over 280 species of birds, according to the National Park Service. Elk are one popular species for visitors to seek out. Their mating season generally lasts mid-September to mid-October, where they then gather in large groups, especially in the Kawuneeche Valley.
Remember to keep your distance from wildlife for both your safety and theirs.
Estes Park
People may visit RMNP to get closer to nature, but if you want a little more civilization during your visit, Estes Park is nearby to satisfy your desire for a cute little mountain town. Estes is less than 4 miles from the Beaver Meadows Entrance Station, according to the National Park Service, making it a great base camp for your trip.
One of the town's key attractions is the The Stanley Hotel, which, after Stephen King spent a night there, inspired him to write "The Shining." This one's for you, English majors.
Hiking
From flat strolls to steep climbs, RMNP has tons of hiking options for all levels. One popular option near Estes is the Gem Lake Trail. With an elevation gain of about 970 feet, this 3.4-mile round trip hike is a moderately challenging option. If "moderate" isn't in your vocabulary, Longs Peak is a fourteener within the park. The trailhead is south of Estes, under 1.5 hours from Fort Collins.
"I really like the hike to Lake Haiyaha," said Nicole Rangel Gomez, co-social media manager of the CSU Outdoor Club. "Not only do you pass two other lakes on the way there, you get to see all the greenery, the towering peaks, and at the end, you can take a really rewarding and fun alpine lake dip with a gorgeous view."
Scenic drives
While many people love beautiful mountain views, some prefer looking at them from the comfort of their car, and that's OK. One of RMNP's most popular routes is Trail Ridge Road, a 48-mile stretch between Estes Park and Grand Lake, according to the National Park Service. Approximately 11 of those 48 miles are above the tree line, allowing for vast tundra views as you go through the mountains.
CSU's Outdoor Club
What's better bonding than experiencing the beautiful yet challenging obstacle courses of nature with your fellow Rams? The CSU Outdoor Club can make that happen for you, especially in RMNP.
Over the years, the Outdoor Club has taken many trips to the park, including hiking excursions near landmarks such as Sky Pond, Loch Vale and Emerald Lake, said Mollie Hendry, president of the Outdoor Club. The club encourages carpooling for their trips to increase the accessibility club members have to Colorado's wilderness.
"We always go (to the park) a few times a year at least, snowshoeing and hiking most often," Hendry said. "I believe we have some officers planning backpacking trips there next fall as well. Rocky Mountain National Park was one of the first major landmarks I saw when I moved to the state, and it's the one I'm most drawn to."
Reach Samy Gentle at life@collegian.com or on Twitter @samy_gentle_.