MISCOMUNICADO: Reawakening Art Rock in a post-genre world.
Saruh Fenton
June 16, 2016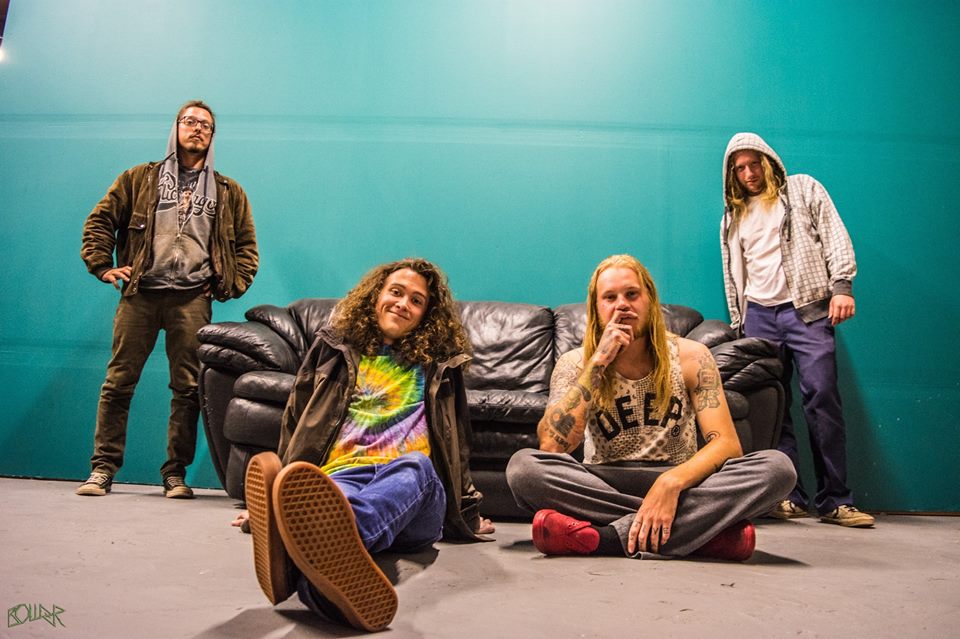 When James Hodgkins met Dan Scott Forreal in middle school, all that mattered to him was that Forreal had a skateboard gripped in one hand, and a cast fixed on the other. For both, the friendship was almost instantaneous and soon within the fences of Philadelphia's skate parks the two discovered a shared bond not only as skaters, but as musicians as well.
"We've been an entity for as long as we've known each other," said Hodgkins.
While this bond has seen them through 12 years of adventures, the events that deposited them directly into the Fort Collins music scene in 2011 were nothing short of serendipitous. Through a series of happy accidents Hodgkins and Forreal, alongside childhood friend Luke Barone, and visual artist Braden "skEYEfi" Happ, have brought a revitalized interpretation of art rock to Fort Collins in a project they describe as "future classic rock." 
Within the past 5 years the group has worked together to rig a project that stretches beyond the limit of what most musical endeavors encompass. Taking form as a band that honors not only the artistic side of music, but the visual and improvisational side of live performance as well, the four members of MISCOMUNICADO have created something that by their own admission doesn't quite make sense unless you experience it up close and personal.
Harnessing elements from the realm of EDM fused with the kind of sound you'd hear at a rock concert circa the 60s and 70s, Miscomunicado has successfully teased the curiosity of audience members with a sound that is almost as unconventional as their name.
Although forming MISCOMUNICADO was a process that doled out an equal amount of hits and misses in the beginning, the group's ongoing efforts have created an ambitious project that exists somewhere along the lines of inspired insanity and fearless confidence. 
The four have spent the last several years perfecting their craft. In general the grand design of MISCOMUNICADO wasn't something that came instantly, but instead developed slowly as each member found his individual sound and style. According to Forreal, this process of self discovery is exactly what MISCOMUNICADO is named for; reflecting the kind of thematic experience of growing up most people can easily identify with.
"For us we had experiences, both psychedelic induced and not that really made us question who we were, it made us come to grips with the fact that a lot of the things we had been taught to believe were at best somebody else's opinion," said Forreal, "and when you base your life around someone else's opinion things get confusing really really quick."
With nearly seven years under their belt as a band, the road that brought them here was initiated by an almost split-second decision to leave Pennsylvania behind via one glorified camper in 2011. Although the move wouldn't happen for several months, the trio says that each step closer was reminiscent of some seriously freaky coincidences, and at times felt a lot like a push from fate.
"It becomes more and more weird the more in depth we go with it," said Hodgkins on the process of moving out west.
Three weeks after departing, Forreal, Hodgkins, and Barone ran out of gas in Fort Collins; it didn't take long before the trio started calling Fort Collins home. Although the group eventually found a more permanent residence, they spent the first two weeks living in the parking lot of Walmart while recording their first album inside the camper.
"It was everything we wanted it to be, but so much more. At the same time, we could have never imagined anything like it even though it's exactly what we wanted," said Forreal of their experience being a Fort Collins band.
While the band is known for the unique flavor of their sound, perhaps what sets them apart further is the fact that their visual projections on stage, created by skEYEfi, serve as an integral element of their artistic message. In some regards it seems they act as the thread that ties the whole production together. SkEYEfi is considered a full fledged band member, and while he is chiefly behind the scenes, the Indiana native can be heard on many of their records as well.
The band explains that while their choice of songs are the same from show to show, audience members shouldn't expect to see the same MISCOMUNICADO show twice since their style on stage is heavily influenced by joint improvisation. According to Hodgkins this typically translates into a song being played in a novel way from one show to the next. 
"There are so many things we adapt just based on how the crowd is working with us, or how we're feeling," said Hodgkins. "That's the jam for us though, that's us playing music."   
Regarding their off-the-fly stage approach Barone said, "we know what we're going to do before the show because we know enough about how we each play music." 
This summer in particular marks a new era for MISCOMUNICADO. In addition to signing with the Artist Management division of Higher Ground Rehearsal Studio in Fort Collins, the band is set to play at the Mishawalka Amphitheater Friday June 17, with Dead Floyd, and will be releasing their new single Physical Lizard that same day. Their full length album is set to come out later this summer coinciding with a CD release show at Hodi's Half Note July 22. 
For more information about Miscomunicado you can visit their Facebook page:
https://www.facebook.com/miscomunicado/?pnref=about.overview
You can also check out their Live at Higher Ground session from earlier this year:
https://www.youtube.com/watch?v=mT0YNeWEGiE