Rams volleyball extends home winning streak to 8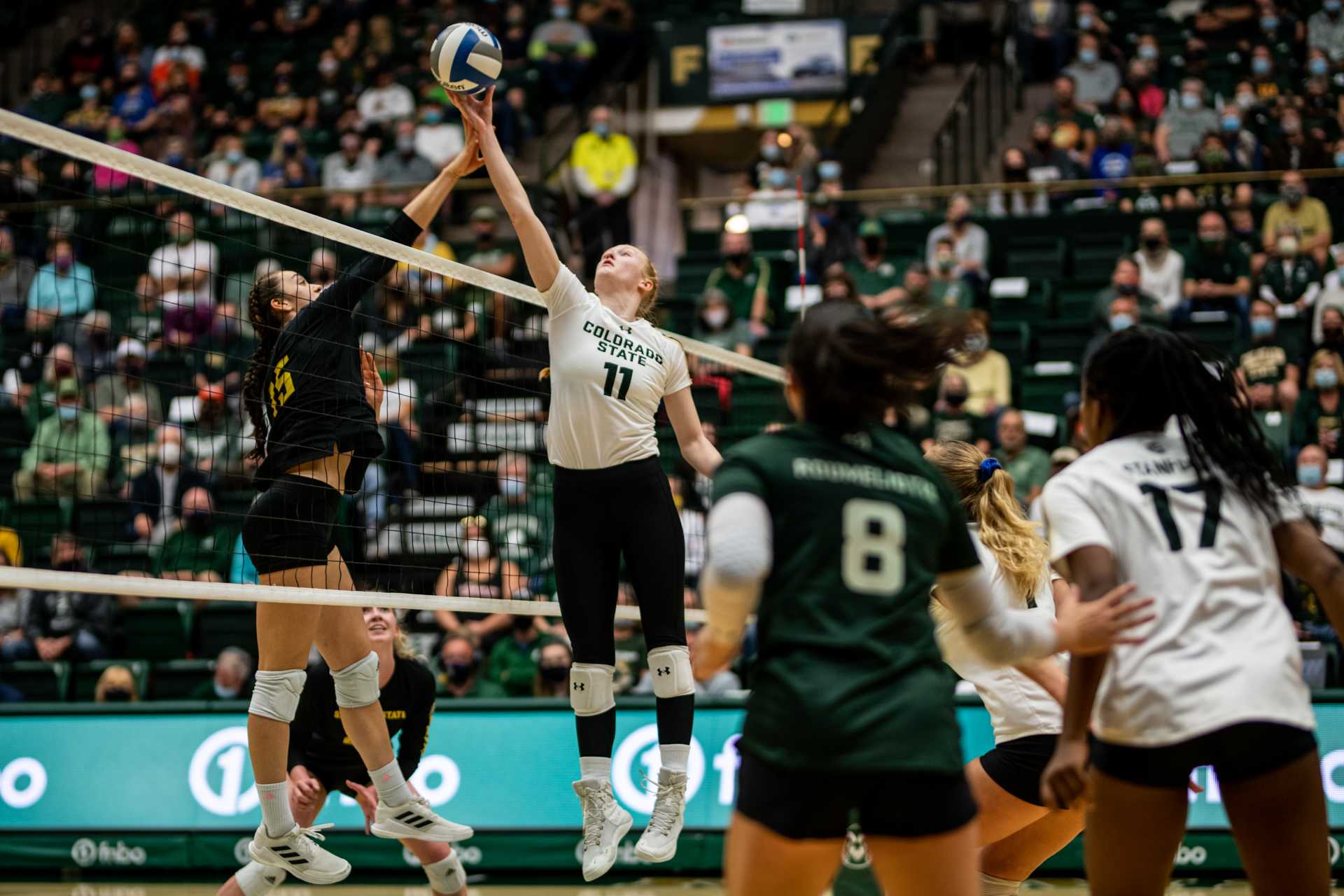 The Colorado State University Rams volleyball team has been on a tear at Moby Arena this season, recently extending their home win streak to eight after sweeping the San José State University Spartans Nov. 6,  25-15, 25-22 and 25-16. This dominant victory put the Spartans two games behind the Rams in the Mountain West Conference standings with only four matches left on the season.
The first set couldn't have gone better for CSU as they cruised by SJSU with a double-digit victory thanks to 16 kills, six service aces and a .368 hitting percentage. The Spartans brought the defense in the second set with three blocks, but their eight attack errors are what led to their downfall and they couldn't finish out the set, losing by only three points. The Rams closed out the sweep soundly in the third set with 19 kills, three blocks and an impressive .486 hitting percentage. 
CSU played a lot more disciplined than SJSU as they only had 17 errors compared to the Spartans' 29. They were also a lot more aggressive with attacking the ball as they had 16 more kills (50-34). The biggest difference in the match was the hitting percentage and assists. The Rams posted a .380 hitting percentage and 44 assists, while the Spartans only had a .194 hitting percentage and 31 assists. 
The Rams offense was led by sophomore Kennedy Stanford, who put up a .406 hitting percentage and 16 kills, only three kills behind her season-best of 19. Junior outside hitter Annie Sullivan wasn't far behind Stanford with 13 kills and three digs. Sophomore middle blocker Karina Leber also hit a .538 with nine kills. 
Colorado State redshirt junior Ciera Pritchard's 42 assists put her at 826 assists on the season and third in the Mountain West. In a match in which we only saw eight service aces total, Pritchard had four of them with the Spartans getting none. Rams defensive specialist Alexa Roumeliotis put up 13 digs, which sits her at the top of the Mountain West with digs per game at 4.46. 
The Rams travel to Laramie, Wyoming, on Tuesday to take on the University of Wyoming Cowgirls at 6:30 p.m. in the second edition of this year's Border War. The last time these two rivals played in late September, the Rams swept them at home, 25-18, 25-17 and 25-22. The Rams should dominate the Cowgirls as they are eighth in Mountain West and only 6-8 in conference play. The Rams look to carry this momentum into the final games of the regular season and the Mountain West Women's Volleyball Championship so they can ultimately return back to the NCAA championship. 
WE NEED MORE BROOMS!!#PointRams x #MakingHerMark pic.twitter.com/NWsGRc4S7d

— Colorado State Volleyball (@CSUvolleyball) November 6, 2021
The Cowgirls are led by:
Kills: KC McMahon (260)
Assists: Abby Olsen (426)
Service Aces: Erika Jones (27)
Digs: Jones (306)
Blocks: Jackie McBride (73)
The Rams are led by:
Kills: Stanford (255)
Assists: Pritchard (826)
Service Aces: Pritchard (37)
Digs: Roumeliotis (375)
Blocks: Sasha Colombo (67)
Reach Brendon Fairbairn at sports@collegian.com or on Twitter @Fairbairn_7.