The college football season has been filled with dramatic finishes, stellar performances, and most notably, monumental upsets. Last week's games were no exception, with top-ranked teams succumbing to the sheer determination of their lower-ranked opponents. Let's dive into these games and analyze what went down.
Oklahoma Leaves Texas With a Massive Win
No. 12 Oklahoma surprised No. 3 Texas 34-30 on the road on Saturday. This game's highlight reel will be dominated by Oklahoma's miraculous last-minute game-winning drive. Dillon Gabriel, displaying grit and finesse, executed a perfect three-yard touchdown pass to Nic Anderson in the dying moments, taking the lead with just 15 seconds on the clock. 
Gabriel showcased his dexterity, amassing 113 rushing yards and a touchdown with 14 carries and displaying brilliance in the air with 285 yards and the winning touchdown, completing 23 of 38 passes. Quinn Ewers' impressive streak of 19 completions could not overpower the Sooners, and even with a 14:45 dry spell in the final quarter, Oklahoma's sole touchdown made all the difference.
UCLA Dominates Washington State at Home
UCLA outscored No. 13 Washington State 13-0 in the fourth quarter to make a statement in their 25-17 home win on Saturday. The game was an example of how to turn defense into offense. UCLA was ruthless, forcing a flustered Cameron Ward into committing four turnovers. 
Ward, averaging a staggering 347.2 passing yards per game and a 74.5% completion rate in his first four games this season, seemed lost against the Bruins. He threw his first two interceptions this season and completed just 19 of 39 passes for 197 yards and one touchdown. The Bruins capitalized on their opponent's missteps, converting their four takeaways into a crucial 16 points (two touchdowns and a field goal).
Louisville Takes Care of Notre Dame at Home
The biggest upsets of last week included Louisville's 33-20 win over number 10-ranked Notre Dame. Kentucky sports betting promo codes would have been useful for that game. You can bet this week will be full of surprises so make sure to take advantage of all the great promos available. The victory is etched in the records as the Cardinals improved to 6-0, replicating their impeccable start from 2013. This win also extended their winning streak to seven consecutive games.
The star of the game, Jawhar Jordan, tore through the defense, racking up 143 yards with 21 carries and delivering two game-defining touchdowns. The Fighting Irish's ground game was in shambles as the Cardinals limited them to a mere 44 rushing yards. Audric Estime, the nation's leading rusher before this game, was effectively neutralized, managing only 20 yards against the Cardinals' unyielding defense.
Georgia Tech Gets Massive Win in Miami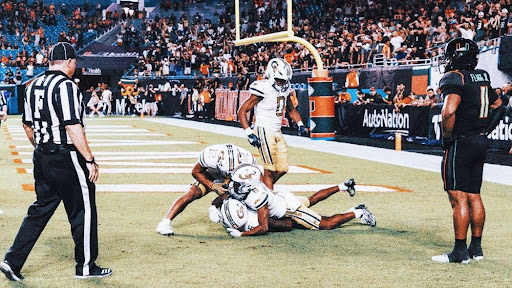 Georgia Tech improved to 3-3 after Saturday's 23-20 road win against No. 17 Miami. The game seemed destined for a Miami win, but fate had other plans.
Haynes King provided the ultimate shocker, throwing a 44-yard touchdown pass to Christian Leary with just two seconds left on the clock. This was possible because Miami should have taken a knee to secure the win in the previous play, but instead they inexplicably ran the ball and Don Chaney turned it over, letting Georgia Tech go 74 yards in 24 seconds.
Wyoming Ends Fresno State's Unbeaten Streak
No. 24 Fresno State outscored Wyoming 9-0 in the fourth quarter but it wasn't enough and they lost 24-19 on the road on Saturday.
Andrew Peasley threw three touchdowns and nose tackle Cole Godbout had an interception in the final minute of the fourth quarter to help Wyoming end the second-longest winning streak in the nation at 14 games. That winning streak was second only to Georgia's current 23-game winning streak.
Wyoming, which has dramatic home victories against Texas Tech and Appalachian State this season, ended a four-game losing streak against Fresno State, the defending conference champions. The win was Wyoming's first against a ranked opponent since beating San Diego State 34-33 on November 19, 2016.
Reflecting on Last Week's Drama and the Essence of College Football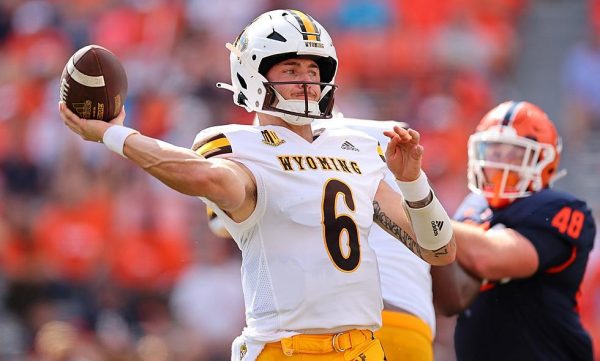 What a week it has been for college football enthusiasts! From Oklahoma's last-second heroics to Wyoming ending a formidable streak, the drama was nonstop. Each game serves as a reminder of why fans flock to stadiums or huddle around screens every weekend. It's the unpredictability, the David versus Goliath matchups, and the raw passion of the players that keep us coming back for more. 
These upsets not only reshape rankings and season narratives but also encapsulate the essence of the sport. College football is more than just touchdowns and field goals; it's a testament to perseverance, teamwork, and the belief that on any given day, any team can triumph, regardless of the odds. 
This unpredictability and the inevitable surprises that come with it make every match, every quarter, and every play a must-watch. As we move further into the season, one can only wonder what other surprises are in store, and which underdog will next leave its mark on the history of college football.