Voodoo Dolls and the Vintage Life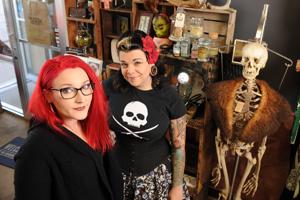 For all your alternative needs, there is a store that now caters just to your fancies.
"Voodoo dolls. A bat in a glass frame. Eyeglass frames from the '50s. Leather cuffs. Vintage Halloween masks. Retro dresses. A vintage prosthetic limb. If you can't find it anywhere else, it's at Abernathy's. Partners Nicole Perez, of Davenport, and Becca Clark, of Moline, describe their store in three words: vintage, handmade, weird.
"It started, and what we thought it would be kind of blossomed into something new in a great and unexpected way," Ms. Clark said. "The store connected with people on a level we didn't expect. We saw a lot of like-minded people who really liked unique and eclectic lifestyles, but a lot of more traditional people love it, too. That's been exciting, having the store be welcomed and loved by lots of different people.""