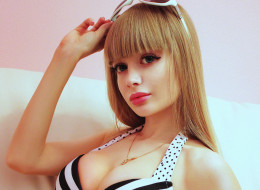 Now that we are home for the summer, we may realize just how present our parents are. Imposing curfew, making sure we eat more than just pizza and salads, some of us may feel confined by the ever present eyes of the parent. However, if you think you have it bad, imagine being this 26 year old from Eastern Europe. 
"The latest young Eastern European woman to claim she's a human Barbie doll says that her parents control her look, restrict her diet, tell her how much to exercise and won't let her go on dates unaccompanied.
Angelica Kenova, a 26-year-old from Moscow, says she's never had plastic surgery, and that her doll-like look is the result of a lifetime of parental micromanaging, according to News Dog Media, a press agency based in the U.K.
"I should be independent but my parents insist I still live with them. They don't want me to move into my own place and I am still dependent on them financially," said Kenova, according to news.com.au. "I'm not even allowed to buy clothes without my mum there — she likes to choose attire that clings to my figure and emphasize my good features.""