Travel trips: Key bonding experience for CSU men's lacrosse
Kaden Porter, Staff Reporter
April 4, 2023
Editor's Note: Kaden Porter is a volunteer photographer for the CSU men's club lacrosse team. 
For Colorado State men's lacrosse, team travel trips offer a unique opportunity for the program to come together and bond. Each season, the club team travels to multiple locations across the country to play teams they otherwise may not be able to.
"Travel trips are a really good opportunity to play teams that are in other parts of the country," said Malcolm MacDonald, senior defenseman and co-team captain. "You get a different taste of the competition. A lot of the players in the (Men's Collegiate Lacrosse Association) are local, so it's really cool to get the competition level from that."
CSU lacrosse competes in Division I of the MCLA, a national organization of collegiate club lacrosse programs. Throughout the season, the Rams host a variety of teams in Fort Collins, but the team also travels to play on the road across the country multiple times a year.
"The trips are really our chance to get out to other good teams who might not be able to come here to us," said Nick Chastain, senior midfielder and co-team captain. "It'll either be a flying trip or a bus trip. For bus trips, we've gone to places like Arizona and Utah, and with flying we'll go all over to places like Boston, Texas, Florida and Virginia, among others."
This season, the Rams have already been on two trips — one to Virginia and one to Florida. The team typically plays two different programs on each trip to make the most of the journey, and so far this season, all four of the teams CSU has played on their travel trips were ranked in the top six in the MCLA's Weekly Coaches Poll at the time they played the Rams.
"(Head coach Ryan MacDonald) always has a pretty stiff schedule for us, which is a good thing," Malcolm MacDonald said. "If you don't play stiff competition, nobody really has a good gauge of the team's level."
"At the end of the day, you're not going to remember the wins and losses so much as you're going to remember the times that you had with your friends. We're a family, and that's what it's all about." -Ryan MacDonald, CSU men's lacrosse head coach 
CSU's first travel trip of the season came in late February as the team traveled to Virginia to take on Virginia Polytechnic Institute and State University and Liberty University.
"Our first travel game this year was against Virginia Tech, who were ranked No. 1 at the time," said Ryan MacDonald. "We really kind of saw what we needed to work on to get to where we want to be, and we played a lot better against Liberty the next game."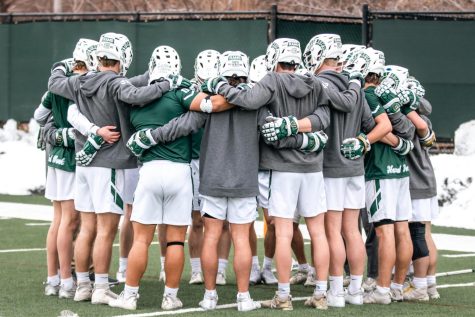 The Rams weren't able to win either game in Virginia, but competing with such highly ranked programs was an important step in the team's development for head coach MacDonald.
"When you're playing those great teams, it goes back and forth, and we know that we can run with them," MacDonald said. "It's just really about dialing in what we need to work on. You find out a lot about your team in pressure moments, especially on the road."
At the beginning of spring break, the Rams traveled to Florida to take on the University of Florida and Florida State University. CSU kept both games close but ultimately couldn't beat either team. Despite this, the trip played an important role in team bonding and memory-making.
"Florida was a long trip for everybody, but it was enjoyable," said Jake Niss, senior defenseman and co-team captain. "You had guys jumping in supposedly gator-infested waters getting yelled at by locals, just having a good time. It was a fun side of the team to see."
The Rams played against Florida in a torrential downpour, an experience none of the players will forget.
"I've never done anything like that before, so it was really cool," Niss said. "All of a sudden, you're like 10 pounds heavier from water. It was so fun to play in."
"I kind of wish that it had lasted longer because it was so surreal when it happened," Chastain said. "It was like a monsoon; it was like what you see in movies. It was definitely a surreal moment."
Although there is a lot that happens on the field, the travel trip highlights often come outside of the games for the team. The experience of staying in hotels somewhat forces the players to bond as the team typically travels with four players per room.
"As a freshman here, the trips have been fun, and they're a lot more intense," said Charlie Bibaud, freshman goalkeeper. "I did a couple travel trips with my high school but nothing like this. Going through the airport with your whole team is pretty fun, and the hotels are definitely one of the best parts. I feel like these guys are definitely some of my closest friends, and I've gotten to know them really well."
The trips also come with some degree of adventure, ranging from walking through Boston on Saint Patrick's Day on a travel trip back in 2019, to beach days on trips to Florida this season.
"It's a business trip when you go out there on the field, but we always have an off day to try and enjoy the scenery and do something fun together," MacDonald said. "Some parents will meet the team out there and make a vacation out of it too, so it's all about family and having fun on those trips."
Currently undefeated at home but winless on the road, the 4-4 Rams have one remaining road trip to Utah scheduled for later in April.
"At the end of the day, you're not going to remember the wins and losses so much as you're going to remember the times that you had with your friends," MacDonald said. "We're a family, and that's what it's all about."
Reach Kaden Porter at sports@collegian.com or on Twitter @kqporter5.