Rams tennis bounces back, remains undefeated at home
Dylan Heinrich, Staff Reporter
April 25, 2023
After a string of tough road trips, the Colorado State University tennis team returned home with a pair of 4-3 wins in dramatic fashion against the University of New Mexico Friday and the United States Air Force Academy Saturday.
These matches meant plenty to the Rams, as they celebrated seniors Ky Ecton and Emily Dush on Friday and their six international students on Saturday.
Dush and Ecton didn't spend very long at CSU, both transferring in from Pac-12 Conference programs to spend their graduate year in Fort Collins. Despite these short stints, the two fifth-year players left an unforgettable impact on the program.
"There was a lot of leadership and experience (they brought) that helped us through all these matches," said Mai-Ly Tran, CSU tennis head coach.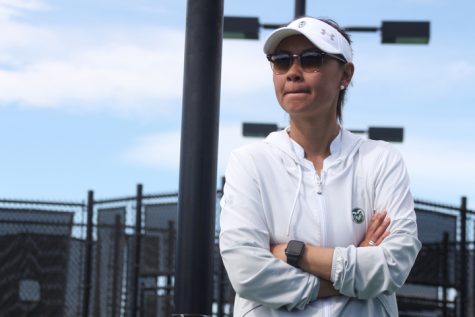 Ecton's journey was especially personal as the graduate student was originally from Fort Collins and decided to return to her roots during her final year of NCAA eligibility.
"It just adds a little bit more of a home feeling," Ecton said.
For doubles, there are three matches that follow a first-to-6-games format, and the first to win two matches earns a point for their team. The No. 3 doubles, Sarka Richterova and Viktoryia Zhadzinskaya, emerged victorious once again with a quick 6-1 win to start the day.
But the No. 1 doubles swung in favor of the Lobos as they won 6-2 to even things up. It all came down to Zara Lennon and Ecton in the No. 2 doubles. After the match was tied at 4 games apiece, the Rams pulled through to win the match 6-4 and take a 1-0 lead over New Mexico.
The goal of the singles round is to be the first player to win two sets, and each match is worth 1 team point.
"Anything is possible. … It's all about how you finish." -Mai-Ly Tran, CSU tennis head coach
CSU continued to roll as No. 1 singles Radka Buzkova exploded with a 6-0, 6-2 singles win to put the Rams up 2-0. Richterova joined Buzkova by sweeping her match with a 7-5, 6-3 victory to push Colorado State to the edge of victory.
However, the Lobos bounced back, winning three matches in quick succession to tie things up. As a result, it all came down to Zhadzinskaya in the No. 5 singles. After splitting the first two sets and with things tied at 5 games in the last set, the junior pulled through by winning 2 consecutive games to secure the match win for CSU.
The Rams tried to keep the party going during Saturday's celebration of their international students. These players who come from overseas to play collegiate tennis play such a major role for both CSU and the sport as a whole, making up the majority of the Rams' roster.
"It's really important to recognize where they all came from," Tran said. "It's great to recognize each country."
However, things didn't start as well in Colorado State's matchup against Air Force, dropping the doubles point along with their first two singles matches. While a 3-0 deficit seems impossible to some, the Rams were ready for the challenge.
It started with a sweep in the No. 2 singles as Dush won both her sets 6-4. Next up was the No. 3 singles, as Sarah Weekley won her only match of the weekend in a complete three-set thriller. Another major win came from No. 4 singles Richterova, who dominated the third set with a 6-2 win to even the match up at 3.
For the second consecutive day, it all came down to Zhadzinskaya to win the match for the Rams. Once again, the junior split the first two sets, leading to a competitive third set with both competitors tied at six.
But with all the pressure on her once again, Zhadzinskaya led the Rams to victory with a competitive 7-5 win in the tiebreaker to win her second consecutive match and keep Colorado State undefeated at home with a perfect 8-0 record.
As CSU has wrapped up the regular season, they now turn their attention to the Mountain West Conference tournament in Las Vegas. The Rams will start the tournament as the No. 5 team with their first-round matchup coming in an immediate rematch against No. 4 Air Force April 27. 
"Anything is possible," Tran said. "It's all about how you finish."
Reach Dylan Heinrich at sports@collegian.com or on Twitter @dylanrheinrich.