How Mai-Ly Tran turned CSU tennis around
Dylan Heinrich, Staff Reporter
April 19, 2023
The Colorado State University tennis team hasn't been laced with glory, as the team has struggled to find their footing throughout their history. 
However, the team has started to turn things around with the guiding hand of second-year head coach Mai-Ly Tran.
Tennis runs in Tran's family, as she was first introduced to the sport by her two older sisters. What she enjoys most about tennis is the pressure it puts on you to succeed and thrive as an individual.
"When you're out there, you're on your own," Tran said. "You really have to figure out ways to problem solve and overcome challenges, … it's just so satisfying to be able to do that on your own."
Tran took the opportunity to play for California State University, Fullerton, to continue her career at the NCAA Division I level. She played with the Titans for four years, earning 38 wins over her time at Fullerton. 
After getting the collegiate experience, she knew her obvious next step would be to pivot and focus on becoming a coach, starting at the high school level.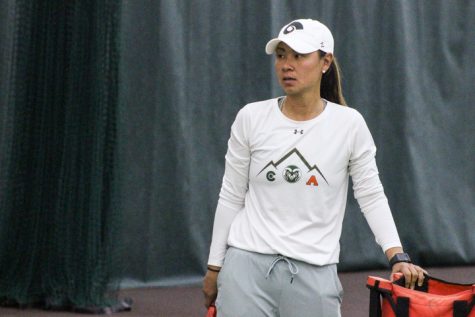 "I saw a lot of players that could benefit from some guidance," Tran said. "Being able to be on the sidelines with them and get them through some tough moments and see the joy they have when they're able to beat a tough opponent was always satisfying."
After four years of coaching high school tennis, Tran returned to her alma mater and took on the role of assistant coach. During her three years at Fullerton from 2013-16, the Titans racked up a 35-33 record, improving each season with Tran on the staff.
As a result, she earned her first head coaching position in 2016 with Drake University of the Missouri Valley Conference. During those five seasons with the Bulldogs, Tran led the team to 50 wins, including one against Colorado State in her final season. 
After the 2020-21 season, she was ready for a change of scenery. With all her options on the table, Tran decided to become a Ram and move to Fort Collins.
"As a player and a coach, I've competed against CSU," Tran said. "There's always a lot of potential with this program. … That's what brought me here."
Joining her was assistant coach Taylor Hollander. Hollander was an extremely talented player in her day, as she earned four All-Atlantic Sun honors over the course of her three years at the University of North Florida. 
After spending the previous four years as an assistant coach for California State University, Sacramento, Hollander was ready to make a change. She was ecstatic about getting to work with Tran.
"Coach Mai-Ly (Tran) gives her staff and her players room to be themselves," Hollander said. "It's easier to work hard every single day and bring your best when you have an environment like that."
This environment breeds success for the Rams, as CSU has earned a 29-15 record under Tran and secured back-to-back winning seasons for the first time in at least 20 years.
No. 1 singles player Radka Buzkova spoke about the impact Tran has had and what's led to the team's turnaround, as sometimes the biggest lessons happen off the court.
"I think she has a great life perspective," Buzkova said. "She values the right things in life."
Tran and the rest of CSU tennis will look to continue improving as they head toward the tail end of their postseason later this month.
Reach Dylan Heinrich at sports@collegian.com or on Twitter @dylanrheinrich.