Rams 'here to win the tournament, not to win a Border War' in conference semifinal
Rams, Cowgirls. Border War, part three.
For the second year in a row, the Colorado State University women's basketball team has made it to the semifinal round of the Mountain West Conference Tournament. Last night, they beat the Boise State University Broncos 59-52 in a defense-first game to advance.
The University of Wyoming Cowgirls are standing in the way of the Rams for a spot in the final, and it will be the third time the teams have played each other this year. The first matchup was in Fort Collins, and it ended in a 66-63 victory for the Rams. 
But when they matched up in Laramie just a few weeks ago, the Cowgirls went on a 23-7 run with just over six minutes left in the fourth quarter and ran away with the 16-point victory.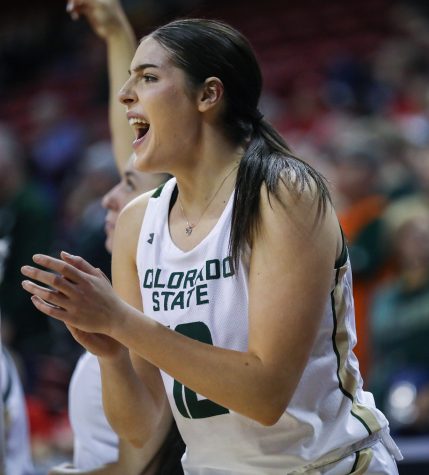 Wyoming cruised past San Jose State University 72-57 Monday in the quarterfinal prior to CSU's win over Boise State but will face a much better team in the Rams. The bright spot for CSU was their defense, forcing 18 Broncos turnovers while only giving up five of their own. The 18 turnovers led to 16 points for the Rams in transition, which doubled Boise State's points off turnovers.
But Wyoming can be overwhelming on the boards, which is what CSU didn't do well Monday, as they were outrebounded 51-32 by Boise State. Colorado State doesn't necessarily lack size, but Wyoming has an abundance of it. The board battle will be one to watch and a key to the game for Wyoming to win.
Sure, it's a third Border War matchup for the Rams, but the team isn't thinking of it that way in Las Vegas. After all, the stakes of this game in particular are much higher than a regular season game. Head coach Ryun Williams echoed the sentiment, saying they're "here to win the tournament, not to win a Border War."
Senior guard McKenna Hofschild was named the Mountain West Player of the Year Sunday, and she played like it Monday. She scored 19 points to go along with 10 assists against the Broncos to get her fourth double-double of the season.
On the other side of the bracket, the still-undefeated University of Nevada, Las Vegas will take on San Diego State University for a spot in the conference championship. The Aztecs stole their quarterfinal game from the hands of the University of New Mexico 69-68 while UNLV steamrolled the University of Nevada, Reno 84-47.
UNLV takes on SDSU at 6 p.m. Tuesday at the Thomas & Mack Center, and the Rams will tip off against the Cowgirls right after at 8:30 p.m.
Reach Braidon Nourse at sports@collegian.com or on Twitter @BraidonNourse.