Cailyn Crocker plays hero in game one of women's Border War
Damon Cook , Staff Reporter
February 4, 2023
Volume one of the border war between the Colorado State University Rams and the University of Wyoming Cowgirls was as advertised — back and forth between the two teams all game long. Despite the Rams having lost every single game within five points this season, they had other intentions in Saturday's game. 
"It was going to be an every possession is the most important possession type of game," head coach Ryun Williams said
Let's set the scence.

With 23.1 seconds left on the clock, the Rams call a timeout. The ball gets in bound to McKenna Hofschild and defenders surround her immediately. After looking around the court for the open player, she finds Cailyn Crocker wide open at the top of the arc.

Sam Medley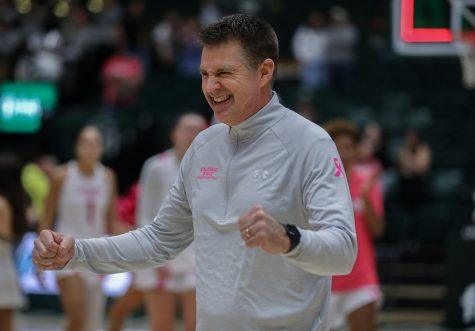 Hofschild hits Crocker, who shoots the three and drains it. Crocker has her hero moment, as the Rams go on to beat the Cowgirls 66-63. 
"I told McKenna at the timeout that anybody would be ready," Crocker said. "I just wanted to do something to help the team for sure, so I'm glad it went in. … I knew she was gonna pass it to me so I was thankful for her."
Kendyll Kinzer was another game changer for the Rams at several points. She was a key reason why CSU was able to come out of this game with a win. She led the team in scoring with five points in the first and did it again in the third with seven. She was also a defensive anchor down low, where Wyoming had a size advantage, but Kinzer was still able to impact the game defensively.
"We knew that I would have to use my feet instead of my size," Kinzer said. "So I really just tried to use my feet and and get into the right position early, that way I wouldn't have to do as much work when (Allyson Fertig) got the ball."
While the first half saw polar opposites between the teams, the second half was much more even. The Rams won the first quarter 19-11, but lost the second quarter 21-13, while only making two field goals. 
"It was going to be an every possession is the most important possession type of game," head coach Ryun Williams said. "Like I said … finish, finish, finish and you gotta keep battling and grind." 
Despite the win, the Rams come out of this game with a major loss.
Guard Destiny Thurman was seen after the game with a walking boot on her right leg. This will be something to monitor as the Rams head on their three game road trip, with their first game coming against the San Jose State University Spartans at 7 p.m. Feb. 9.
Reach Damon Cook at sports@collegian.com or on Twitter @dwcook2001.