Colorado State's basketball teams are taking over athletics
With fall sports coming to an end, Colorado State University fans can now enjoy all that comes with winter — despite the lack of snow. But there is no shortage of excitement when it comes to the Rams basketball teams. 
Men's basketball
The Colorado State men's basketball team has made their name this season with an outstanding performance, energy and determination to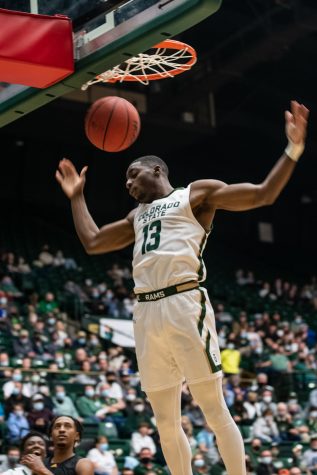 dominate the court. Currently, the Rams remain one of NCAA Division I's last undefeated teams, advancing to a 9-0 record this season. Notably, CSU is one of the remaining 12 undefeated teams in the 2021-22 college basketball season and is ranked first in the Mountain West Conference.
Nothing can stop our CSU Rams from the powerhouse path they've created for themselves this season. We've had the opportunity to see the Rams reach 9-0 for the first time since the 2014-15 season, when they went 14-0. As of Dec. 7, the Rams are only looking at three more matchups on the road before taking on the MWC games. 
Not only has the team become unstoppable but so have many of the Rams themselves. The scoreboard and leaderboards this season have lit up with the help of juniors David Roddy and Isaiah Stevens.
Roddy currently runs the leaderboards for Colorado State in five separate categories, including points (185), field goals (68), free throws (35), rebounds (70) and blocks (10). Stevens leads the board in assists (63) and steals (18) but is respectfully one of the best offensive players Colorado State has seen. 
In the most recent game against Saint Mary's College of California, Roddy and Stevens were projected to reach 1,000 points scored in their college careers. So far, Roddy has reached 996 points, while Stevens has 986. This is huge for the team and players because only 30 Rams have scored 1,000 points in their Colorado State careers. This is a milestone that will likely soon be celebrated by two other Rams, Kendle Moore (882) and Adam Thistlewood (866), approaching career statistics. 
Colorado State has delivered some monumental highs this season, defeating the odds and changing the game of basketball. In the very first regular-season matchup against Oral Roberts University Nov. 9, the Rams set expectations at an all-time high, bringing the most points so far this season with a blowout win of 109-80. After getting a taste of having such a huge lead, the team has continued to hold their opponents, averaging a 17.9 scoring margin this season.
Despite having a breathtaking start to the season, the Rams aren't ready to stop. After defeating the Saint Mary's Gaels, head coach Niko Medved shed light on the season and in a press conference expressed that "the best part of being undefeated is we've won them all. … They're a team that just keeps their head down; they know how hard this is; they keep working." 
As Colorado State University continues to master the court, there is still plenty of the season ahead of them. The Rams will work to elevate their game, execute changes and take their opponents' names with fire in their eyes. Coming from Medved himself, "There are always going to be things to improve — you're either getting better or you're getting worse." 
Women's basketball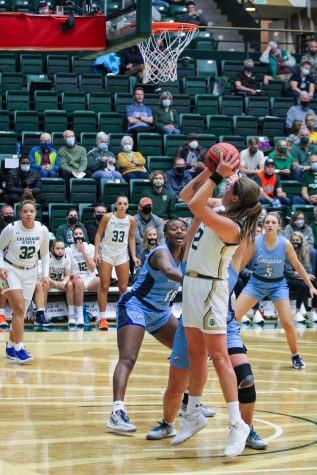 The women's basketball team is currently 7-1 and sits at the top of the MWC. The Rams' one loss was to the currently No. 6-ranked University of Louisville Nov. 28 in Moby Arena, 71-56. 
But let's rewind to early November as the 12-woman roster had their debut to the regular season against the Colorado Christian University Cougars. Freshman guard Anna Prim from Spain made her first appearance for the green and gold with a current personal season high of 14 points, shortly followed by sophomore forward Cali Clark with 13. CSU came out with their first win of the regular season, beating CCU by 35 at 77-42.
CSU then continued the season with two more home games against the University of Northern Colorado Bears and the Oral Roberts Golden Eagles.
The Rams came out on top once again, keeping both their opponents below 60 points. Graduate student Karly Murphy was the talk of the games as she led her team offensively and defensively with 13 rebounds in each game and 32 total points. With a 61-50 win over the Bears and a 71-56 win taken from the Golden Eagles, the Rams sat at a 3-0 record.
Colorado State then headed to Denver to take on the University of Denver Pioneers, where junior guard McKenna Hofschild got a hot hand inside and outside the 3-point arc with a current season high of 27 points. Murphy held it down again on defense with nine rebounds, and the team came back to Fort Collins with another win, 67-43.
Ram guard Upe Atosu helped gain one more win at home against the Lipscomb University Bisons as she had a personal season high of 21 points and went four for six on the free throw line. CSU took the win 81-55 before losing their five-game winning streak to the Louisville Cardinals.
Following the loss, the Rams quickly moved on as they showed up to the 2021 Arizona State University Classic, where they went 2-0 against Harvard University and University of Texas at San Antonio. Both games were closer than any previously played: The Rams beat Harvard by seven points, 59-52, and the next day overcame UTSA by just four with their lowest-scoring game, 52-48.
While both Ram teams are looking to be quite the threat this season, CSU fans can be grateful for the change of pace after the fall sports season. The men's team will look to continue their nine-game winning streak Dec. 11 as they head south to face Mississippi State University.
The women's team will continue their season with two more home games Dec. 8 against Weber State University and Dec. 12 versus Colorado State University Pueblo.
Reach Taylor Paumen and Karsyn Lane at sports@collegian.com or on Twitter @TayTayPau and @karsynlane1.