Update: CSU head football coach Steve Addazio fired after 2 seasons
After two unceremonious years as head coach, CSU fired Steve Addazio.
Bailey Shepherd, Sports Reporter
December 2, 2021
Steve Addazio is no longer the head coach of Colorado State University's football team.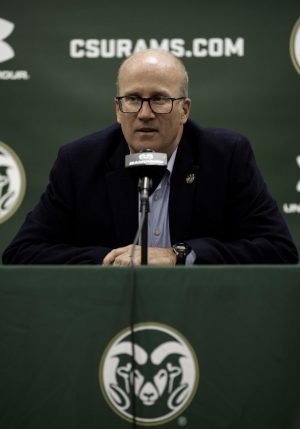 Among a dramatic week of storylines surrounding college coaches, CSU has added their own bit of drama to the mix after announcing on Thursday they were letting Addazio go after winning only four games in two seasons with the green and gold.
"The decision we have made today is not one we take lightly," Director of Athletics Joe Parker said in a press release. "I am grateful to Steve Addazio and his coaching staff for their steadfast commitment to our student athletes, both athletically and academically, to developing men of high character and reinvigorating our locker room with a culture of toughness and accountability." 
"However, after a thorough review of where our program stands today and our outlook for the future, looking at the totality of factors, I felt this was a necessary step," Parker said.
To those who have been monitoring the coaching situation, it should come as no surprise that Parker and the athletic department waited until Thursday to make this move. The way Addazio's contract was constructed, in waiting until Thursday CSU could buy out Addazio for $3 million as opposed to a $5 million buyout if they had done it a day sooner.
Parker emphasized that it is difficult to "do a full 360 of the program … but a lot of the times the progress wasn't measurable from an outside perspective."
Addazio's time at CSU was marked by controversy and confusion. It was just over a year ago that the Husch Blackwell investigation looked into allegations surrounding the football program's alleged non-compliance with COVID-19 protocols along with general allegations of a culture of racial insensitivity within the athletics department.
CTV 11
The investigation didn't turn up anything of substantial concern apart from organizational transparency and consistency issues concerning COVID-19, and the allegations of racial insensitivity were also found not to be a systemic departmentwide problem.
The writing seemed to have been on the wall for Addazio for the majority of the season. A string of disappointing performances capped off by a blowout 52-10 result in the team's final game of the season as well as a startling amount of talent voluntarily entering the transfer portal midseason was indicative of Addazio's inability to organize his program effectively.
Still, it's always shocking to have a head coach with a contract like Addazio's lose their job after just two seasons.
"Our expectation is to compete for conference championships and reach bowl eligibility each season," the athletics department stated.
"Our student athletes deserve that, our fans deserve that, our community deserves that and our University deserves that," Parker said. "We live in one of America's best cities, serve a world-class university, and I am confident we will find a stalwart leader who can meet those expectations head-on." 
Although the decision to let Addazio go was difficult, Parker highlighted that there is an, "already assembled small search committee" that is working urgently to find, "a new leader to come in" for the future of Colorado State's football.
Reach Bailey Shepherd at sports@collegian.com or on Twitter @B_Sheps .
Reach Karsyn Lane at sports@collegian.com or on Twitter @karsynlane1.