Rams bombed by Air Force, lose fourth straight game
Jeremiah Janzen, Sports Reporter
November 15, 2021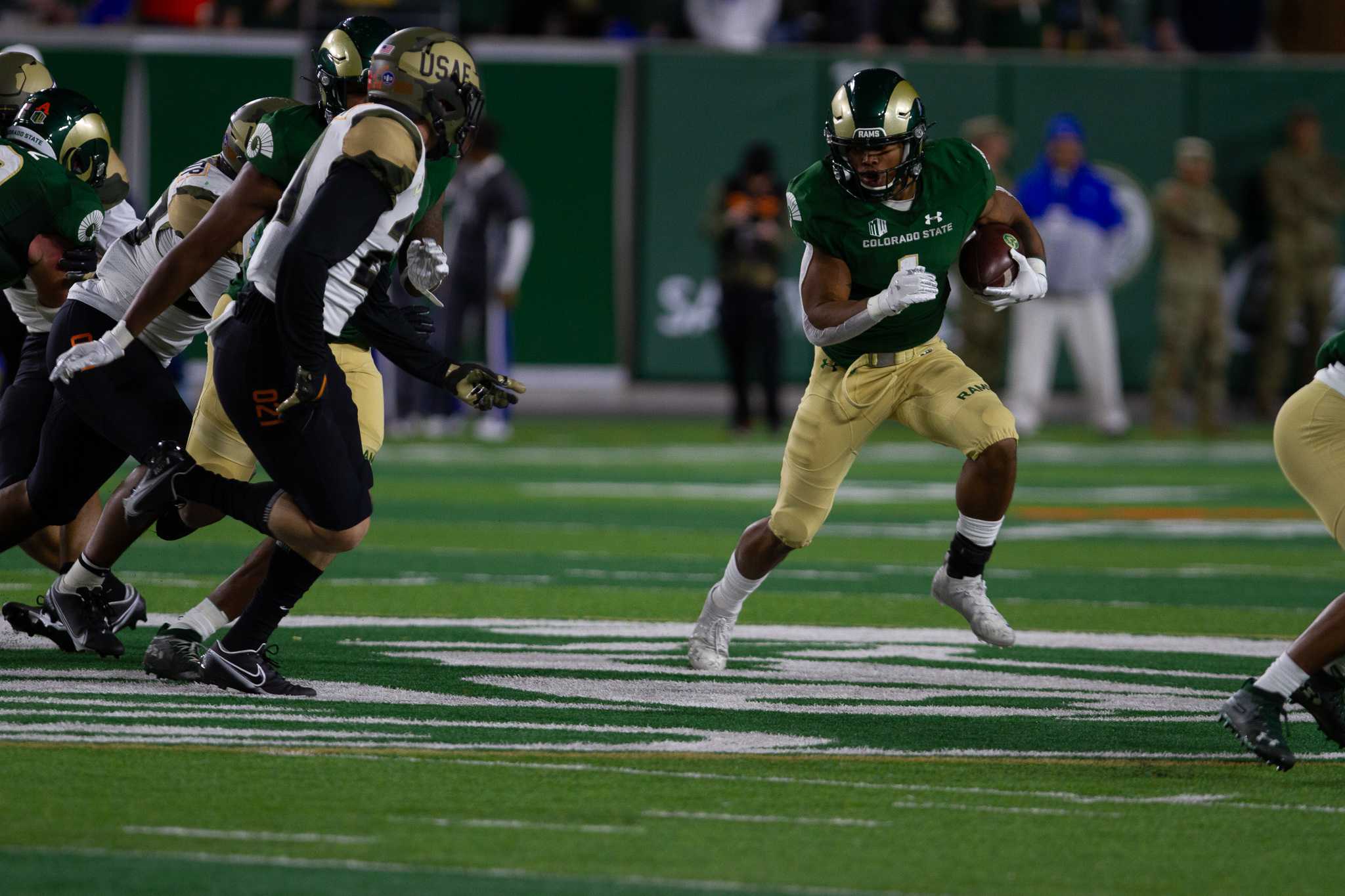 The Colorado State Rams failed to secure the Ram-Falcon trophy on Saturday night, allowing a high 388 rushing yards in their 35-21 loss to the United States Air Force Academy Falcons.
Entering Saturday's contest, Colorado State had lost the previous four outings against Air Force, not having won the Ram-Falcon Trophy since 2015. For Rams fans, Saturday's loss was especially painful, as it assured that the Rams are no longer bowl-eligible. Colorado State has not been invited to a bowl game since 2017.
After allowing 385 rushing yards last weekend against the University of Wyoming, a depleted Colorado State linebacker group paved the way for another lackluster outing this weekend.
"Right now we're chewed up at a position where you just have to be healthy … to play against that offense, and that's just the facts," head coach Steve Addazio said at his post-game presser. "Before we got wiped out, we had a damn good defense. … In the last two weeks, you wouldn't know that, … and there's a pretty astounding coincidence that goes hand-in-hand with that."
A potent Air Force rushing attack got to work fast to jumpstart the action in the annual Military Appreciation game. DeAndre Hughes took off for a 56-yard run on the Falcon's first drive, setting up a 16-yard option rushing touchdown by John Lee Eldridge III two plays later.
Colorado State struggled out of the gate on both sides of the ball. After going three-and-out very early in the game, Colorado State turned the ball over on their next possession when a Todd Centeio pass was tipped at the line of scrimmage and intercepted by Falcon's defensive back Tre Bugg III. Air Force capitalized on the shortened field by capping off an eight-play, 42-yard drive with a six yard rushing touchdown by Brad Roberts.
The Rams offense seemed to find its groove towards the end of the first quarter. On their first trip to the red zone, Centeio took off for a 15-yard rushing touchdown to put the Rams on the board.
However, just as momentum seemed to be building for Colorado State, Air Force quickly swung the momentum back in their favor. Two plays later, facing a first and 27 from their own eight-yard line, Air Force quarterback Haaziq Daniels found a wide open Brandon Lewis for a 92-yard touchdown pass that silenced Canvas Stadium.
Despite struggling defensively, Colorado State's offense managed to keep things close. After being stopped on the goal line on consecutive plays, the Rams' decision to go for it on fourth down paid off, with David Bailey's one-yard touchdown run cutting the Falcons' lead to one possession. Although it wasn't the ideal start, Colorado State entered the halftime break only trailing 21-14.
Things began to fully unravel for Colorado State in the second half. Air Force started the half by successfully converting a fake punt attempt, with wideout Dane Kinamon gashing the Rams special teams unit for a 16-yard gain. Later in the drive, Daniels threw his second touchdown pass of the day when he found Kinamon for a 20-yard pass to once again increase the scoring gap.
The Rams defense simply could not get off the field in the third quarter, and although Bailey managed a 14-yard rush, the Falcon's grinding, possessive offensive attack wore down the Rams.
"We felt at halftime, like if we could get them under control a little bit, we'd score enough points to win the game," Addazio said. "Unfortunately, we came out in the third period and we touched the ball for a minute and 15. … That third period was a costly third period, from chewing up yardage to time of possession. It was just rough. It's what they do best, and they did it."
Colorado State had some chances to score down the stretch, but struggled to find any red zone success in the fourth quarter. After finally finding some late offensive rhythm with an 11-play drive, Centeio threw his second interception of the game, this time in the end zone.
The Rams defense made their biggest play of the game only a few plays later when Robert Floyd came with an interception of his own. Colorado State took over at the Air Force 19-yard line; however, they were unable to capitalize on the favorable field position and turned the ball over on downs.
Air Force continued to grind down the depleted Colorado State defense, running out the clock for the remainder of the contest and securing the Ram-Falcon trophy for the fifth time since 2015. Despite another disappointing result, Addazio believes this program will achieve future success.
"Do I like where we are?" Addazio said. "I'd like to have more wins. But do I like where we are in terms of building this program? Hell yeah. … We're gonna build this thing one game at a time, one brick at a time. Whether we win the next two or we don't, we are gonna build this thing for the future."
After almost two seasons, Rams fans certainly will question whether Addazio's bricks are proving to be a solid foundation or if an inevitable collapse looms for Colorado State football.
The Rams will head overseas to Hawaii next Saturday to face the University of Hawi'i at Manoa at 9 p.m. for their second to last game of the regular season.
Reach Jeremiah Janzen at sports@collegian.com or on Twitter @JeremiahJanzen.