Addazio ejected, Rams embarrassed in senior night stomp
Jeremiah Janzen, Sports Reporter
November 30, 2021
Senior night in athletics is supposed to be a memorable night that honors the athletes who are playing in their last home game for an athletic program. While Saturday night's football game and senior night was certainly memorable for the Colorado State Rams, it was memorable for all the wrong reasons.
Colorado State head coach Steve Addazio was ejected from the game, the offense was nonexistent and the overall intensity at Canvas Stadium was at a season low for the Rams' 52-10 defeat by the University of Nevada, Reno Wolf Pack. 
The Wolf Pack started off strong and never looked back. A five-play, 75-yard opening drive for Nevada was capped off by a 27-yard touchdown pass from quarterback Carson Strong to Tory Horton. The inability to stop the big play plagued the Rams defense all night.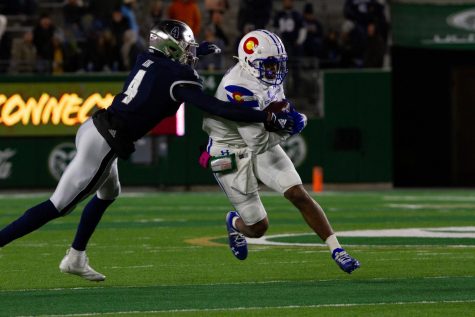 After the Rams turned the ball over on downs on their first possession of the game, it took only one play for the Wolf Pack to strike as Strong found Horton once again, this time for a 54-yard touchdown. Horton finished the game with 113 receiving yards and two touchdowns, while Strong finished with 288 passing yards and four passing touchdowns. 
Nevada's early onslaught was a sign of things to come for Colorado State. Devonte Lee's rushing touchdown put Nevada up 21-0 early in the second quarter as things began to spiral out of control for Colorado State.  
Following a near fumble on the previous play, Rams quarterback Todd Centeio was intercepted in Rams territory, eventually leading to Strong's third touchdown pass of the half. Centeio finished the game with 185 yards passing, two interceptions and a fumble.
On the ensuing drive, the Rams finally found some success moving the ball down field. However, a Trey McBride catch that put the Rams in the red zone for the first time in the game was called back due to an illegal man downfield penalty. Addazio, displeased with the call, was then flagged for an unsportsmanlike conduct penalty that pushed the Rams back an extra 15 yards. 
Following the unsportsmanlike penalty, the Rams were flagged yet again, this time for a holding penalty. Centeio added his second turnover of the night on the very next play, fumbling the ball over to the Wolf Pack in Rams territory. 
Records and awards and everything, you know, they're one thing. But the bond you have with your teammates and the guys around you is what I won't forget." -Ryan Stonehouse, CSU football punter
During a subsequent media timeout, Addazio was called for his second unsportsmanlike conduct penalty of the half, resulting in his ejection from the contest. Addazio became the second head coach in NCAA Division I Football Bowl Subdivision history to be ejected for two unsportsmanlike penalties since the rule change in 2016. 
"To tell you the truth, I was pretty calm at that point," Addazio said in a postgame press conference. "There was no bad language or anything. All I said to them was, 'Guys, we just gotta do better.' And that got me another flag. … If I kept my mouth shut and didn't say anything, obviously I wouldn't have been in that situation. So that's my responsibility. That's on me."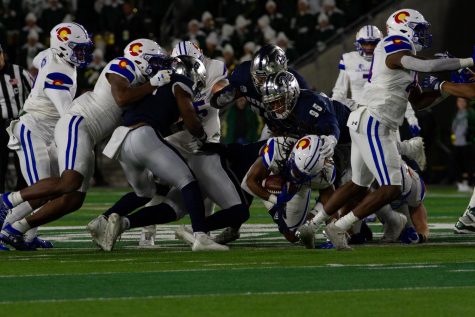 As Colorado State entered halftime without their head coach and without scoring any points, disgruntled Rams fans began emptying out of Canvas Stadium with 30 minutes of football still yet to be played. 
Although the Rams faced a seemingly insurmountable deficit, senior McBride left the few remaining Rams fans with one of the only positive memories of the night. On the first drive of the second half, McBride ran for a 69-yard touchdown off a fake punt play. The touchdown marked McBride's first touchdown since week two.
The 52-10 loss leaves Colorado State with their fourth consecutive losing season."
McBride finished the game with six receptions for 113 yards along with his 69-yard rushing touchdown. On top of that, McBride secured his place in college football history as his 1,121 receiving yards is the most ever by a tight end in Mountain West history.
"I love CSU," an emotional McBride said postgame. "I love Fort Collins. (There's) a lot of good people here. It made it an easy decision to come back. … My teammates — I can't thank them enough. … It's a bond that will never be broken, and the friendships that I've built here at CSU is special and something I'll cherish for a lifetime."
Aside from McBride's touchdown run, the remainder of the game continued to be a nightmare for the Rams. After throwing his second interception of the game, Centeio was soon replaced by backup Evan Olaes during the third quarter. 
A Cayden Camper field goal resulted in the only other points for the Rams in the game. Camper set the CSU single-season record for made field goals with the successful kick.
The 52-10 loss leaves Colorado State with their fourth consecutive losing season. Despite the losing record, punter Ryan Stonehouse believes this program is moving in a positive direction. Stonehouse wrapped up his career at Colorado State as the FBS all-time leader in average yards per punt.
"I think there's something really special here," Stonehouse said in a postgame press conference. "I know the results don't really show that, but I think, internally, there's something good going on. … Records and awards and everything, you know, they're one thing. But the bond you have with your teammates and the guys around you is what I won't forget."
Reach Jeremiah Janzen at sports@collegian.com or on Twitter @JeremiahJanzen.