Seriously: What did Obama see through the microwave?
Tatiana Parafiniuk-Talesnick
April 3, 2017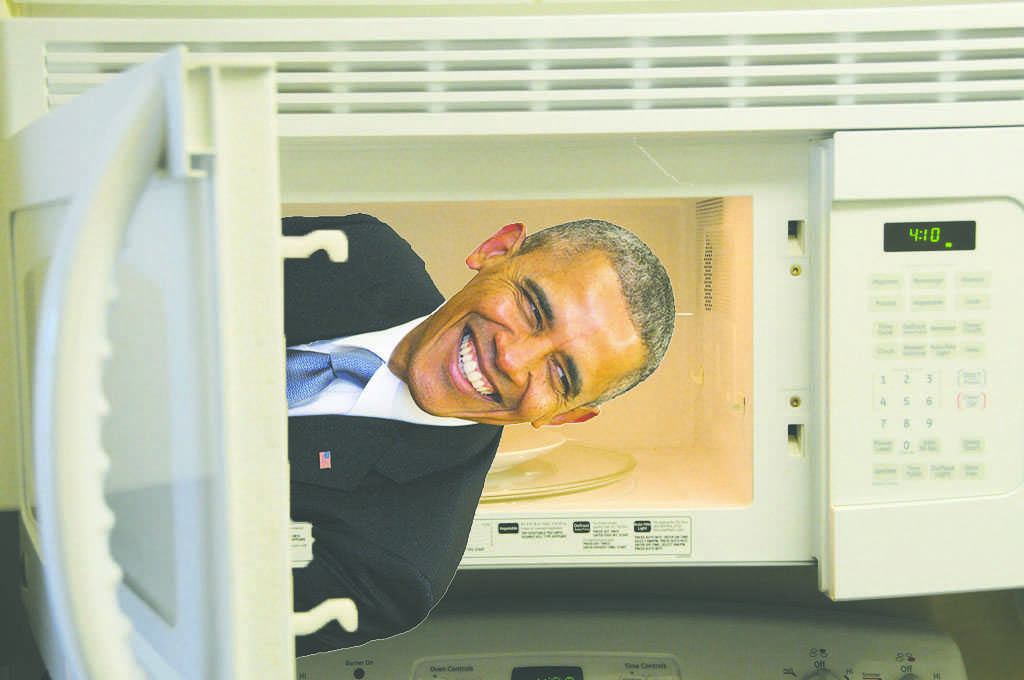 It is common knowledge that former President Barack Hussein Obama spent the final months of his presidency obsessed with then-Presidential Candidate Donald Trump.
Obama likely used his gigantic ears to overhear private conversations from the Trump campaign. As if this atrocity was not enough, last week Trump's senior counselor Kellyanne Conway offered an even more frightening theory: Obama could have watched Trump through his microwave.
One of Seriously's reporters is buddies with a cousin of the son-in-law of Malia Obama's make-up artist.
He can confirm that Obama did watch Trump through the microwave.
According to our source Obama witnessed a few key private moments from the Trump campaign through the kitchen microwave. A leaked document noted the following:
September 4 [5:00 pm EST]: Trump has special voice coach for only the word "China" – seems excited by the small improvement he made.
October 12 [1:00 am EST]: Trump touches himself and then gets bummed halfway through and gives up.
October 15 [2:00 pm EST]: Trump's son, Barron Trump, stares blankly for hours.
Also October 15 [2:00 pm EST]: Trump's wife, Melania Trump, stares blankly for hours in a different direction.
October 20 [11:00 am EST]: One of Trump's illegitimate children, who appears to be about 30, crawls out of a cabinet and retrieves a box of Cheez-Its ® and a Bud Light® – scurries back into cabinet with items.
November 2 [4:00 am EST]: Trump paces kitchen to the music of ABBA. Vice Presidential Candidate Mike Pence calls to catch up, reminds Trump to stop listening to "homosexual jams."
Stay tuned for more updates.
Collegian Satire Blogger Tatiana Parafiniuk-Talesnick can be reached online at letters@collegian.com or on Twitter at @TatianaSophiaPT