County residents speak against vaccine mandates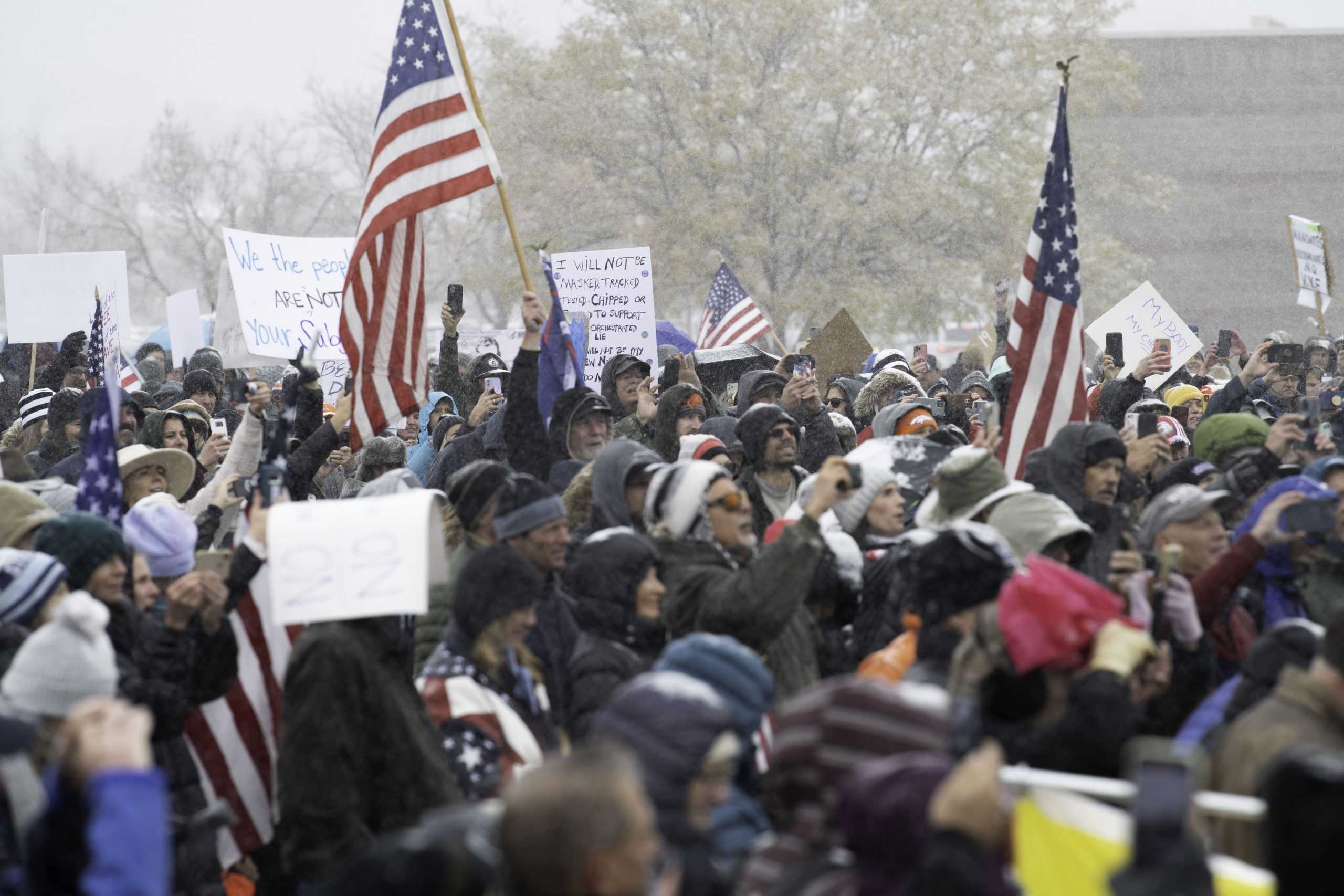 Larimer County residents expressed dissent at the County's Vaccine Verified Facility & Event Program among nationwide discussions of COVID-19 vaccine mandates. 
On their website, the Larimer County Department of Health and Environment said they created the Vaccine Verified Facility & Event Program alongside the most recent mask mandate as a way to "provide businesses with flexibility and options for how they operate during the pandemic."
After county residents showed opposition to the program, the health department paused the program's implementation. Continuing to protest the program and the wider topic of vaccine mandates, hundreds of people gathered outside the Larimer County health department offices Nov. 1 to show their dissent and listen to community members speak against the vaccine and government mandates.
"Vaccine passports are the hill to die on; they are the absolute hill to die on," said Robbie Rose, an organizer of the Nov. 1 protest. 
Rose said that if people need permission to go into a building because of the COVID-19 vaccine, then people will next need to have a flu vaccine, a measles vaccine or show proof that they are taking "the pharmaceutical drugs" their doctor prescribed. 
"Vaccine passports are the end of society as we know it," Rose said. "They cannot be allowed."
Kevin Lundberg, a former Colorado state legislator present at the protest, said the policies put in place by the health department are unwarranted and an overreach of government power.
Lundberg said that while COVID-19 is dangerous, it should be up to the individual to decide what is best for themself and their family. Lundberg said that as a state legislator, he understands elected officials do not control people, and there are elected officials currently asserting their own desires and beliefs over people instead of serving the people.
"I've already had to show a vaccine card to enter concert venues, and honestly I feel like I don't mind." -Anya Kaplan-Hartnett, CSU student
"I'm here to be at least one voice in state government that lets all these good people know that I understand that they're 'we the people,'" Lundberg said. "They're in charge; we're there to ensure their rights."
Michael Gaeta, a doctor of acupuncture and licensed herbalist, said he attended the protest to inspire people to educate themselves and "take a stand for science and freedom." 
"A lot of the decisions that are being made on our behalf are not based on evidence or ethics," Gaeta said. "So I'm trying to reintroduce evidence and ethics into public policy and to encourage people to claim their own authority as individuals to chart their own course and make their own health decisions."
The Collegian spoke with Colorado State University students to hear their perspective on vaccine passports. 
"I've already had to show a vaccine card to enter concert venues, and honestly I feel like I don't mind," CSU student Anya Kaplan-Hartnett said. 
Other students said requirements like this would not bother them because it would not be a hassle to show or difficult for them to carry around their vaccine card. 
Some students said, regardless of their stance on receiving the vaccine, they think it's unnecessary and overreaching to have businesses require proof of vaccination. 
"I think it's kind of stupid," CSU student Allison Pankoff said. "I think a lot of this is kind of dumb."
Pankoff received the vaccine because of a family member who could be at risk for COVID-19 but said people should not need to show proof of a vaccine that is still so new. Pankoff also mentioned that it could be conflicting for business owners to enforce, especially if they themselves cannot or do not want to receive the vaccine.
"I also think a lot of people have their own rights, so if they don't want to get it, then they shouldn't have to, and we shouldn't have to force people to have a vaccine card in order to shop," Pankoff said.
Christie Wolf Guthrie, owner of Kansas City Kitty, a thrift store in Old Town, Fort Collins, said it would be difficult for a business like this to check vaccine cards for each customer as they walked into the store, and the store is already strict on enforcing the mask mandate.
"(Once) they're in our store, they're not allowed to take their masks off, so if I was in the food industry or concert industry or something where I knew my customer would have their mask off, then yes, I would 100% enforce the vaccine card," Wolf Guthrie said. "For our business, that's a little more difficult."
Larimer County businesses and residents can submit their feedback on the Vaccine Verified Facility & Event Program directly to the County on their website. Currently, Larimer County residents are not required to show proof of vaccination but are required to wear a face covering indoors in all public spaces.
Reach Garrett Mogel, Ryan Schmidt and Serena Bettis at news@collegian.com or on Twitter @CSUCollegian.
Editor's Note: In the print version of this article, it reads "Michael Gaeta, a doctor of acupuncture and oriental medicine," but was changed before publishing digitally due to the negative associations and stereotypes surrounding the word oriental.