'Whatever that message is': Campus preachers won't shake students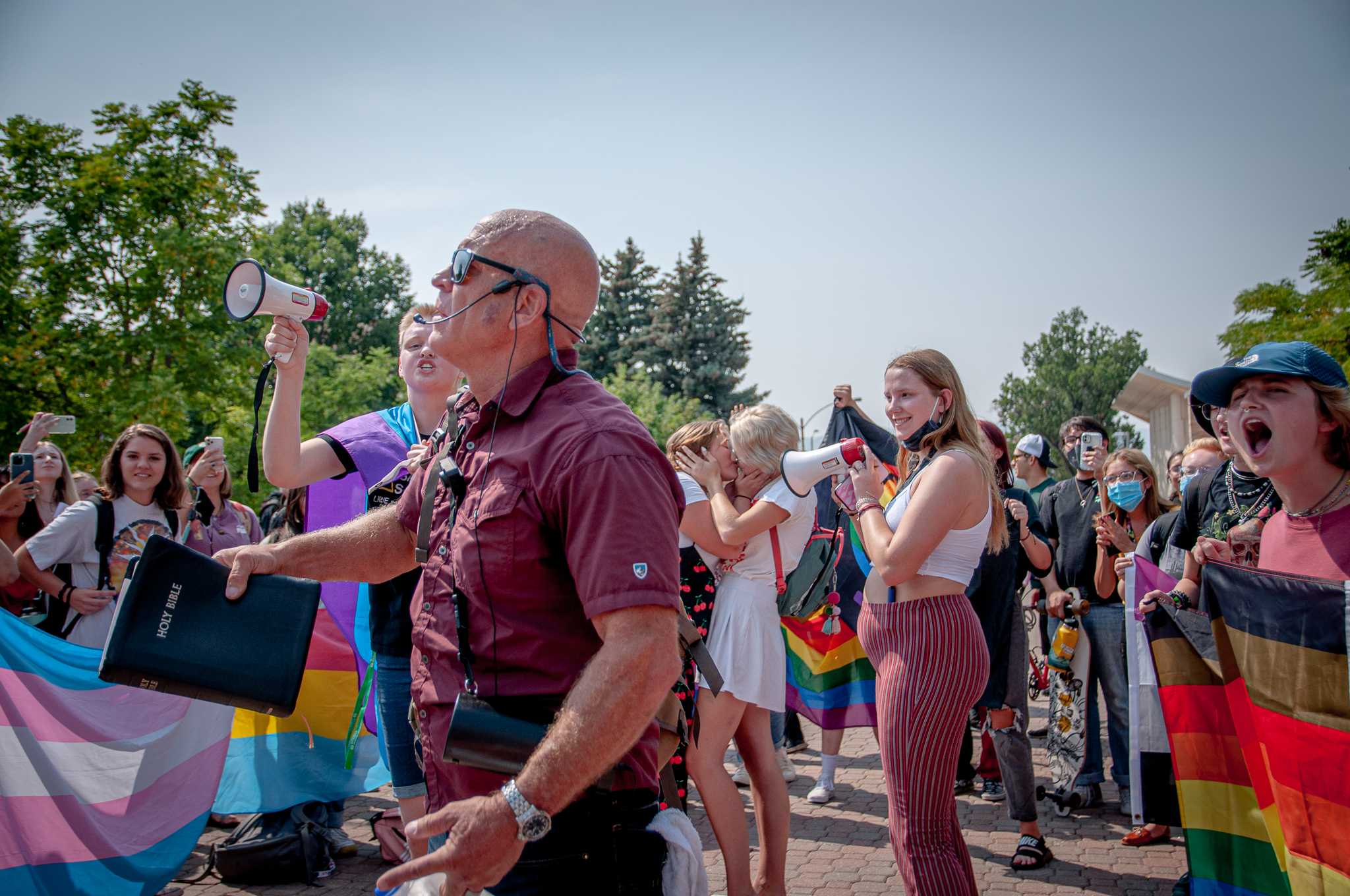 As Colorado State University sees its students return to campus by the thousands, the ever-present preachers on The Plaza have made a comeback as well. 
Nearly 100 people gathered at the center of campus just south of The Plaza Wednesday afternoon as members of the campus community found themselves in heated arguments with two preachers for the second day in a row. 
Students who were on The Plaza at the time said the major commotion began around noon and lasted for approximately two hours. 
Katie Hill, a student involved in the commotion, said that a preacher singing gospel songs noticed a student walking by who had been arguing with the same group of preachers on Tuesday. 
"They started (verbally) attacking her, and then people started gathering to defend (her), … and then it just grew because they kept saying more and more stuff and people kept posting (on social media) more and more," Hill said. "So it just got to the point where they were like, 'Get off our campus with what you're saying.'"
Hill, a sophomore equine science major, said the preachers were saying racism is justified through religion, that women are less than men, that gay people are condemned to hell and more. 
Also present on The Plaza was the CSU Police Department, there to monitor the situation and ensure everyone's safety. 
CSUPD Capt. Jay Callaghan said campus police cannot intervene unless they witness criminal activity.
"They're out here exercising their First Amendment rights," Callaghan said. "So the students are out here also exercising their First Amendment rights. That, under the Constitution, is completely permissible."
My thing is, do whatever the f*ck your religion wants you to do, … and do not try to force those things on other people or insult them for not believing in your beliefs." –Katie Hill, sophomore equine science major
Callaghan said CSUPD would intervene if any part of the gathering was compromising the walkway, bikeway or any entrances to buildings.
Hill said people tried to reason with the preachers, but students became angry and frustrated when they realized that would not work. 
"Then, once we realized that (getting angry) wasn't working either, we were spamming them with 'MONTERO' or 'Baby Shark,' like we were just being goofy and telling him to go home eventually," Hill said.
Many students on The Plaza brought out pride flags provided by the Pride Resource Center and made signs to distract from the preachers' messages.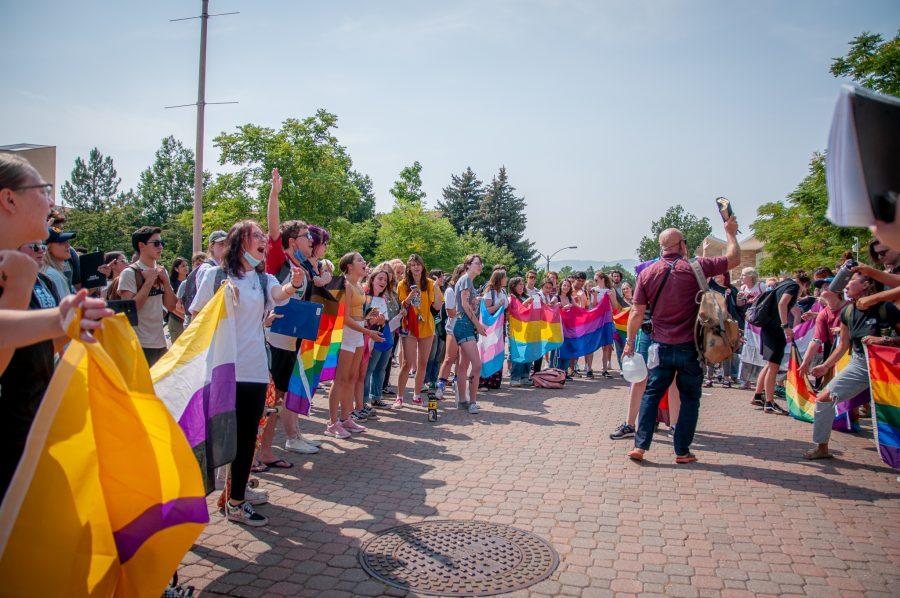 Nancy Kahdeman, a first-year anthropology major, said it felt as though the afternoon's events brought many different groups of people on campus together.
"I see myself as a Christian, but I'm also pansexual," Kahdeman said. "I believe that God is full of love and loves everybody, and this man is preaching nothing but bigotry and hate." 
Onlookers said one of the preachers was answering student questions, but many students pointed out that the preacher would only respond to questions from men.
One of the preachers, who The Collegian was unable to identify, said in one conversation with a student that they were following their beliefs by spreading them.
"That's what preachers do — preachers preach," the preacher said. "(My) standard is not a culture; my standard is (the Bible). So what do I do? I do what men before me did and … one of the ways (to do that) is to preach the gospel."
Emi Reisman, a business and music student, said the entire thing felt showy and performative, as though the preachers were not trying to make an argument as much as they were trying to make a face for the argument.
"I respect if you have a religion; I respect if you do that," Hill said. "My thing is, do whatever the f*ck your religion wants you to do, … and do not try to force those things on other people or insult them for not believing in your beliefs."
Of the two preachers on campus Wednesday, one was Keith Darrell, a known campus preacher who works with the Whitefield Fellowship, a Christian group that is regularly present on college campuses.
Darrell was arrested last week at Boise State University on the misdemeanor charge of resisting or obstructing officers on the BSU campus, according to the BSU student newspaper, The Arbiter. However, no such incident happened at CSU Tuesday or Wednesday.
"College campuses across the country are great attractives to groups or individuals that want to convey a message, whatever that message is," Callaghan said. "They know that they're going to have … basically a free audience."
Serena Bettis and Katrina Leibee can be reached at news@collegian.com or on Twitter @CSUCollegian.