"You get to take the Black off," hundreds denounce blackface photo
Charlotte Lang
September 19, 2019
Students from Colorado State University and surrounding schools filled the Wednesday night Associated Students of CSU meeting to speak out against the campus' recent blackface incident.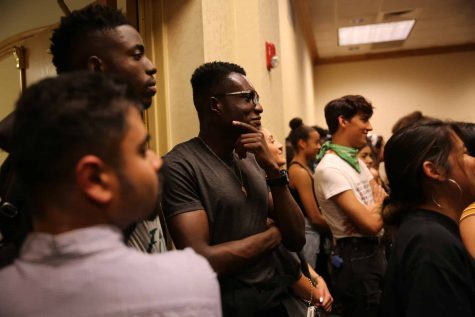 Speakers included not only CSU students and Fort Collins residents but also community members and students from schools such as the University of Northern Colorado, CSU-Pueblo and others.
University President Joyce McConnell began the evening with a statement about how she hoped for a historic evening for the campus.
"It's very important that we hear the people who want to go to the mic and tell us their thoughts, experiences and their perspectives," McConnell said. "This is an opportunity for students to come together to hear from one another. I know there is very deep pain and deep anger, and I recognize it."
We are long overdue for change. Without it, we can never expect to move forward toward unity and peace."

Venus Cariaso, CSU student
With hopes of making a change, speakers took turns sharing their experiences with racism while at CSU and called for a change to begin.
"As people of color, we are tired of the lack of accountability and the lack of support," Venus Cariaso said. "We are upset because it's your privilege that gives you the chance to have your voice heard and your mistakes justified. You have had your multiple platforms given to you by your privilege."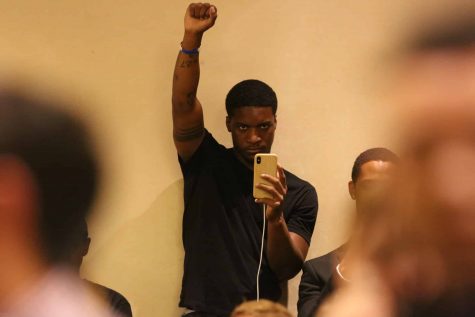 Cariaso proposed for the students involved with the photo to be enrolled in an educational class regarding the principles of community, the code of conduct and the awareness of identities. She also proposed that they be required to donate their funds or volunteer their time to the student diversity programs on campus.
"We are long overdue for change," Cariaso said. "Without it, we can never expect to move forward toward unity and peace."
Speakers echoed a call for accountability, asking for the blackface incident to be recognized as a racist incident.
Another student, Breonna Abuya, said that those involved must take responsibility for their actions regardless of the intent.
"You get to take the Black off at the end of the day. I do not," Abuya said. "I will always walk with a heavy weight and you will not. I do not get to take this off. You will never know what that pain feels like."
Robert Holmes, another gallery member, said that acts of racism like this aren't the first of their kind, but he hopes they will be the last.
"This is nothing new, and I just want all of us to know that this is just another moment where they want us to be divided so they can conquer us," Holmes said.
Other speakers echoed that this isn't an isolated incident, emphasizing their own personal experiences with racism both on- and off-campus.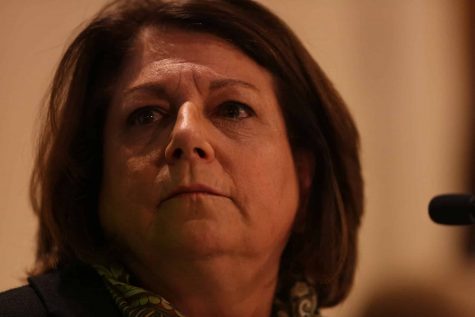 A number of speakers said that they have lost faith in CSU as a University due to past incidents.
"This school has literally allowed Nazis to march through the campus," said gallery member Xavier Hadley. "If that doesn't speak to a legacy of murder, I don't know what does."
Joshua Greer, vice president for the Black Student Chapter at UNC, was one of the many visitors from other universities who traveled to CSU to support its African-American community.
"(The students here) feel the hurt, and they walk every day with fear because no accountability has been taken," Greer said. "But all the other white students walk around as if nothing happened."
Elijah Thomas echoed this sentiment.
"I am confident that CSU will continue to defend racism and white supremacy regardless of who the president is," Thomas said.
Speakers also addressed a comment spoken earlier in the evening against the resolutions proposed as a result of the incident.
"From now on, any words deemed offensive will be classified as hate speech and therefore not free speech," Alana Neely said.
Neely continued, saying that a "thicker skin" is required sometimes.
Lyla Claycomb, a high school student who attended the meeting, took a stand against the statement.
"I'm ashamed that as a high school student that I'm intelligent enough to know that saying you need to have a thicker skin is not okay," Claycomb said.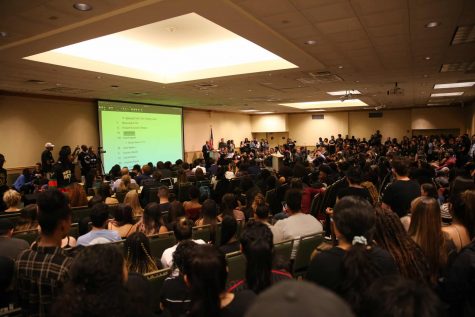 Another student, who only identified herself as Gabriella, said a call for action is required because too many students are suffering on campus in silence. 
"We will not stand down; we will not be silenced," Gabriella said. "We stand together. We are strong, and we will fight this."
Charlotte Lang can be reached at news@collegian.com or on Twitter @chartrickwrites.
Editor's note: Due to the length of time of the senate session, all normal senate proceedings are not covered in this article. Please check the collegian.com for a separate article describing the rest of the senate session on Wednesday.