Create-a-thon weekend produces multidisciplinary VR projects
Samantha Ye
October 21, 2018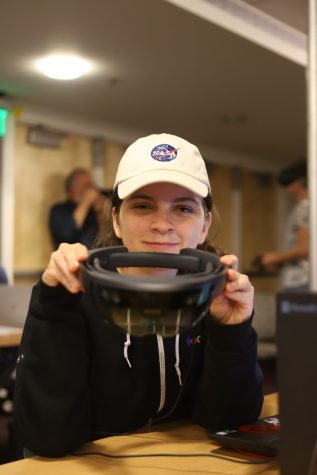 More money, more competition and even more virtual reality flooded the 2018 Ram Reality Create-a-thon this weekend.
Previously named the Hackathon, Colorado State University's third annual three-day competition had the 50 participants in 10 teams creating virtual reality programs involving everything from eyeball dissection to protein modeling to being submerged underwater.
The number of teams was double than that of last year.
"The event is getting more noticed on-campus and off-campus," said Alan Rudolph, vice president for research.
The Ram Reality event was sponsored by Hewlett Packard, the CSU Vice President for Research Office and Morgan Library.
Over 48 hours – Friday to Sunday evening – teams worked on creating VR programs targeted to solve an existing problem.
New this year was the "bounty board" which held over 15 potential project ideas submitted by various CSU faculty who wanted to see more VR in their field of research.
Teams could choose to base their project on a bounty-board idea. If they placed in the top three, they would receive an additional $500 and the supporting faculty would get a small stipend to help the team continue the project post-competition.
Eight of the groups made projects based on bounty board ideas and the top three winners were all faculty-inspired projects.
| | | | |
| --- | --- | --- | --- |
| Team Name | Project | Bounty Board | Award |
| VR-oom VR-oom | VR: tests users' concussion status using memory, balance, reflex, and sensory sensitivity games | Yes | First place ($3000) |
| The Climate Changers | VR: immerses users in different environments affected by climate change | Yes | Second place ($1500) |
| Protevisus | VR with mobile version: allows users to examine 3D models of various protein structures | Yes | Third place ($1000) |
| Hello World! | VR: a virtual animal eye dissection lab where users can interact with healthy and less healthy eyes | Yes | Outstanding Artistry Award ($100) |
| FBI Surveillance Van | VR: an interactive visualization of a user's data and network traffic | No | Outstanding Technical Award ($100) |
| Manipulation Hertz | VR: virtual soundboard with interactive sound visualizer users can experiment with | Yes | Land Grant Vision Award ($100) |
| VR the Champions | VR: allows users to examine and manipulate 3D models of RNA structures | Yes | |
| Team Awesome | VR: a base environment to allow for multi-user interactive VR space | No | |
| D2J | VR: a simple balancing game to test user's environment perception and adjustment rates | Yes | |
| HazLab | AR: trains users' in basic laboratory health and safety tasks | Yes | |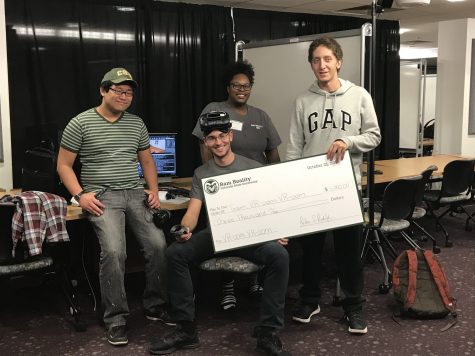 After 30 to 40 cans of Red Bull (at minimum), a couple of all-nighters and sleeping under the computer lab tables, team VR-oom VR-oom said they did not expect to win.
They placed first, earning $2,500 plus the $500 bounty-board bonus, to be split between the four members: Rick Hotta, Ariana Mims, Alex Malott and Kareem Youssef.
Malott said "some solid research, some solid presenting (and) some solid marketing" contributed to the team's placement.
Their winning program consisted of four game-like tests designed to evaluate the conditions of athletes with concussions. Users had to hit virtual ping-pong balls and play memory games to receive a qualitative score of their concussion status.
They are now considering talking with the faculty member who sponsored the idea to continue the project.
"The experience itself was super amazing," Mims said. "There was a lot of learning. It was such a nice environment. Literally, if anyone wants to do it, they should."
Although members pointed to Malott's developer skills for carrying the project—as the other three members had little to no VR experience—the intense research into the concussion science and extremely limited time-frame demanded everyone's work.
Francisco Ortega, judge and computer science professor, said it really shows the students time management is important and choosing doable projects.
Ortega is new to CSU this year, and he invited nine of his students from Florida to participate in the Create-a-thon. Part of it was to introduce the students to a new culture and college—and they certainly were impressed by the vast resources CSU provided for the event—but more so, it was to show Ram Reality could become a national event, he said.
If nothing else, this year's Create-a-thon demonstrated VR's flexibility and wide appeal.
The Climate Changers, composed mostly of members of varying majors from the VR and AR Club, came in second place for their immersive VR environment which put the user in a climate affected area. They deliberately limited interactive abilities so the program would be available to as many as people as possible.
On the other end, HazLab's project was an interactive augmented reality in which users could go through health and safety training in laboratories.
"I think it is critical as virtual reality technology gets better, that we understand how to do virtual and augmented reality and our students, across campus, not just in computer science, understand how to do this," Ortega said.
The potential of VR and related technology makes it a very important and multidisciplinary technology, Ortega said. Events like Create-a-thon are accessible to non-computer science majors.
Team VR-oom VR-oom said having some outside expertise definitely would have helped them at their project and encouraged anyone to give Create-a-thon a try.
"The worst-case scenario is you get a lot of valuable experience and have a good time," Malott said.
Samantha Ye can be reached at news@collegian.com or on Twitter @samxye4.