FoCo Museum of Discovery hosts Autism Resource Fair
The Fort Collins Museum of Discovery hosted an Autism Resource Fair April 23. Free and accessible for all ages, the fair catered to the neurodivergent community.
"The museum serves as a vital role as a community hub where people from many different backgrounds can gather, learn and connect," said Laura Valdez, FCMoD co-executive director. "The Autism Resource Fair offers many ways for neurodiverse community members and families to enjoy the museum while gathering resources and connecting with providers and supports."
Autism spectrum disorder-trained students from Colorado State University were available for free childcare so families and caregivers could learn about available resources.
Families were able to find resources and meet with other community members, such as Temple Grandin, a professor of animal science at CSU and a speaker on autism. Grandin is autistic and has written several books as an advocate.
Eleven-year-old Carter Ganguly, an attendee of the fair with autism, and his mom, Amy Ganguly, were able to attend Grandin's sold-out speaking event, get a book signed by her and enjoy the booths and fun attractions at the museum.
Even for the kids, the event was a safe place to socialize and meet children similar to themselves.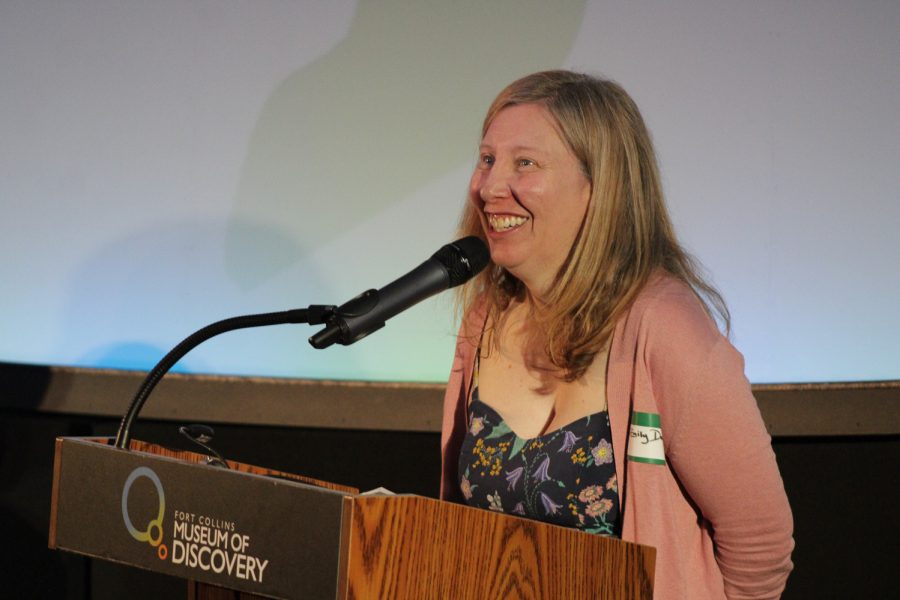 "My favorite part (is) just meeting people that have autism like me," Carter Ganguly said.
Grandin was not the only speaker at the fair. There were also panel discussions on being a woman with autism as well as being a kid with autism.
At the panel for women with autism, three women with varying experiences shared how they were diagnosed and how autism has affected their lives, including their perceptions of themselves.
Daisy Montgomery, a learning and development manager of diversity, equity, inclusion and accessibility at Diversified, didn't get diagnosed with autism until she was 30 years old.
"I was told I don't look autistic," Montgomery said. "And because I didn't have an intellectual disability, people in my past didn't think I could be autistic."
All of the women on the panel were diagnosed later in life. For some people like Montgomery, this was because of the stigma around autism. For others, like panelist Emily Roberts, it was because of a financial barrier.
"When I confronted my mother, she admitted that she had been aware of the likelihood of my being autistic from the time I was 8 years old, but she couldn't afford to get me diagnosed," Roberts said.
Panelist Christie Nichols said she was in denial after her diagnosis because of the stigma surrounding autism. She didn't think it fit her, but the more she researched, the more she realized the diagnosis was correct.
"Understanding now that I have the diagnosis is a lot," Nichols said. "It just makes me understand why and the way that I am and also has made me understand that I do see the world in a different way. And most people don't see it the way that I do, which is OK."
The fair provided access to resources that many new parents of autistic children or newly diagnosed adults don't always realize they have access to.
These resources can be applied to behavior analysis to help people in whatever way is appropriate for them. There are therapists and speaking aids available for help.
Carter Ganguly does applied behavior therapy with Key Autism Services and has seen a lot of progress since he started.
"It just helped me so much," Carter Ganguly said.
Needing accommodations is not uncommon. Panelists mentioned the medications and therapies that help them. Roberts is semi-verbal and sometimes uses a talker to communicate.
"My talker allows me to speak really loudly and clearly in ways that my mouth can't," Roberts said.
For the women on the panel, it was important to note that autism affects every aspect of their lives, including how long they can stand stimulation, what noises impact their ability to listen, how their routines are structured and how they take work meetings.
"Autism affects every moment of my life from the moment I wake up to the moment I go to sleep," Roberts said. "It's why so many of us in the community are so adamant that we are not people with autism. We are autistic people. The autism is woven so deeply into the nature of who we are that it is inextricable from our personalities."
The panel discussion was one of many that aimed to raise awareness and bring attention to how autism can look for different people. Because of the fair, Carter Ganguly said he felt more welcomed and wished there were more events like the Autism Resource Fair accessible to him.
Reach Ivy Secrest at life@collegian.com or on Twitter @IvySecrest.