Decisions on the fly: Why fishing is so popular in Colorado
In a landlocked, perpetually drought-ridden state, the Colorado fishing community has somehow managed to flourish. Colorado has become a destination fishing location, particularly for fly fishermen.
The state lays claim to over 320 miles of Gold Medal waters, a classification of fishing that entails a public fishing area that produces 60 pounds of trout per acre and at least 12 trout per acre that are at least 14 inches long.
Though this sounds intimidating, it actually tends to lead to a more social and accessible fishing experience. President of the Colorado State University Fly Fishing Club Jack Allen is working to capitalize on that community aspect and make the club space more welcoming to those who are new to fishing.
"Let's learn something," Allen said. "Let's teach you how to fish. Let's get you a rod if you don't have one, … improve the beginner fly fishing person's experience."
Allen is originally from Texas and has fished in Texas, Arkansas, Wyoming and Colorado.
"I would say Colorado is more inclusive," Allen said. "I think because of the amount of water we have, there's more opportunities for everybody."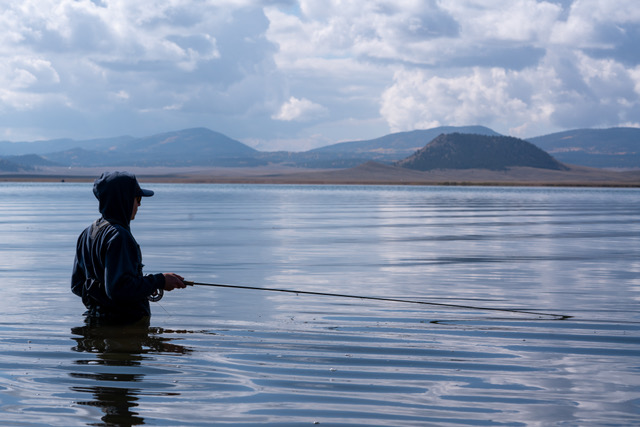 Although there is a limited amount of water in the state, it hasn't hurt the fishing culture. The lack of water in Colorado actually improves the quality of fishing in regards to both the quality of fish and the social aspect of the activity, Allen and interim club Secretary Joshua O'Bannon said.
Less harsh winters and smaller rivers packed with nutrients help the fish grow in size. The limited public space to fish in Colorado is also a contributing factor to the ease of the activity.
"There's not enough water for everyone to have their own private section, so that kind of engenders more communication required by fishermen," O'Bannon said.
Smaller rivers also mean less space to fish, forcing fishermen to chat a bit more than they would in other states. The downside of more of fly fishers in Colorado is that it attracts some who care more about the sport of fishing and making the best catch than preserving the ecosystem that allows for the activity.
"Fly fishermen should be on the cutting edge of conservation," O'Bannon said. "We don't want to spread invasive species — we want to protect our fish."
"Fish don't judge. Fish don't care how much money you have. They don't care what your social status is. They're just as hard to catch as the next person." -Jack Allen, CSU Fly Fishing Club president
Some simple steps people who fish can take to protect their favorite spots include cleaning off waders between locations to stop the spread of invasive species and respecting the nests and breeding grounds of the fish, O'Bannon said.
Like any popular activity, fishing can be anything from casual to competitive; however, with the fly fishing club, the goal is to foster community as opposed to competition.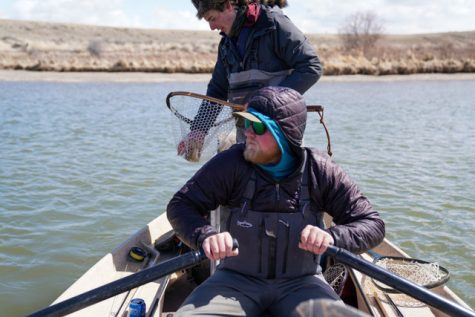 "I hate making fishing a competition," Allen said. "It's not a competition sport. It's not sport at all. It's a passion. It's a lifestyle for most people."
In the past, Allen said they had issues with club members getting competitive with each other on trips. This can make it difficult to teach club members who are new to fishing. The competition can be discouraging for newcomers.
"I think it'd be really important to make sure that everybody feels like, at any skill level, they can come fish with us and they won't feel judged," Allen said.
Catching the most fish doesn't necessarily determine whether or not it's been a good day of fishing.
"If it's a pretty day, in a pretty place with good fishing, I think if you have two (of) those three things, it's a good day," O'Bannon said. "And Colorado tends to have a lot better weather and a lot better scenery than a lot of other places."
For both Allen and O'Bannon, the friends they've made through the club have been a huge reason to stay with it. Finding people with that common interest adds to a passion they both already enjoy.
"I catch a lot more fish and a lot better fish when I'm not with the club — let's be honest," O'Bannon said. "But I'd much rather fish with the club and not catching many fish. It's a lot more fun."
Fishing in Colorado has many advantages. It is a unique area to learn, it is an easy place to explore and it's a great place to meet those who share that passion for fishing.
For Allen, fishing is an even playing field. No matter how nice the equipment, the fish will always be just as hard to catch.
"Fish don't judge," Allen said. "Fish don't care how much money you have. They don't care what your social status is. They're just as hard to catch as the next person."
Reach Ivy Secrest at life@collegian.com or on Twitter @IvySecrest.