Hitting the pow: A Ram guide to the slopes nearest campus
Katherine Borsting, Staff Reporter
January 17, 2023
As Colorado State University dives into the spring semester, students all over campus will use their weekends to head up to the mountains and hit the slopes. 
Skiing and snowboarding are a culture within Colorado, and CSU students are no exception to the love the state has for winter sports. It can be difficult to navigate the best options related to pricing, passes and mountains located near campus as well as find resources that allow CSU students to pick up the hobby.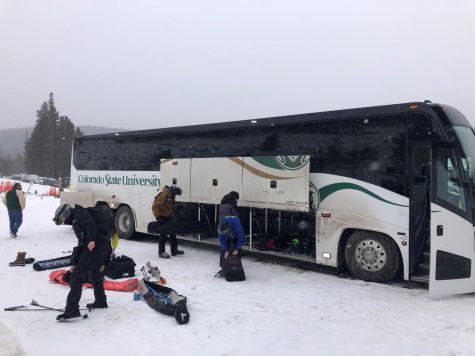 Where can students ski or snowboard near CSU? 
Some of the most popular places to ski near Fort Collins are Winter Park Resort, Steamboat Ski Resort, Eldora Mountain Resort, Arapahoe Basin Ski Area and Copper Mountain Ski Resort. All these skiing destinations vary in price depending on the day; however, all are accessible through CSU's shuttle program, SkiSU. 
The SkiSU bus transports people to and from the mountains on weekends and charges $23 for CSU students and $30 for CSU employees. 
Sam Eagen, a second-year at CSU, is an avid skier and spends most of his weekends on the slopes when the season is happening. 
"My favorite place to ski is Winter Park," Eagen said. "They have the best terrain, and on the weekends, it's almost like a party with all the students skiing around up there."  
Winter Park, Copper Mountain and Arapahoe Basin are around a two-hour drive away from Fort Collins; however, if students are looking to ski closer, Eldora is only around an hour and a half from CSU. Steamboat is upward of four hours from campus and is ideal if students are looking to spend a night at the mountain with friends. 
How much does it cost to ski or snowboard?
The cost of skiing or snowboarding as a student depends on the destination. A day pass at Winter Park is around $200 depending on the day. 
However, skiing at Copper Mountain can be as low as $99 dollars for a lift ticket depending on the day.
Many students invest in an Ikon Pass or Epic Pass, which allows them to go up to the mountains numerous times; however, these tend to be more costly upfront. 
An Ikon Base Pass can cost up to around $900. Students at CSU can get a discounted pass through the CSU Snowriders club, which is a social ski and snowboard club on campus for casual mountain trips and related events. 
Claire Johnson, a fourth-year, has been a member of the Snowriders club since she first started at CSU. 
"I joined Snowriders because I needed to make some friends when I first got here; however, they have saved me a ton of money on skiing when I go," Johnson said. "With the discount, I got my Ikon Pass for around $400 dollars this year." 
In regards to skiing or snowboarding gear costs, it really depends on whether a student buys or rents. A new pair of skis can be quite expensive, but a day rental for an adult snowboard can be just above $40 at Christy Sports in Fort Collins. 
Snow sports are definitely pricier in comparison to other sports. It really depends on the destination, experience and skill level. 
How can students get into skiing or snowboarding? 
Whether an interested student is a first-time skier/snowboarder or an experienced person on the slopes, the CSU Snowriders club is a great place to get more information on how to get involved in the community at CSU. 
They often post on their Instagram about upcoming trips and provide discounts for the popular Ikon Pass at the beginning of the year. 
Another way to get into the skiing/snowboarding scene is to go up with friends who may be more experienced. It is also important to be mindful of busy and not-so-busy days on the slopes. 
"Weekdays are for sure the best because it is way less impacted, and you'll get more time on the lifts meaning more runs; however, that may not be possible with many students' schedules," Johnson said. 
Skiing or snowboarding is a great way to get outside in the winter months, and CSU students take advantage of this. As school starts this spring, many students will head up to the mountains on their days off to enjoy the close resorts and fresh snow.
Reach Katherine Borsting at life@collegian.com or on Twitter @katbor2025.