In Fort Collins, pianos, transformer boxes, blank walls, pavement and storm drains all have one thing in common – they are all canvases for local and national artists through the Art in Public Places program.
"It's our art. It's public art," said Jill Kreutzer, chair of the board for Art in Public Places.
Art in Public Places, celebrating its 20th birthday this month, is the organization responsible for the painted pianos in Old Town and the painted transformer boxes all over the city. It also works with other branches of the local government to install art in new buildings and coordinates art in city-owned spaces.
"How can you create an identity and a unique look for your city?" said Ellen Martin, director of Art in Public Places. "We have a diversity of projects and themes."
Art programs around town is a common trend nationally, Martin said. However, Fort Collins is distinguished as the pioneer of painting transformer boxes. Martin has spoken with many towns across the country, giving advice on implementing such a project.
"Artists are now painting boxes all across the country," she said.
The transformer box projects began ten years ago as a graffiti abatement program. Fort Collins Utilities identified boxes often tagged with graffiti and reached out to Martin and the Art in Public Places program to work out a way to stop the defacement. They decided to hire local artists to create murals on the boxes that were being tagged to deter graffiti vandalism. The art is designed to be busy, without any dead space, to deter likely places for graffiti.
"The artwork doesn't get tagged," Kreutzer said. "Taggers respect the art."
There are now more than two hundred transformer boxes painted around the city, with more than a dozen added every year. The first cabinet has not been tagged in ten years. The program saves money for the city, since removing graffiti from the boxes is expensive, and provides exposure for local artists.
Transformer boxes are only painted by local artists who are based in Fort Collins, Martin said. One such artist is Alison Dickson, a muralist working on a transformer box near Horsetooth and Shields. Dickson, a professional artist, has lived in Fort Collins for 35 years and said it is the most art-friendly place she has ever lived.
"Once they select the artist, the artist comes up with three themes," she said. "And the Board on the Art in Public Places chooses which theme they would like in front of this location."
Dickson is painting a mural of cacti inspired by scenes in nature she saw in Tuscan, Arizona, at an art convention. It is her third transformer mural in town.
She began working in Art in Public Places by designing a storm drain marker and has also painted two pianos.
To paint or design art for Art in Public Places, artists can subscribe to a specific newsletter for artist opportunities. Students can apply to paint murals as well, Martin said. It beautifies the city and gives artists good exposure in a permanent way, she said.
Erika Osborne, associate professor in the art and art history department at CSU, said she has had several students paint pianos as part of the program.
"That has given them a venue for expression," she said. "In addition, being in a community that values the arts can substantiate their choice of pursuing a career in the arts, which isn't always easy."
Dickson said it takes her about 40 hours to paint a transformer box, and because all the painting happens outside, she works in the mornings and evenings to avoid the heat of the day causing clumps in the paint. In case of sudden rainstorms, she uses fast-drying paint and keeps a weather eye on the forecast. If clouds begin to look like rain, she said, she leaves and comes back when it is dry.
In more sensitive pieces of art, such as the painted pianos downtown, employees will cover them with tarps in the rain to stop damage to the pianos from occurring or paint underneath a standing tent.
One artist, Drake Arnold, is painting a piano downtown. His work is abstract, titled "Music as a Portal," symbolic of using music as a portal to a deeper space. Arnold is from Florida initially but works as a professional artist in Fort Collins.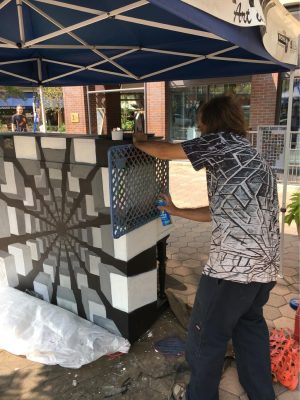 "I've been admiring the pianos ever since I moved to town," he said. He saw the pianos around town for a while and eventually decided to submit an application.
The pianos that are decorated are all donated to the program. "Every piano has its own story," Martin said. A new piano is put out every two weeks.
Arnold's piano will be done in a few days. Until then, he can be seen painting in Old Town Square. This is part of the program – doing the art in public, rather than delivering a finished product – in order to encourage public interaction with the artwork.
"Fort Collins has artists painting in public," Martin said. "We brought that idea of art in action."
By painting a transformer outdoors, Dickson had the unique opportunity to get to know the homeless population in that area.
"They were very polite with me," Dickson said. "It gave me a new perspective on that whole population."
Art in Public Places goes beyond painted transformers and pianos; it also includes drain covers, pavers made by children, bridges, sculptures, stonework, bicycle racks and more.
To anyone new to the city, Kreutzer advised taking the time to really look, saying you might find art in unexpected places.
"It's easy to take it for granted," she said. "Anyone who takes the time to really look will see it."
One of her favorite pieces of art is called "Upcycle" and features a tornado made out of recycled bicycles. A similar theme will be used on the new recycling center as the art will primarily feature recycled materials.
"Art is integrated into our spaces, and it's ongoing. We're constantly adding to it in ways that fit the space," she said.
One major project emphasizing this principle is the upcoming Utility Administration Building. Andy Dufford, an artist from Chevo Studios, is working with the engineers and development teams to design the front exterior of the building. Dufford created a stone column that will be near the front door, which shows a section of the Poudre River. Other artists will contribute stained glass windows, all of which will be show a design related to energy to fit the building.
There are 165 pieces of art not including the power boxes and the pianos, Kreutzer said. "You can enjoy art in your everyday life," she said.
She described a bronze sculpture near Dairy Queen showing heroic behavior from locals during a massive flood that occurred in the 90s – a work of art constructed by her brother. Nearby, a watermark shows how high the water rose, showing two different styles of art covering the same topic.
For students, she suggests looking around campus for pieces of art and, of course, decorated pianos and power boxes. She also recommended students take a closer look at the MAX stations.
"Each MAX station depicts something in the area in which it is located," she said. This includes murals and cast concrete.
The funding for the project comes from a city ordinance designating 1 percent of project budgets to the art budget. There are 13 artists working there now, and they can still be seen outside while the weather remains good. Once winter comes, the artists will move indoors.
"Our art is unique in Fort Collins, and that makes us unique," Kreutzer said.