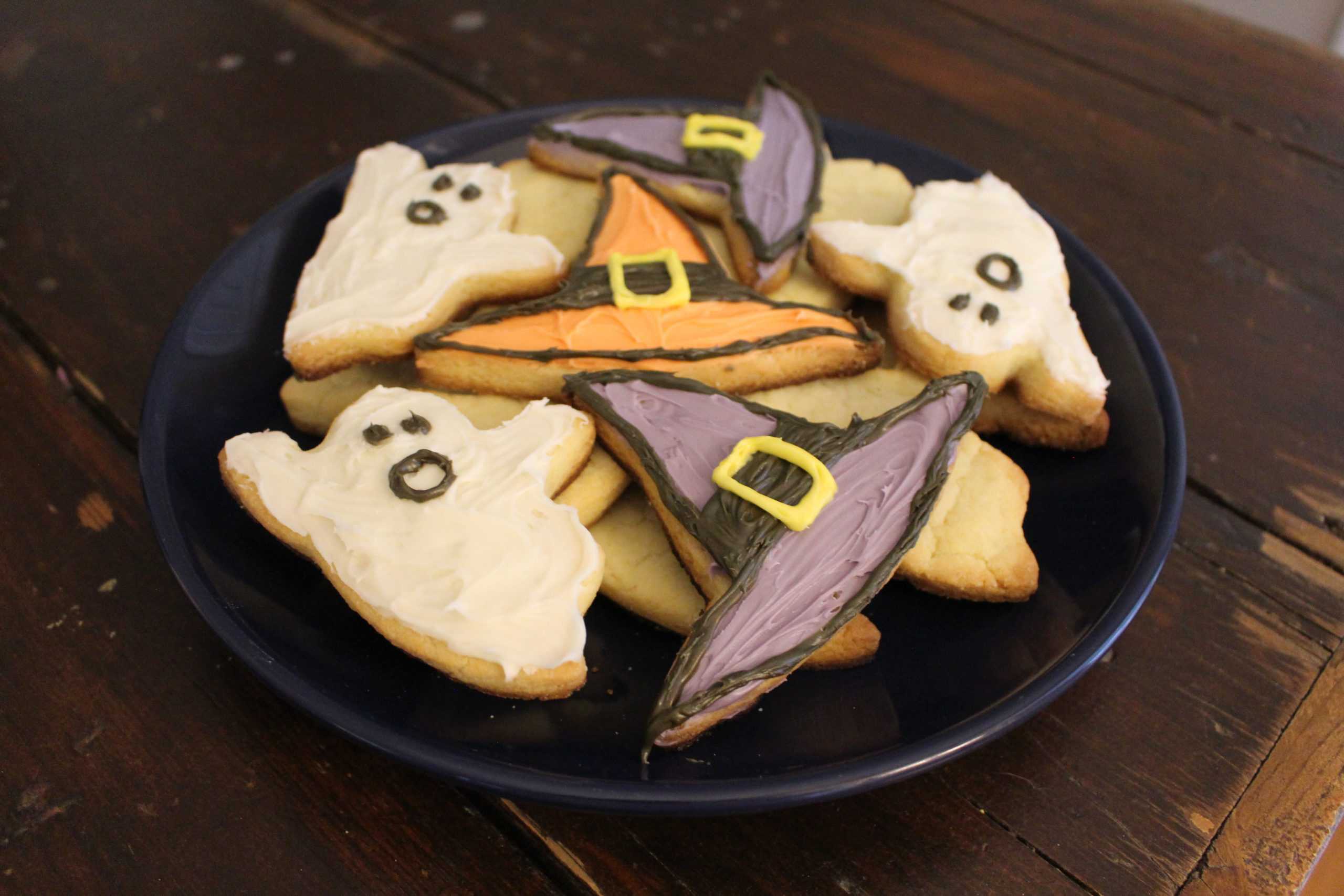 Pair these cannabis-infused cookies with your favorite Halloween movie for a night of stoned spooky enjoyment.
Homemade edibles can be made a few different ways using flower, concentrate or tincture. I decided to use concentrate for this recipe and picked up a gram of Organic Alternatives' Alien Sweet Treat wax. It's an indica strain that tested at 78.09% THC.
If you want to skip a few steps like I did, then you can just buy a package of Betty Crocker sugar cookie mix along with eggs and butter. If you prefer making sugar cookies from scratch, go for it. I also made a trip to The Cupboard in Old Town to pick out some fun Halloween cookie cutters.
The most important part of this process is preparing the concentrate by decarboxylating it. Decarboxylation is a process in which heat turns the compound THCA into psychoactive THC. This is critical if you want to actually get high from your edibles. If the THC isn't activated beforehand, it won't have the same effects.
To decarb your concentrate, choose the amount you want to use and place it on either tin foil or parchment paper in a pan or other oven-safe dishware. I decided to use a half gram of wax in my cookies. Set the oven to 300 degrees Fahrenheit and allow the concentrate to sit for as long as it takes to stop bubbling — usually around 10 minutes.
I'm pretty sure the decarboxylation process worked because I ate two cookies and slept like a rock."
At this point, you'll want to melt one stick of butter either in a pan or the microwave. After doing this, scrape the decarboxylated concentrate into the melted butter and mix. You can also put the melted concentrate in the freezer for a few minutes to make it easier to transfer into the butter. Whether you decide to freeze the concentrate or not, the results are the same: cannabutter.
Now on to making the cookie dough. Following the Betty Crocker recipe, preheat the oven to 375 degrees Fahrenheit and mix the melted cannabutter with an egg and dry cookie mix. If you're making cut-out cookies like I did, you're also supposed to add three tablespoons of flour. If you opt out of cookie cutters, no extra flour is necessary. After mixing all of the ingredients, you can let the dough sit in the freezer for a few minutes to make it easier to use the cookie cutters.
I used a half gram of wax for this recipe and calculated how many milligrams of THC would be in the cookie dough total. This is done by multiplying the weight of concentrate in grams by the THC percentage in decimal form and multiplying that number by 1,000 to convert to milligrams. My cookie dough had 390.45 mg of THC total.
         0.7809 THC x 0.5 g = .39045 THC/g x 1,000 = 390.45 mg
After letting the cookie dough sit, roll it out and use whatever cookie cutters you prefer. I cut out some whimsical ghosts and crooked witches' hats. Let the cookies bake for eight minutes or until the edges are golden brown. To roughly calculate how many milligrams of THC are going to be in each cookie, you divide the total milligrams of THC from above by the total number of cookies. My cookies had 390.45 mg, and I made 19 cookies, so each cookie had around 20.6 mg of THC.
Of course, I had to try my homemade edibles to see if I actually did this whole thing correctly. I'm pretty sure the decarboxylation process worked because I ate two cookies and slept like a rock. I chose an indica strain, which would explain why I slept so well, but if you're looking for more of an energizing experience, I would suggest a hybrid or sativa. I ate another cookie the next day and took my dog on a walk about an hour later, feeling the full effects while I stared at the changing fall colors.
Reach Lindsay Barker at cannabis@collegian.com or on Twitter @lindsaybarkerj.