Second #StopDabbing Walk raises money for cannabis risk education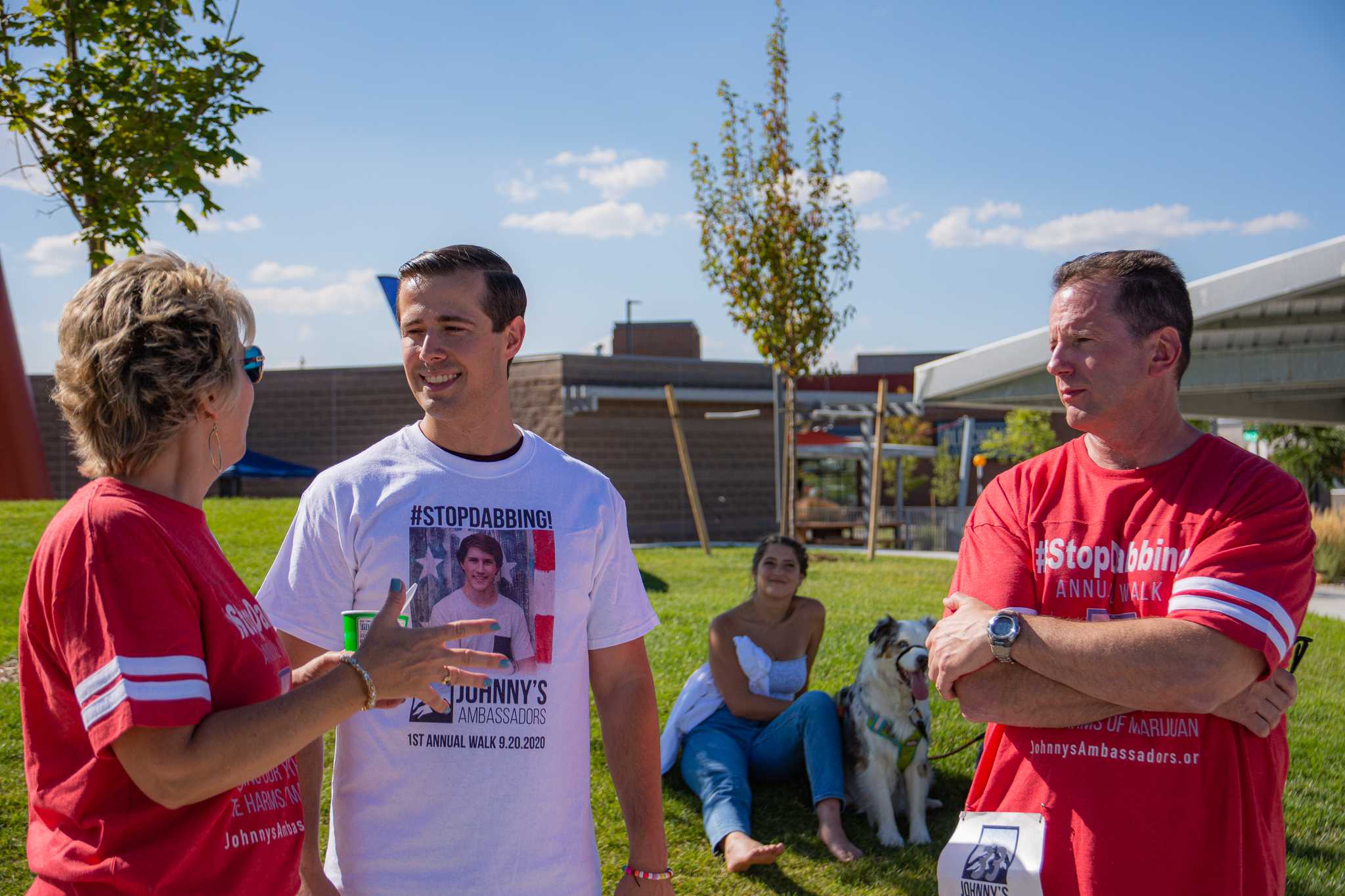 Johnny's Ambassadors, a grassroots cannabis reform and risk education organization, held its second #StopDabbing Walk fundraiser Sept. 19. The event took place in Central Park in Highlands Ranch, Colorado.
Pro-reform advocates such as state Sen. Kevin Priola and Smart Approaches to Marijuana's Luke Niforatos spoke at the event hosted by Denver7 News reporters.
Johnny's Ambassadors seeks to "educate parents and teens about the dangers of today's high-THC marijuana products," in the words of founder Laura Stack.
Laura Stack became a vocal proponent of cannabis risk education after her son, Johnny Stack, a former Colorado State University student, died by suicide at the age of 19 after multiple years of problematic mental illness. Shortly before his death, he told his mother that cannabis — specifically "dabbing," the act of vaporizing high doses of THC concentrate — was essentially to blame for these issues.
"I would say I have an unstoppable drive," Laura Stack said. "I'm very passionate about education around this topic of youth marijuana prevention."
About 60 people showed up to walk around the park in order to raise money for the organization. Many participants had stories that mirrored that of the Stacks. One speaker even recounted his firsthand experience.
"For about two or three years I would sneak out, take the parents' cars in the middle of the night, spend all the money I got from whatever I did," said Turin Priola, a recent high school graduate and Kevin Priola's son. "It made me depressed, unambitious and just kind of angry at the world. … I just feel normal for the first time in a long time."
It's stories like Johnny Stack's and Turin Priola's, the research around the effects of high-potency THC on young people and the work of organizations like these that drove sweeping cannabis reform through the state legislature last summer in House Bill 1317. Despite this event's inherently somber roots, this afternoon took on a hopeful tone due to this recent political victory and the momentum building around this message.
For me, I think families need to come first when it comes to policy. … This was a misguided policy — to legalize it. I think we should have decriminalized possession, which I think is what most Coloradans wanted." –Luke Niforatos, Smart Approaches to Marijuana.
This law will severely limit the amount of medical THC distillate that any single person can buy in a single day to just eight grams — or two grams for those under 21. It also requires those under 21 to consult multiple physicians in order to receive a medical recommendation.
Laura Stack stood beside Gov. Jared Polis when he signed HB-1317 into law, an experience she said she felt "vindicated" by. 
The next step is about "collaborating and figuring out other ways to increase the knowledge for kids and parents," said Kevin Priola, who originally sponsored HB-1317. "We're gonna have to see if it slows down looping and gets kids in high school to realize not to mess with it."
"Looping" is the practice of going to multiple dispensaries to skirt legally imposed limits for a single one. The new law seeks to prevent this through a statewide registry.
"(The law) really started with parents and ended with parents," said Niforatos, executive vice president of political advocacy group Smart Approaches to Marijuana. "You had multiple different moms who had either lost their loved ones or had seen their children go through horrible experiences with marijuana addiction and high-potency marijuana products."
Like others at the event, Niforatos said he first became interested in cannabis reform through his concerns about his own children. His organization's next quest is a potency cap on cannabis in general, with 15% THC as their target.
"For me, I think families need to come first when it comes to policy," Niforatos said. "This was a misguided policy — to legalize it. I think we should have decriminalized possession, which I think is what most Coloradans wanted."
The event raised over $42,000 for Johnny's Ambassadors and was sponsored by Barbee's Freeway Ford and Stone Bridge Recovery.
"It's not like we love this because it's difficult," said John Stack, Laura Stack's husband. "I'm just still trying to cope with what happened and educate people. … I like to think (Johnny) would be proud of us, too."
Hayden Hawley can be reached at cannabis@collegian.com or on Twitter @hateonhawley.