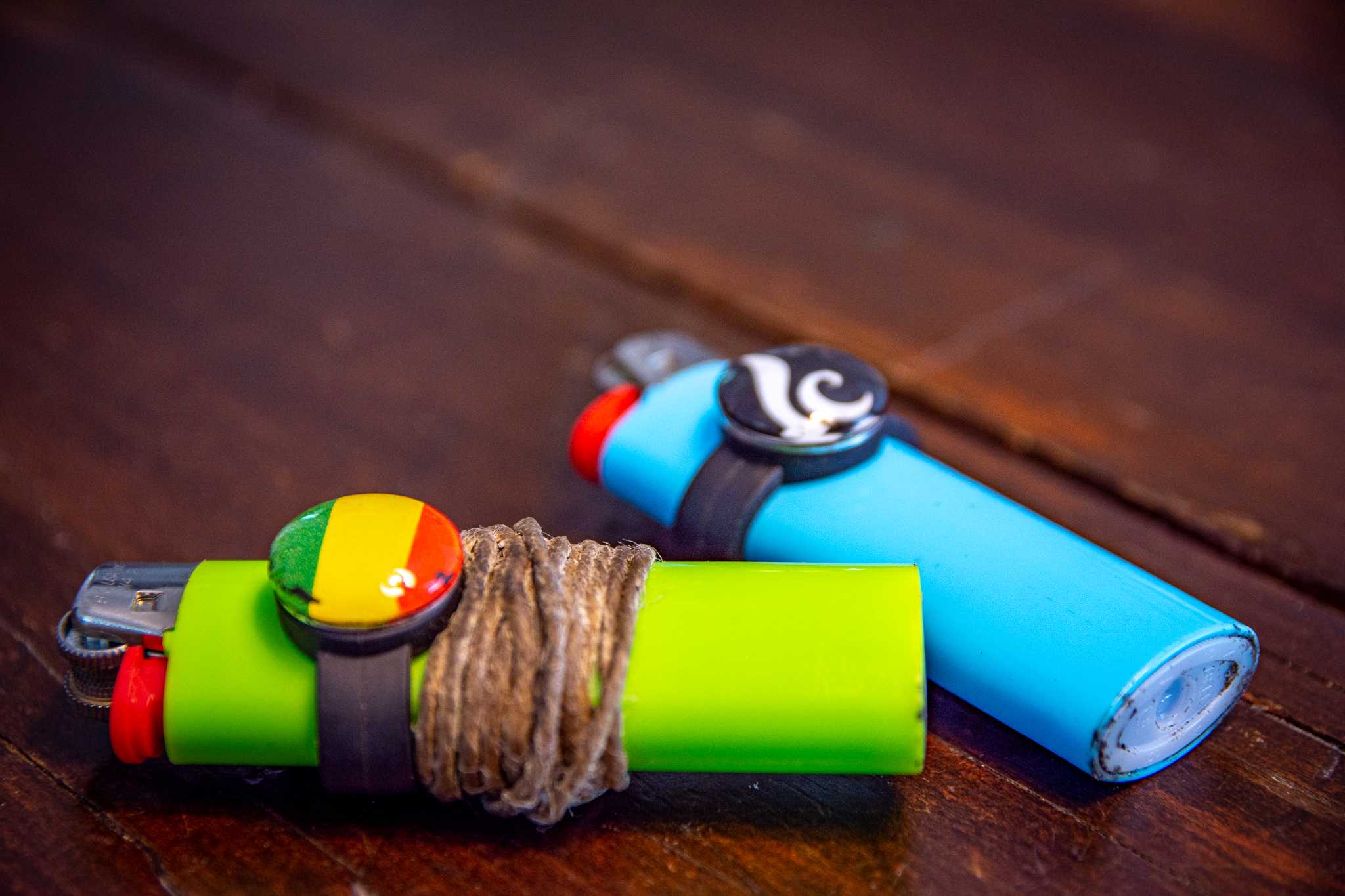 One of the best parts about consuming cannabis is the fun gadgets and accessories that go along with it. I have a collection of different tools I like to use to make smoking easier, healthier and more fun. The list below outlines a few of my favorites.
Lighter Charms are great for conserving weed and a nice tool for indoor smokers. They are small silicone bands with magnetic borosilicate glass buttons that fit around almost any lighter. Lighter charms are used to snuff out a bowl when you're smoking and don't want to be wasteful. It prevents the weed from continuing to burn so you can get the most out of a bowl. It's also an excellent tool for discretion — if you're smoking indoors, you can use the lighter charm to snuff a bowl before exhaling the smoke into a Smokebuddy to get rid of the smoke entirely.
Rob Healy, founder of Lighter Charms, comes from an advertising background and came up with the idea after his initial introduction to cannabis. After going through open-heart surgery and receiving a mechanical heart valve, Healy was told by his doctor he could no longer drink wine. Cannabis, however, was perfectly fine.
"I went to light my bowl and I started to put it out, and I was like, 'How am I supposed to do this?'" Healy said. "I could use my hand, I could use the bottom of my lighter, but that's gonna stink it up."
After researching the decorative lighter market, Healy eventually came up with the Lighter Charm as a functional solution to his problem. The charms come in a variety of designs and can also be customized with company logos. Lighter charms are also a great tool for self-expression and can be interchanged and customized. For Healy, that's his favorite part of the product.
"I like collecting the charms and putting them in," Healy said. "You know, it matches how you feel. I can identify my lighter now, and I hate wasting weed."
The Moose Labs MouthPeace is a silicone mouthpiece with a triple-layer carbon filter inside. This product will save your lungs and prevent the spread of germs. I discovered the MouthPeace through Instagram early this year, and now I refuse to smoke without it. You place it at the end of your smoking device and inhale through it, filtering out tar and contaminants in the process. The MouthPeace does all this without removing THC molecules, creating a less harsh and more flavorful bong rip.
Along with the benefits to your lungs, this product promotes more sanitary smoking habits. If everyone smoking has their own MouthPeace, they are able to switch MouthPeace's with each pass of the bong, eliminating the spread of germs.
The MouthPeace was created originally as a sanitary smoking device without an air filter, according to Moose Labs CEO and co-founder Jay Rush. It wasn't until after Rush had a chance encounter with a mysterious seed grower at a Denver cannabis event that the filter came into play.
"He said, 'Man, the mouthpiece is cool, but you gotta add a filter,'" Rush recounted. He informed the man he and the other co-founders had already tried to add an air filter, but it didn't work.
"'Man, try harder,'" the stranger replied, so they took the weed man's advice.
"We spent 16 months developing it and doing (research and development) on it and came out with it, and now we have the MouthPeace and filters that you know today," Rush said, adding that they never saw the mystical man again.
Hemp wick is another tool that promotes healthier cannabis consumption. It's a long string of hemp twine coated in beeswax and can be a safer alternative to traditional lighters. I like to wrap hemp wick around my lighters, and instead of
lighting the bowl with the lighter, I light the hemp wick and use that to light the bowl. In doing so, you eliminate inhaling the harmful gasses emitted from the lighter and also create a better-tasting hit. 
Along with the products mentioned above, I also like to make my own cannabis accessories. I make roach clips, pokers, dab tools and bong charms. I like to use thin metal wire and a variety of beads to make colorful and functional accessories. If you're interested in adding some arts and crafts to your cannabis routine on a budget, you can buy supplies at most craft stores like Michaels or JOANN Fabric and Craft Stores.
Lindsay Barker can be reached at cannabis@collegian.com  or on Twitter @lindsaybarkerj.