Local artist celebrates sustainability, Indigenous tradition
Art comes in many forms, and Fort Collins is home to all kinds of artists.
Madalyn Walker, also known as @indigoandgoldenrod on Instagram, has worked for years perfecting her craft: textile dyeing with naturally sourced, grown and gathered plant life. 
"My style is rooted in embracing seasonality and the beauty of using local materials to create pieces that are intrinsic to our sense of place and time," Walker said. "I love to celebrate sustainability and the changing seasons all in the same stroke."
Walker was born in Fort Collins and moved back five years ago after studying at the University of Vermont and further developing her interest in and understanding of herbal medicine.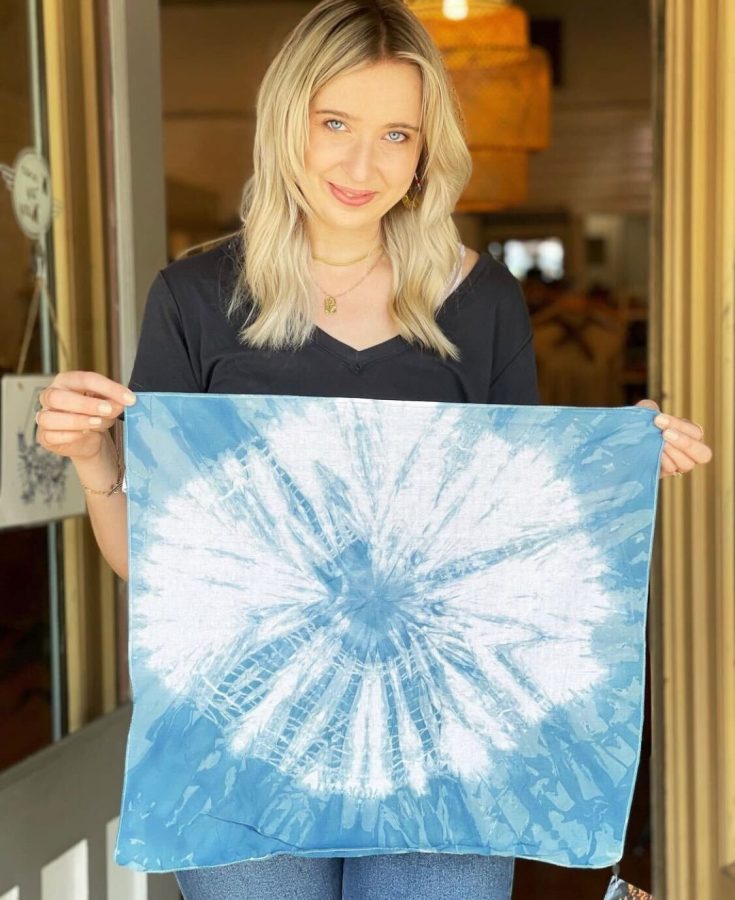 "Natural dyes have been present throughout human history, and it brings me joy to know that my process has been enjoyed by countless hands before reaching mine," Walker said. "My process uses modern techniques as well as techniques that have been used since the very beginning of natural dye work."
Dye work has a lot of history, specifically in Native American communities.
"Indigenous people are the first natural dye makers in our state — and world — and I do my best to educate and talk about this history when I use plants that have been shared by local tribes and individuals," Walker said. "My great-grandmother was Navajo, and I never had the chance to meet her, but I always wonder if she lives through me in some way as I honor plants like rabbitbrush in the fall. That's all very personal and tricky to navigate, but I do believe we owe so much to the Indigenous peoples of our land, and their histories need to be highlighted and revered."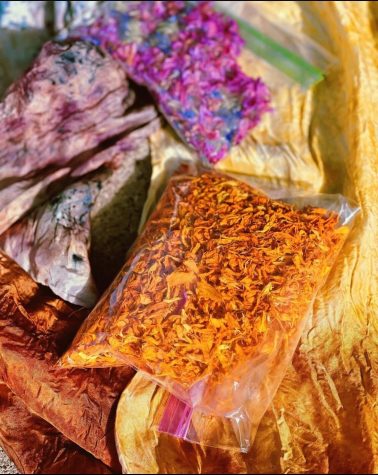 Getting your hands on Walker's work can take a little time, depending on availability due to the amount of effort that goes into each piece. First, she has to prep the fabrics before even thinking about layout, composition and color choice. 
"Pre-treating the fabric to hold natural dyes is a huge part of the process," Walker said. "I do new batches every season. The next release will be in May. Each batch takes me several weeks to make."
Currently, she displays and sells her art at Kansas City Kitty, located at 136 N. College Ave. in Old Town. Her partnership with Kansas City Kitty began organically. 
"I press and dry flowers to use throughout the year. I find both foraged and grown to be their own flavors of local." -Madalyn Walker, local natural dye artist. 
"I met Kansas City Kitty shop owner (Christie Wolf Guthrie) as a customer and was then hired as customer service manager in 2021," Walker said. "One day I was wearing a flower-dyed silk bandana that I had dyed, and she commented on how lovely it was and that plant-dyed silks were not available anywhere else in town at the time. So I was lucky enough to be encouraged by her."
Before dyeing, Walker has to find the actual ingredients to create the colors.
"I use some dyes that are not local as accents to locally made dyes," Walker said. "I do make a lot of my own dyes, though. I also have a network of friends who have gardens and share their bounty with me, as I do not have a big gardening space. We trade. I sustainably forage for wild dyes that are ethical, (and) some are even invasive plants, so they are good to remove."
Additionally, Walker plans her garden to ensure she can supplement wild dyes that are harder to find. 
"I press and dry flowers to use throughout the year," Walker said. "I find both foraged and grown to be their own flavors of local."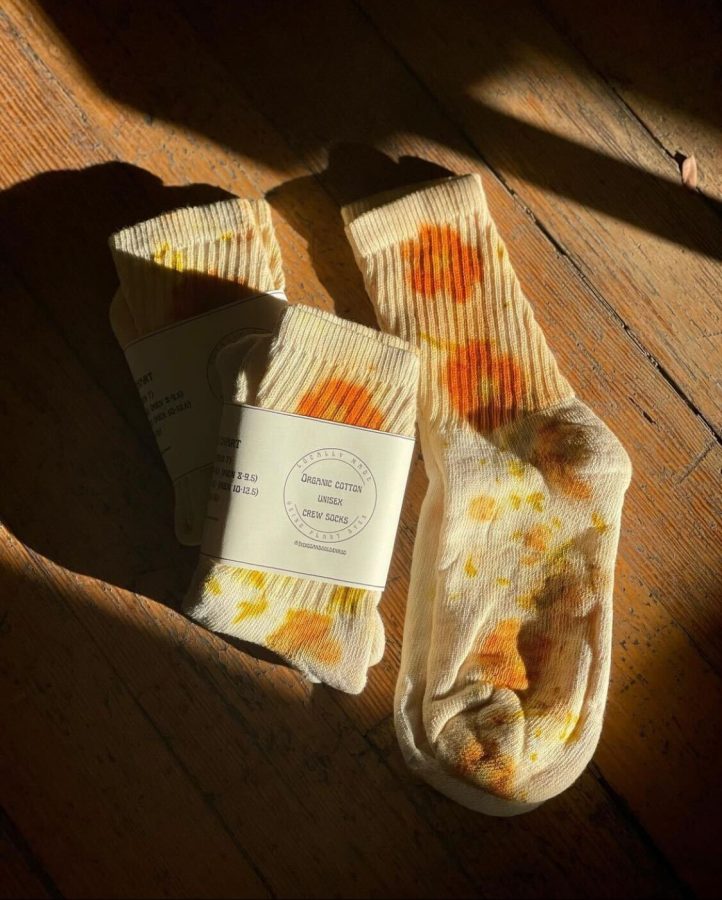 If you're looking for comfy cotton crew socks that are naturally dyed and printed with florals or silks pressed with foliage, you're in the right place as soon as you enter Kansas City Kitty or pop onto Walker's Instagram. Her next drop is coming soon, so keep an eye out.
"My favorite dyes have been made using dried flowers, all locally grown," Walker said. "Orange, fluffy marigolds make me giddy."
Reach Bella Eckburg at entertainment@collegian.com or on Twitter at @yaycolor.