KCSU students create unique podcasts, gain experience
Brooke Pippin
October 13, 2021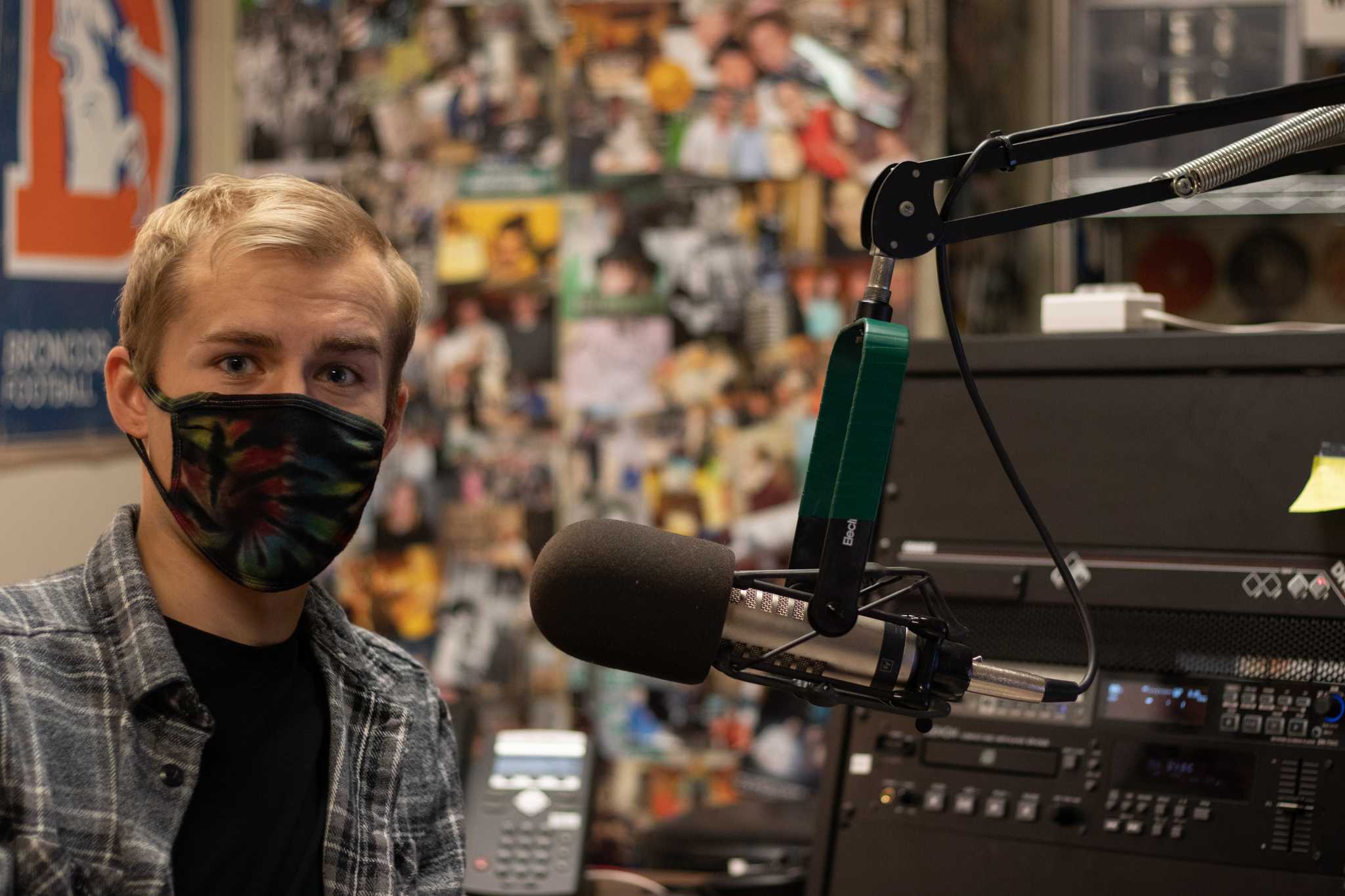 Editor's Note: Read the Spanish version of this article here.
The KCSU FM production studio is decorated with dozens of glittering CDs, scattered notes and recording equipment. Centered on the wall, in large, green font, reads "90.5 FM KCSU."
In a world dominated by deadlines, schedules and assignments, it can be difficult to make time for entertainment. KCSU's podcasting department offers students new stories without spending hours in front of a television or computer screen.
I had to teach myself how to become a good storyteller and to become capable of painting a picture." –Anton Schindler, creator of "Painting the Corners with Anton Schindler"
On Sept. 30, the KCSU podcasting department celebrated their five year anniversary, which also happened to be International Podcast Day. The department is currently running four in-house podcasts, which allows anybody to volunteer to create an episode.
KCSU offers archived options available for listening. These podcasts center around topics such as news, local music, sports and live in-studio concert sessions. KCSU's podcasts are available on various platforms, such as Spotify, Apple Podcasts and the KCSU website. 
"It's a lot easier for people to listen to podcasts when they are multitasking," said assistant podcast director Ben Haney. "I know that it is something I love to do when I am washing dishes or doing chores around the house. I can't watch anything, but I can listen."
Not only do podcasts offer content for busier people, but the format pushes storytelling in new directions. Without visuals or body language, the verbal storytelling compensates with descriptive language and verbal cues.
"Audio gives you more to imagine," said Marie Tanksley, who works as the podcast director at KCSU. "Your brain has to work from the details they give you to paint the picture. It makes more of an impression on you. If you are to imagine it, it's more likely to have an impact on you." 
For Anton Schindler, who runs a podcast titled "Painting the Corners with Anton Schindler," the lack of visual media provides an opportunity to hone his narrative skills. 
"It's very difficult not having some sort of visual representation of whatever you're talking about when it comes to podcasts," Schindler said. "To get around this obstacle, I had to teach myself how to become a good storyteller and to become capable of painting a picture."
In one of Schindler's recent episodes, titled "When games become controversial: MLB's infamous plays and calls," he walks listeners through infamous plays by describing visual descriptions of plays, historical context and consequences.
Schindler said working on this podcast requires him to research and answer questions he is curious about, which helps him connect further with baseball, a topic he already loved. 
In addition to providing content to listeners, KCSU also offers the chance to learn about professional podcasting and audio production. 
"We really want to promote being able to create professional content as a student — for your portfolio or your enjoyment," Haney said. "This space is something that people can use to get there."
Having audio experience demonstrates a knowledge of the current market. According to Insider Intelligence, podcast listeners are expected to continuously rise each year. It also said that in 2021, "more than 60% of U.S. adults ages 18 to 34 will listen to podcasts monthly."
Through KCSU, anybody can gain access to professional equipment, guidance and experience, all while exploring a topic they are passionate about.
To get involved with KCSU, reach out to training@kcsufm.com.
Brooke Pippin can be reached at entertainment@collegian.com or on Twitter @brookepippin00.