Horoscopes Oct. 18-24
Hailee Stegall
October 17, 2021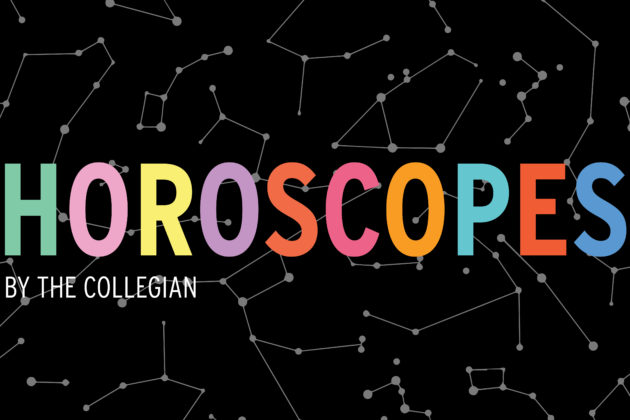 Horoscopes can be applied to your sun, moon and rising signs. 
LIBRA (Sept. 23 – Oct. 22)
Make a fresh start this week, Libra. Take a day or two to refresh your internal and external self in order to achieve the highest level of success.
SCORPIO (Oct. 23 – Nov. 21)
Scorpio, this is the week to break out of your box. Find the energy within yourself to make new friends and spark up conversations.
SAGITTARIUS (Nov. 22 – Dec. 21)
Lift others up this week, Sagittarius. Use your optimism to encourage friends, family and randos along their life journeys the same way others encourage you.
CAPRICORN (Dec. 22 – Jan. 19) 
Capricorn, hit that grind this week. Your free time is valuable and can be used to further your ambitious goals to get you where you want to go.
AQUARIUS (Jan. 20 – Feb. 18) 
See life from a new perspective this week, Aquarius. Don't let past painful experiences shape your worldview — look at life through a fresh lens.
PISCES (Feb. 19 – March 20)
Pisces, let it all out this week. Allow others into your mind, let them feel for you; it can be difficult to let those emotions go, but it's for the better.
ARIES (March 21 – April 19)
Be honest in love this week, Aries. Don't pretend to be someone you aren't to gain the favor of romantic pursuits. You're wonderful the way you are.
TAURUS (April 20 – May 20)
Taurus, find routine this week. Ditch the old habits that are holding you down and make new ones that will help you in your journey.
GEMINI (May 21 – June 20)
Try new things this week, Gemini. Take that leap of faith into whatever comes your way, even if it's out of your comfort zone. Life will be better because of this.
CANCER (June 21 – July 22)
Cancer, move on this week. Take this week to take care of your mind enough to move forward from your past struggles and leave that pain behind.
LEO (July 23 – Aug. 22)
Get creative this week, Leo. Use the burst of inspiration that comes from the end of Mercury's retrograde to fuel your self-expression.
VIRGO (Aug. 23 – Sept. 22)
Virgo, this week is about passion in all that you do. Find a fire in you with regard to your job, your love life, your schoolwork and everything that makes you who you are.
Hailee Stegall can be reached at entertainment@collegian.com or on Twitter @haileenstegall.